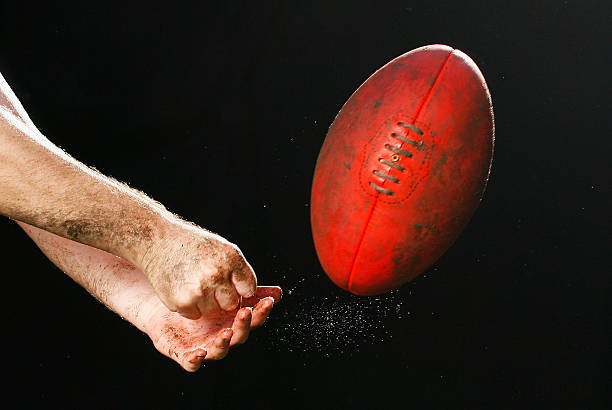 SCOTT BERECHREE
FOOTBALL
NORTH GIPPSLAND
By SCOTT BERECHREE
THE North Gippsland Football-Netball League nominal match of the round between Woodside and the ladder-leading Yallourn Yallourn North was turned on its head when the travelling Jets launched a five goal to nil second quarter blitz to effectively end the contest.
Post-game Woodside coach Michael Duncan rued his side's early inaccuracy noting the Wildcats failure to capitalise on their early dominance was costly in the 13.10 (88) to 4.11 (35) loss.
The Wildcats managed six behinds and a further three shots out on the full before the Jets had registered a score.
And as Duncan noted "you can't let a good side like that off the hook."
Duncan also pointed to the significant ankle injury to Nick Stockdale at the 15-minute mark of the first term as a key moment.
It is feared Stockdale suffered a broken ankle and will miss a large portion of the remainder of the season.
The second quarter was all YYN as they piled on five unanswered goals to set up a match wining 32-point lead as the sides headed for the change rooms at the long break.
YYN president Evan Sheekey said when his side required a spark it came via a Dylan Keyhoe left foot snap from near on 50. This spark soon turned to fire and it was all one way traffic.
Duncan lauded the Jets ability to move the ball quickly when needed yet to also retain possession as required. Even without playing-coach Barrie Burnett, who usually takes up residence across half back the Jets were able to dictate tempo through the likes of Campbell MacInnes who clearly wasn't distracted by his stroll down media street Saturday morning.
The third quarter started like the first with Woodside controlling play but not transferring their efforts on to the scoreboard.
Conversely when the Jets owned the ball they managed to split the big sticks three times and stretch their half-time lead to 46 points at the final change.
A three goal to two goal last term saw YYN prevail by 53 points and retain top spot on the ladder as the league heads into the Queen's Birthday bye weekend.
Duncan was effusive in his praise of the winner's, noting the one-two combination of Keenan Hughes and Dean MacDonald in the Jets front half was "always a headache" with the gun duo slotting four goals each.
Far from offering excuses Duncan did note "any time you miss 21 shots on goal (The Wildcats' managed 11 behinds and 10 out on the full) you are going to find things tough".
Sheekey suggested the pressure of Stephen Pearson played no small part in many of the Woodside misses.
Sheekey joked Pearson's pressure rating was on a par with his own blood pressure during the first term.
Woodside's loss is their fourth against a top five side and sees them drop to seventh on the ladder.
The main beneficiaries of this drop are Rosedale and Sale City.
ROSEDALE dominated their clash with Cowwarr from start to finish, running away huge 160-point winners.
After being within touching distance at the first break, the Saints rarely troubled the scorers from then on, managing just one goal and five behinds while Rosedale added a whopping 23 goals and 17 behinds to eventually win 27.23 (185) to 3.7 (25).
Brad Scott and Tom Northe did the damage for the Blues kicking nine and five respectively.
It looks as though things have started to really click for Rosedale of late and after a slow start to the year they find themselves just a win outside the five at the halfway point.
THE other big mover this round was Sale City.
The Bulldogs have been excellent this year in a season many predicted would be a rebuilding-type season.
After springing the upset of the year over Traralgon Tyers United last Saturday the tri-colours deservedly find themselves in the five at the break.
After jumping the Bombers on Saturday to hold a two goal lead at the first change, TTU launched a six goal to one second term to take a comfortable three goal lead into the main break.
This second quarter was reminiscent of the Bombers third quarter the week prior, a quarter in which they kicked five goals to none to set up their win over Woodside.
For all intents and purposes this should have done the same.
Sale City though are perhaps made of sterner stuff than some give them credit for, and a rollicking second half saw them slam home seven majors to four and grab a much deserved four point win 12.12 (84) to 12.8 (80).
A pair of majors to all of Ben Brett, Ben Chivers, Sam Davidson and Bohdi Walker combined with the best on ground efforts of Tom Bowman was enough to steer the tri-colours over the line.
For TTU, Mitch Mustoe was a lone hand up forward with four majors with midfield weapon Michael Jacobsen chipping in with two. Zac Kilgower, who has missed several games this year, continued his excellent return to form after being in the Bombers best last week by being best on ground at the weekend.
THE other close game this round saw Churchill make the trip out to Heyfield.
A month ago it would have been expected Churchill return home with a relatively convincing win but in the last few week's Heyfield has really hit their straps.
Yes they have kicked big scores against sides at the bottom of the ladder but bad sides do not kick 396 points to 23 in a fortnight of footy.
Given this improvement the Cougars expected a solid contest and that is exactly what they got.
After leading by 12, 20 and then 21-points at each break it looked like Churchill would keep the Kangaroos at arm's length and head home with a four or five goal win at the last change.
Heyfield however had different ideas and with Churchill losing gun forward Ben Kearns to a quad injury and key swingman Chris Wangman to a serious ankle injury, Heyfield pounced.
They stormed home, kicking 3.4 (22) to fall just a single goal behind Churchill who managed only one goal and one behind after the final break.
While happy to get the four points in a final scoreline of 10.9 (69) to 9.9 (63) the bigger issue for the Cougars could well be the potential long-term injuries to two key players.
Jesse Bedggood continued his renaissance of late with another four goals with his big partner in crime James Beha also slotting a pair for the Kangaroos. Adam Wallace and James Conway were named Heyfield's best in an effort that sees them now a dangerous floater outside the top five as the second half of the season looms.
THE final match of the round saw Yarram 98-point winners over Gormandale.
A seven goal opening blast saw the home side set up a large enough gap that the result was never in doubt. Inaccuracy and a tenacious Tiger effort saw the margin stay under triple figures with the final scoreboard reading 19.31 (145) to 7.5 (47).
For Gormandale, it was a positive step forward having now gone scoreless to five goals to seven goals in the last three weeks.
Best for them was Jarryd Garlick who managed five of their seven goals.
For Yarram it was a case of fixing the flux capacitator and breaking out the DeLorean with ageless coach Justin Staley turning back time to bag six of the finest in a best on ground performance.
He was joined in the best by regular contributors such as Boadie Motton, Griffin Underwood, Jayden Shea and Liam Bentley and as anyone who follows Yarram will know when that crew are playing good footy the Demons are hard to beat.
Anthony Scott was also among Yarram's most prominent, rounding out a good day for the Scott's after brother Brad's nine-goal effort for Rosedale.