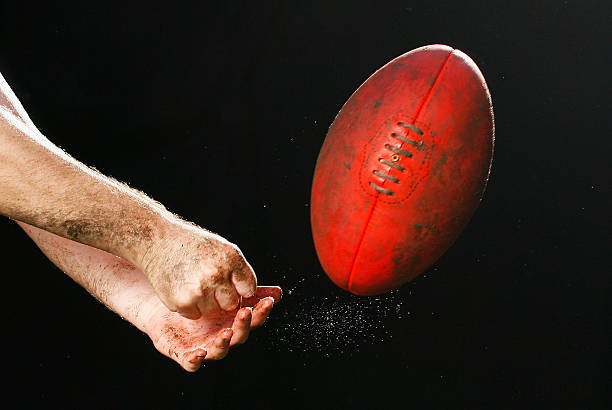 ROB POPPLESTONE
FOOTBALL
MID GIPPSLAND
By ROB POPPLESTONE
THE wet might not have arrived, but windy and cold conditions came in strong for the first weekend of winter, giving coaches and players even more to contend with.
BOOLARRA v STONY CREEK
THERE was so much on offer to both of these clubs as they prepared for their Round 8 clash.
Boolarra had the opportunity to start to 'firm up' their position in the league's top six, while for Stony Creek, a win was absolutely crucial to stay in touch with the top portion of the ladder.
The Demons have been good for most of this season, and at home in front of a crowd that have enjoyed what they've seen to date, the Demons delivered more of the same, winning 11.16 (82) to 9.5 (59).
It wasn't all smooth sailing however, as Boolarra had to haul in a 31-point half-time deficit.
Boolarra coach Tony Giardina said his side responded well.
"Again, happy to get the points, it's the worst start to a game yet this year, credit to Stony Creek they were first to the ball and were playing great footy," he said.
"But to our boys' credit and quite a few changes, it was an awesome comeback and to keep them scoreless for the second-half was great."
The loss was a tough one for Stony Creek coach Jay Accardi to take.
"Our game was one of two halves from our point of view, we got off to a really good start and in the first half played some of our best football of the season to date," he said.
"Enter the second-half and Boolarra came out full of running and we came out polar opposite. To not register a score in a half of football raises plenty of questions for us."
Those questions will need to be answered this week against Newborough.
MDU v YINNAR
IT WAS always going to take the very best MDU had to fend off a rampaging Yinnar side.
The visitors had been in rare form in the fortnight prior with two wins of better than 100 points, but the Magpies were also well aware that the challenge of the Demons on their home deck was a different beast all together.
It took the visitors some time to get control, but once they did, the Magpies strolled to a comfortable 10.12 (72) to 4.11 (35) victory.
MDU coach Peter Harris lamented wasted opportunities in the loss.
"The first-half was tough contested footy, unfortunately we missed our chances and then Yinnar took theirs in the second-half," he said.
"We are matching it with the best, so next week we will do everything to take our chances."
Yinnar didn't have everything their own way, as coach Daniel Taylor said.
"The first half was a real arm-wrestle with the game being played on MDU's terms, I thought they looked the better side throughout the first-half, but couldn't get any scoreboard pressure," he said.
"We had to change things up at the main break by putting our bigger bodied players around the contest which swung the game our way.
"Kane Grinstead-Jones and Cal Sheils were fantastic and really set the tone in the second half, we managed to get the game on our terms by gaining territory which allowed us to hit the scoreboard.
"Really proud of the boys, it was a great win."
You get the feeling even better wins are in store for Yinnar.
MORWELL EAST v TOORA
THERE would have been some sleepless nights for Morwell East coach Devon Soutar in the days leading up to his side's clash with the visiting Magpies.
It wasn't so much that he doubted his side was good enough to get back on the winners' list, but more that he could not be 100 per cent confident his side was in the right frame of mind required to win 'any' game of footy.
As it turned out, not only could Soutar have slept well, he would well be pleased with what he saw from his side's one-sided win 17.13 (115) to 2.4 (16).
Soutar said it was a pleasing performance.
"We knew if we jumped out and took control early it would reduce the belief and resistance from a proud, but severely undermanned Toora," he said.
"It was a sharp first-half that put the game to bed, but our squandered opportunities in the second (half) prevented the margin stretching any further, despite some sloppy execution, our desire to pressure and compete never waned."
Toora coach Matt Ponton said his team fought manfully.
"It was a very slow start with a number of injuries this week," he said.
"The team took until half-time to get started, but two goals to three in the second half showed we can play, it just needs to come earlier.
"Hopefully the injury bug goes away and we come next week with our first win."
Next week the Magpies face Mirboo North, both sides desperate for a win to stop their respective run of outs.
NEWBOROUGH v FISH CREEK
NEWBOROUGH has quickly reached a standard of performance that has been missing at the Kennel for a number of years, but with any newly-formed team of talented youngsters, consistency from week-to-week can be a little more difficult to control.
Fish Creek, with their backs to the wall in season 2022, would try and unsettle their opponents and in doing so also try to turn their own fortunes around, but it wasn't to be as the Bulldogs rose to the challenge, winning 16.12 (108) to 6.5 (41).
Newborough coach Craig Skinner said the game was played at a good standard.
"(It was) a cracking start to the game with fast ball movement and precise kicking in windy conditions," he said.
"After a reminder what Fish Creek did to the boys last year (93-point loss), they stepped forward not backwards, and went to another level in the second quarter, playing a great brand of footy in front of the club's members and sponsors.
"Our midfield led by Mikey Rosato was the difference."
The Bulldogs have the privilege of depth and that also demands performance from those given opportunity, something that is being delivered more often than not.
John Danckert said the Kangaroos struggled to keep pace.
"It was a good game of footy. We matched motors early in the first quarter, the second we were blown away, momentum is massive and they took that away from is in the second quarter," he said.
"I'm really proud of our guys that we didn't throw the towel in, they have a dip these boys and I couldn't be prouder of them."
Newborough now find themselves wrestling for a position at the very top of the ladder, with a side that is capable it seems of great things, while for Fish Creek, hopes of a top six finish remain alive, but they will need to get a move on in the second half of the season.
TARWIN v MIRBOO NORTH
AS each week passes, most Mid Gippsland supporters have been looking on at the performances of Tarwin and waiting for the Sharks to falter.
With an unbeaten record of six from six and facing an out-of-form Mirboo North side, it was hard to see that this might be the week for a home team loss.
The visiting Tigers however have always been at their most dangerous when they are on the edge of failure, but the magic was gone as Mirboo North was overrun once again losing 14.8 (92) to 5.9 (39).
Tarwin coach Troy Hemming said the match was closer than scores suggested.
"Mirboo North were great around the stoppages and were on top for most of the first half but my boys came out in the third quarter and played our way," he said.
"It was a hard-fought win as we know Mirboo North have been a successful team for a long period of time so we knew it wouldn't be easy."
The loss a bitter pill to swallow for the Tigers coach Josh Taylor, who is desperate to have his best 18 on the park.
"It was a tough day, we had the bye last week and was expecting seven, maybe eight guys back in the side, unfortunately that didn't work out, COVID snuck through the squad and we had 12 out of the seniors," he said.
"Satisfied as a club we were able to get two sides up with nine Under-18s filling out the reserves to make sure we got a game for all players.
"As a coach, I couldn't have asked for more from the players, everyone had a go and tried their hearts out, half-time we were right in with a show but inevitably the more
consistent side broke away and won.
"It's been a tough start to the season."
That result surely spells the end of finals hopes for the Tigers. Mirboo North has not missed finals since 2002.
THORPDALE v FOSTER
IT has been a very tough month for the Thorpdale team.
The Blues have been on the end of some terrible beatings, losses that would have tested the resolve of the entire playing group.
Coach Ray Pickering has carefully highlighted the 'good' within those defeats, which has also provided the coach some clarity as to the type of people he has around him, beyond their obvious footballing ability.
After the weekend it is clear there is still work to do, as Foster won 18.13 (121) to
8.7 (55).
Foster coach Sam Davies was happy to get the points.
"It was nice to get consecutive wins, too many lapses that will make us a better team, we just need a lot more touch and game play," he said.
For Thorpdale, everything needs to go right and a slow start to games is not and was not part of the plan.
Pickering was disappointed with how the match panned out.
"We didn't show up in the first quarter and the game was essentially gone, after quarter time we were much better showing some real strong patches of good footy, we just need to start sustaining it for longer to give ourselves a chance of winning," he said.
A bye might be just what Thorpdale need at this stage of the season, while on the other hand the Tigers are slowly putting it together and on their day have proven to be capable of matching it with any team in the league, spelling danger for many in the competition.
Hill End had the bye.