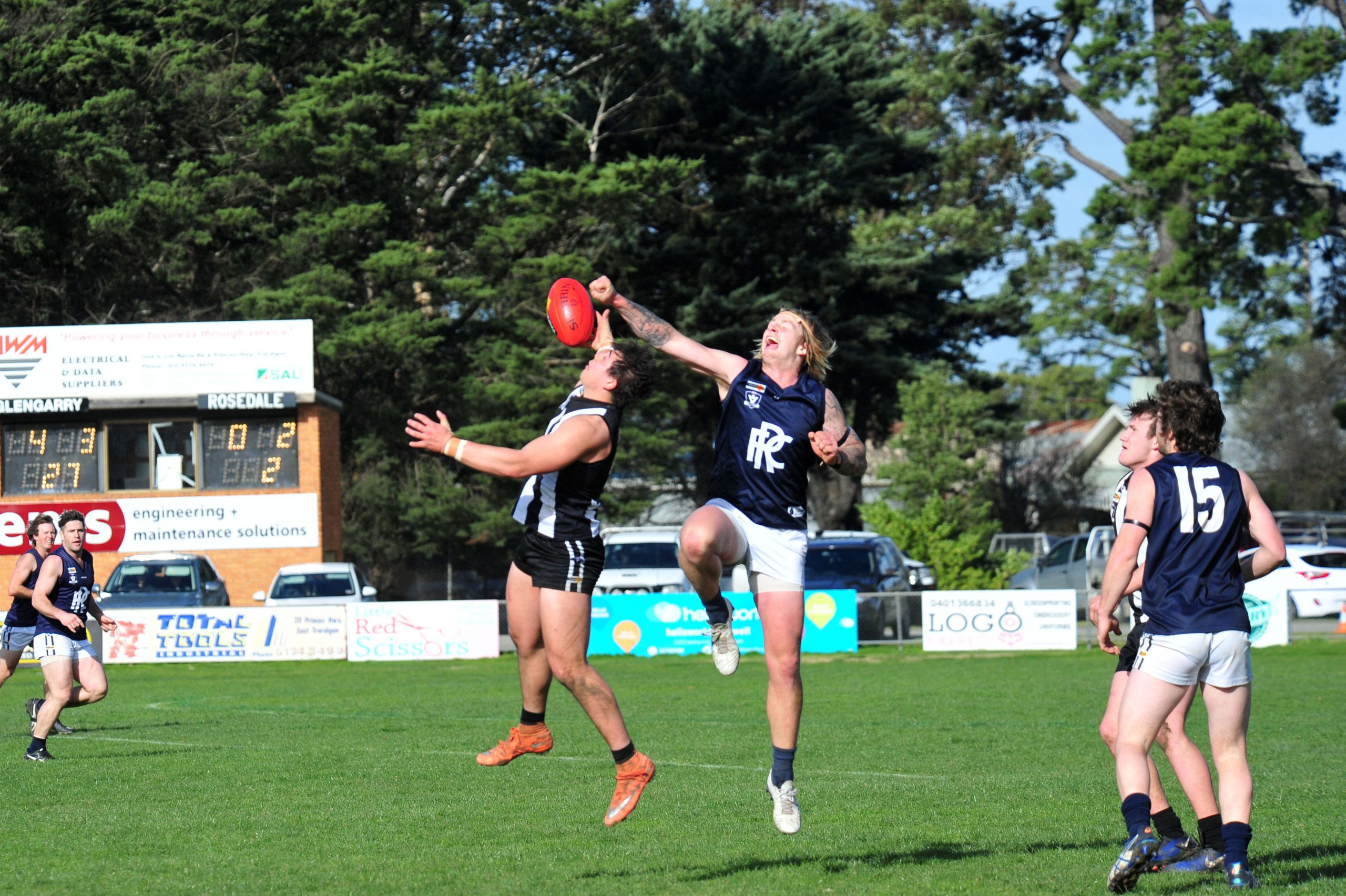 Woodside hit its straps ahead of a 2017 finals berth at the weekend with a 12.5 (77) to 11.7 (73) upset over third-placed Heyfield.
The win is Woodside's 11th for the season and sees it cement fifth spot on the North Gippsland league ladder.
Cameron Whiteoak led the scoring for Woodside with three goals, while Corey Whiteoak, Alex Policha and Bradley Smith scored two each.
Woodside coach Gary Jones said he was "pretty pleased" with the Wildcats' win.
"We had a really good opposition and we were really happy with our attack on the ball, and I think when we play well like that we put pressure on all over the ground," Jones said.
Jones cited the contribution of Ben Johnson in his 100th game as a standout performance and said all 22 players were "really even" for Woodside.
"We're a smaller team so getting out in the open and using our leg speed is one of our main assets," Jones said.
Heyfield remains in third spot despite the loss, two games clear of Churchill in fourth.
Jesse Beddgood and Jesse Jackway were the only multiple scorers for Heyfield with two each.
Woodside takes on Churchill in a battle for fourth spot in the final home and away game for 2017.
Heyfield faces Traralgon Tyers United.
Glengarry v Rosedale
Glengarry may be out of finals contention for 2017, but that didn't deter it from making an example of Rosedale with an 18.14 (122) to 6.10 (46) win.
Despite a goalless third term, the Magpies piled on nine last quarter goals to record a 76-point win at home.
Chris Wangman bagged six for Glengarry, Josh King six and Michael Diaz and Gary White two each.
Matt Royal and Corey Beaver each scored two goals for Rosedale in the loss.
Gormandale v TTU
Gormandale came agonisingly close to recording its first win of season 2017 at the weekend, falling just short of Traralgon Tyers United, 12.14 (86) to 12.7 (79).
TTU led by 29 points at three-quarter time and looked to have the game sewn up until the Tigers scored five last-term goals to fall seven points short.
Timothy Aitken proved the difference and bagged four goals for TTU, while Ricky Cochrane was the only other multiple scorer for the Bombers with two.
Joseph Colaciello scored three for Gormandale in the loss and Daniel Golcic and Ben Julin two each.
Sale City v Cowwarr
Sale City was ferocious in its defeat of Cowwarr at the weekend, overrunning the Saints 21.18 (144) to 5.4 (34).
The win is City's 14th for the year and sees it retain second spot and move a game clear of Heyfield in third.
The Bulldogs were relentless in defence, keeping Cowwarr to just five goals for the day.
It was a similar story at the other end, with the City forwards flexing their muscle to stack on 21 goals.
Yarram v Churchill
Yarram continued its dominance at the top of the Gippsland league at the weekend with a 11.9 (75) to 6.3 (39) win over Churchill.
A one-goal second half didn't hurt the Demons, with a 10-goal first half setting up the 36-point win.
Joshua Swift was the lead goal-scorer for Yarram with three, while Tyler Chisholm was the only other multiple scorer with two.
Jack Moore, Christopher Pettitt and Matthew Clavarino shared best-on-ground plaudits for Yarram in the win.