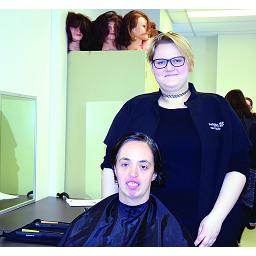 By Cher Jimenez
Laura Schiemann was looking forward to the day she could get a break from her busy life of raising five children on her own.

Ms Schiemann was one of 16 women who were treated to a free hair makeover and massage by students from Traralgon's Federation Training as part of Pamper Day.
A collaborative effort between Fed Training, Morwell Neighbourhood House and Quantum Support Services, it was the fourth time Pamper Day was held to provide some respite for disadvantaged women.
"I think it's lovely from a wellbeing [perspective], it's boosted my confidence because it makes me feel better about myself," the Traralgon mum said.
Ms Schiemann said the demands of motherhood can be stressful and looking after one's wellbeing often takes the backseat.
Morwell Neighbourhood House manager Tracie Lund said the women who participated on the day were identified to have come from "very vulnerable and highly disadvantaged" backgrounds.
"They quite often don't have the spare cash to even get the basic haircut and we know that when we look after the mums and the women in our lives the family and society has much better outcomes," Ms Lund said.
She said a woman who feels good about herself is more likely to make better choices for herself and her family.
"You also feel like maybe you could do things you might have not felt that you could do before and it does build your self-esteem," she said.
Ms Lund said Pamper Day provided an opportunity for the women to connect and know they were not alone.
Federation Training hair and beauty department manager Emma Kyle said the project allowed students to have hands on experience, a component important in their practice.
"They need so many models for every unit they do," she said.
"They normally call on their friends and family but to have people from the general public come in just provides a whole new different experience … and it helps build their customer service skills," she said.
A total of 16 hair and beauty students as well as 15 students taking up work skills education who provided the morning tea for the day were involved in the project.