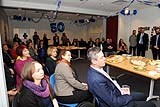 By Jarrod Whittaker
Member for Eastern Victoria Harriet Shing has reiterated her support for Lifeline and says she is in contact with state ministers about funding and resources for the organisation.

Ms Shing's comments follow independent member for Morwell Russell Northe's call for funding to be doubled to Lifeline Gippsland.
"I have been a very strong supporter of Lifeline's work for many, many years and the work that they do to save lives and to break the stigma around mental illness and asking for help is quite simply invaluable," she said.
"Suicide is a terrible scourge in every community and you would be hard pressed to find someone who hasn't experienced the grief and tragedy of losing someone they love who takes their own life."
Lifeline Gippsland recently marked its 50th anniversary, with a number of local dignitaries and MPs, including Ms Shing and Mr Northe attending a ceremony to mark the milestone.
Mr Northe has called for the organisation's funding to be lifted to $270,000, up from $135,000, in order to help it provide improved face-to-face support.
Ms Shing said she was working "very closely" with Mental Health Minister Martin Foley, Education Minister James Merlino and Minister for Youth Affairs and Families and Children Jenny Mikakos to "discuss the importance of as much mental health funding and support as possible".
"I am determined to continue to advocate for this issue being given as much as attention as family violence," she said.
The Eastern Victoria MP said the issue needed a "whole of government response" and called on the federal government to invest in funding and resources "to shine a light on this crucial issue".