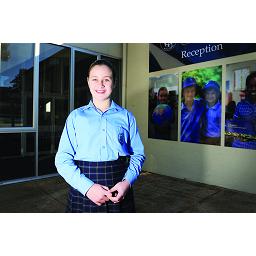 By Heidi Kraak
With a desire to do something to help people living with epilepsy, Chairo Christian School Traralgon student Sophie used some initiative and organised a Genes for Jeans fundraiser at her school.

An issue close to her heart, the grade 5 student took it upon herself to write a letter to the school principal to request permission to hold a casual clothes day to raise funds with Genes for Jeans, the funds of which go to the Children's Medical Research Institute.
"The reason why I wanted to raise money for Genes for Jeans Day is because my mum and my sister and some other family members suffer from epilepsy and I really want to help them and other children and adults around the world with the disease," she said.
"I did talk about it in my class.
"I was talking about how my mum and my sister have epilepsy and that there was plenty of other people in the world who have it, and every donation will be a big help."
Sophie assisted in organising the fundraiser and, with the help of some student leaders from her class, was one of the students to visit the classrooms to collect gold coin donations on the day.
"It was a little bit difficult [to organise] you had to do all this running around trying to get information about it and then trying to raise some money," she said.
"I had some of the student leaders from my class collect the money and then we had to go back to class.
"We went around with a tin, everyone brought in a gold coin donation."
The school also had a webpage where people could make donations to the cause, while the whole fundraiser earning $482, the highest-raising school in Victoria at the time of publication.
Sophie said that while it was important to raise money to go towards research of genetic disorders, awareness was also an important element as, in the past, many people didn't know about genetic disorders.
"When my mum was younger people would say that [epilepsy] was contagious," she said.
"My mum never really had any friends when she was in primary school."
For more information about Genes for Jeans, visit jeansforgenes.org.au.