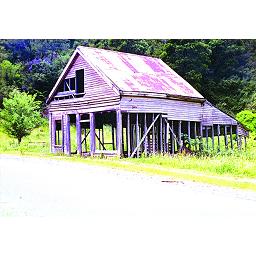 By Tracey Matthies
Renovations and extensions to Walhalla's oldest commercial building have been halted by a decision of the Victorian Civil and Administrative Tribunal.

VCAT member Michael Deidun found that the Old Walhalla Bakery at 70 Main Road, Walhalla, now used as self-contained tourism accommodation, was historically significant and that proposed works would "create clearly undesirable heritage outcomes" and "adversely affect the significance and character … of the heritage place."
Mr Deidun affirmed Baw Baw Shire council's decision that no planning permit be granted and advised the owner to obtain independent heritage advice before doing any further work or making further applications.
"It is apparent that the applicant has proceeded to this stage without obtaining any independent heritage advice and really without much thought as to the impact of the works already undertaken and proposed to occur to this heritage building," Mr Deidun said in his written finding.
Old Walhalla Bakery owner Andrew Webster had applied for a permit for a mix of retrospective approval for works that had already occurred and approval for buildings and works yet to occur.
The retrospective works included construction of a pergola and the installation of water tanks and fencing.
Mr Webster told The Express obtaining independent heritage advice was "an extremely expensive option for a little house in a little town" and while he was committed to developing the property for occasional accommodation, he would have to consider his options.
"We are not trying to make a million dollars out of it, just provide a service to help a little town to grow and prosper," Mr Webster said.
He said the front portion needed to be preserved because "that is very unique" and that he had not proposed changing it.
"We just needed more room to include the sort of facilities that modern families need."
Mr Webster was also critical of the time taken by Baw Baw Shire to consider his planning permit application, saying it took them 14 months to make a decision.
"I feel that we have been treated appallingly by the shire. They should have more respect for people's time," he said.
Baw Baw Shire mayor Joe Gauci said the required information was only provided to council about three months ago.
"Upon receiving the necessary information, council officers were only then able to assess the application and make progress," Cr Gauci said.
"Once submitted, the application still did not provide any justification for the proposal, in particular the impact on the heritage significance of the Old Walhalla Bakery. There were still many other gaps in the application which resulted in council not supporting the proposal."