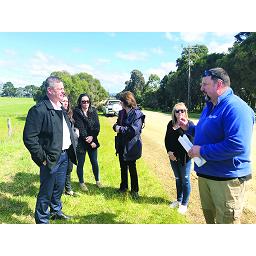 Jarrod Whittaker
Member for Morwell Russell Northe has called on the state government to provide funding to seal a pair of regional roads, warning of potential safety risks and dust pollution for residents.

Mr Northe wants the government to provide $1 million for "urgent" works to seal Black Tank Road, Glengarry and Creamery Road, Yinnar.
The push comes after residents contacted Mr Northe to warn about the impact of dust in the area and safety risks.
"Black Tank Road in Glengarry and Creamery Road in Yinnar have remained unsealed forever and users of those roads have long been calling for council to seal those said roads," he said.
"That has obviously not occurred and the major reason being council's special charge scheme criteria hasn't allowed that to happen."
Earlier this year, Mr Northe launched a Change.org petition to build support for sealing the two roads which has attracted 240 signatures.
Residents have complained about dust impacting their ability to dry washing outdoors and fear the roads are unsafe.
It is a view shared by Mr Northe, who said issues would only increase due to a number of residential subdivisions in the area.
"We're nearly at 2020 and a major regional centre on some of its major thoroughfares still has gravel roads. It's just ridiculous," he said.
"So someone has to find the funding required to actually do this body of work and it's not just from a safety, it's from a liveability point of view."
But member for Eastern Victoria Harriet Shing said the issue had formed part of her regular discussions with VicRoads.
"Dust and reduced visibility [are] often more than just annoying for road users and the people that live around them," Ms Shing said.
"The bottom line is I'm supportive of repair, maintenance and upgrade of our roads wherever that reduces safety risks and improved amenity for people that live around roads that might be affected."