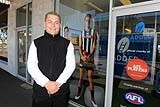 Jarrod Whittaker
For most young people getting a job and a place of their own are achievements to be proud of.

But for Ladder participant Daniel Freeman the achievements take on special significance after overcoming homelessness.
"I've been homeless for about six months, so I've actually been living in my car," Mr Freeman said.
[On Wednesday] I was successful in getting a unit which is the first time I'm going to be sleeping in an actual house for about six months now. So Ladder has been absolutely amazing for me."
Last week he completed the second week of his traineeship with Bank Australia.
He credits Ladder, the AFL Players Association charity which aims to tackle youth unemployment and homelessness, with helping him get back on track.
"Every day I walk through the front door they're all really supportive of me, never judgemental and they're always there to support you and make sure you're happy," Mr Freeman said.
"They don't care about what happened on the weekend or what happened six years ago. They're worried about what's happening now and in the future and they're always there."
Ladder acting chief executive Stephanie De Campo said Mr Freeman's happiness at his achievement was obvious when she arrived at the organisation's Morwell office on Thursday.
"I came in this morning and Dan actually came up to me beaming with just the biggest smile on his face and you could just see the happiness seeping through," Ms De Campo said.
"He never even thought that banking was something that he would want to do and he's actually found that he's really good at it and that's given him so much confidence."
On Thursday, Victorian Minister for Employment and Industry Ben Carroll visited Ladder's Morwell office with Labor Morwell candidate Mark Richards to announce the charity would receive a $25,000 Boost Your Business voucher.
The funding will help Ladder transition from being a charity to a social enterprise.
"The ladder is all about the ladder of opportunity for young people," Mr Carroll said.
"They embed workplace experience, mentoring and really work with young people – that age group of 16 to 25 – to really give them a start in life, to make a life of purpose, to make the most of themselves."