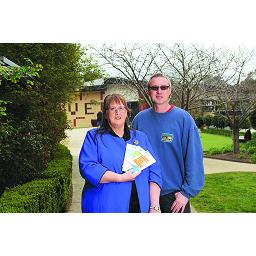 Michelle Slater
Mirboo North is being targeted in a community campaign to recognise the early signs and prevent gambling harm, as part of a Community Champions Go Gambling Free project.

The project is being rolled out in both Mirboo North and Leongatha in conjunction with South Gippsland Shire with funding from the Victorian Responsible Gambling Foundation.
Project support worker Heather Butler is working with schools, sporting clubs, community organisations and workplaces to develop policies and raise awareness about harm from gambling.
The Mirboo North local has a background in aged care and marketing and will develop gambling-free activities, policies and behaviours.
"We want people to recognise the key triggers that lead people down the path to problem gambling and then minimising the impact it has on individuals and the community," she said.
"We will be talking about ways people can make sure they are not creating a culture that leads to excessive gambling. And we want clubs to have resources on hand and know where to get resources."
Ms Butler said she would take a different approach with each community group, tackling issues such as pokies, access to online gaming apps and how to make informed choices.
She said people don't have to completely abstain from gambling but to recognise when it could become a problem or a way of life.
"Mirboo North doesn't have any pokies but the community has ready access to larger towns that do have pokies. Gambling also takes many forms with apps available everywhere," she said.
"It's like healthy eating. People know what they are supposed to eat but they also like to eat chocolates occasionally. It's recognising between having a good time and making it a compulsion."
Ms Butler said she hoped the program could be used in Mirboo North and Leongatha as a benchmark for the wider community.
South Gippsland Shire social planning officer Vicki Bradley said she was pleased to be involved in such an influential project.
"There are residents in Leongatha and Mirboo North already passionate about reducing gambling harm so a grant to run this pilot program in Leongatha and Mirboo North is a great opportunity," she said.
"We look forward to harnessing people's passion to develop a range of activities, policies and behaviours that reach the whole of the population and then promote gambling free activities to the broader community."