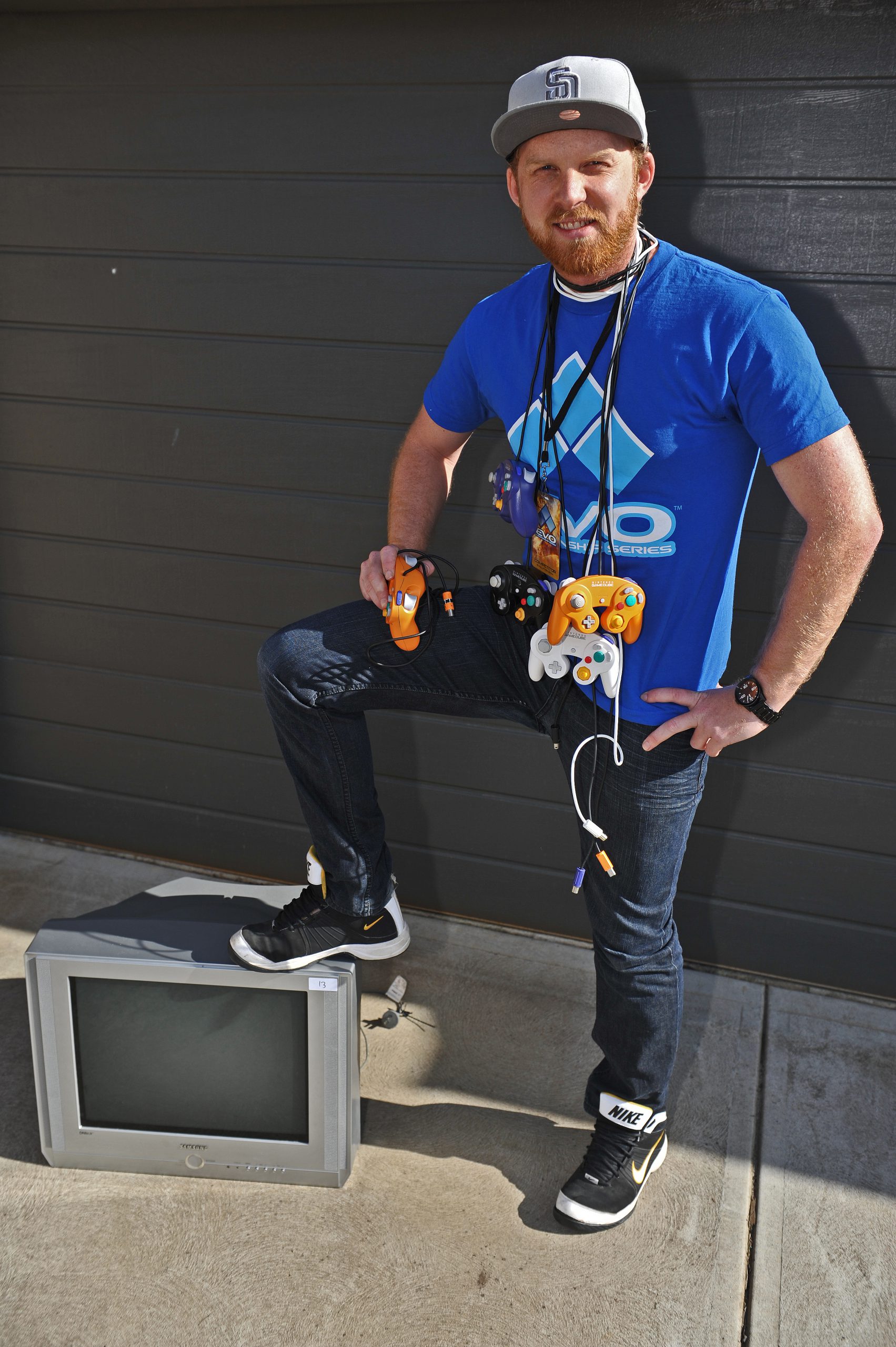 The energy in the Las Vegas function room was electric.
Hardcore punters packed out the space as the fighting tournament's most ruthless combatants went head-to-head in the title match bout.
Every kick, punch and take down was met with rapturous applause as it was projected onto a big screen.
With a $10,000 prize pool and global prestige on the line, the concentration on competitors' faces was unwavering.
But this was not your usual heavyweight bout in Vegas.
Welcome to the video gaming world of Super Smash Bros. Melee, one of the most thriving underground fighter gaming communities on the planet.
For The Express' own sports reporter Sam Darroch, it's the one setting he can safely fulfil the potential of his gladiator-style frame by beating his enemies to a pulp.
Representing Australia in a field of about 1000 hardcore gamers at the world's largest fighting game tournament, the Evolution Championship Series, on 11 to 13 July, this video-gaming prodigy had his work cut out for him.
Taking to the battle arena with his choice alter-ego 'Falco' – a blue jay bird with a prowess for long 'combos' – Mr Darroch was able to notch up a few kills, before the high stakes setting got the better of his composure.
"I was up against competitors of a pretty high calibre in such a huge setting, so it was pretty nerve racking," Mr Darroch said.
"In the end the nerves were too much, I missed a lot of inputs and made some tech errors, which cost me my place in the tournament.
"I ran into two hard opponents, and in a double elimination setting you can be out very quickly, which is essentially what happened to me."
Mr Darroch placed 193 out of a field of 970.
"It's a pretty ruthless system; normally in other tournaments you play everyone in your (first stage) pool before you get out, which is a more accurate representation of someone's skill, so 'Evo' can be pretty stacked against you," he said.
Released in 2001, the popularity of Smash Bros. has gradually grown over the years to host one of the world's most thriving fighter game communities, thanks to its complex in-game mechanics.
"Relative to the fighting game spectrum, Melee is one of the most difficult to master; 13 years on things are still changing and being discovered in terms of what's possible (in game) which is what really sets it apart from other fighters; I could go on for days," Mr Darroch said.
"An analogy a famous Smash player has used in a recent documentary, which has reinvigorated the scene, is the game is almost like playing a sport like basketball.
"Two people could play the same character, but you can easily tell them apart from their style – the possibilities are almost endless."
Discovering the game in 2001, Mr Darroch, a wordsmith by day, stumbled across Australia's thriving 'Melee' tournament community in 2007, and has since been considered a top-three national player under the handle 'SD'.
"Because the game is older and there is no online presence, if want to play (multi-player) you need to actually go to gaming events to meet people, and speaking generically, you always have amazing experiences," Mr Darroch said.
A lifelong gamer, Darroch said he had seen the perception of video gaming in society grow from an anti-social time waster, to a mainstream hobby accepted across a range of demographics.
"In the old days it was frowned upon by a lot of people and not well understood, but now gaming is so prevalent in society; it's safe to say it's becoming a lot more accepted and understood."
Regular gaming events across Australia's capital cities see the Smash Bros. community congregating at a players' house, bashing buttons into the early hours of the morning around older cathode ray tube televisions, prized in the Smash community for their consistent frame rates.
"The game itself is very addictive and very enjoyable, but at the root of the thing that keeps drawing people back is the gaming community itself," Mr Darroch said.
"I think that's the beauty of Smash; it attracts a whole range of demographics; you meet people that you never would interact with in your normal life, so that in itself is pretty eye opening for people who aren't normally that social, and it's a great way to develop as a person.
"Some of my best friends are Smash players and some of the most memorable times of my life are from getting together with people to play Smash."
Mr Darroch urged anyone interested in discovering the Smash Bros. community to visit the Australian regional thread online at smashboards.com