Jaci Hicken
South Street Primary School, Moe held a golden morning tea on June 22 to celebrate 50 years of service to the Victorian Education Department by Anna Henley.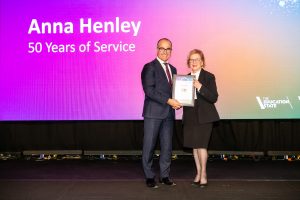 Mrs Henley has been working in administration at South Street since 2004, after spending 33 years working at Elizabeth Street Primary School, Moe.
She started her career at Elizabeth Street in 1970, but because she was a casual employee at the time, her 50 years of service started in 1972.
As well as working part-time at South Street Primary School, Mrs Henley also works part-time at Tanjil South Primary School.
Staff at South Street said Mrs Henley is kind and caring to everyone she works with, and always comes to work with a smile on her face.