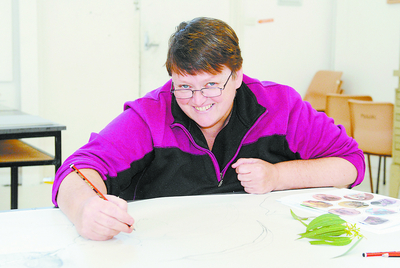 A SERIES of art workshops for older residents in bushfire-affected communities has surpassed expectations, with participants walking away with more than a newly-forged social connection.
Participants of the art workshops, initiated by Monash University Gippsland and funded by the Health and Wellbeing of Older People program, have even had their entrepreneurial sides awakened.
Callignee resident Cheryl Bickham planned on using the skills acquired from the three workshops she had attended to produce items to be sold to fund her wildlife refuge.
"I have always been interested in art but had no formal training; (at the workshops) I got ideas to produce aprons and things I can sell to continue funding the Callignee Wildlife Shelter," Ms Bickham said as she worked on her lino print of a leaf.
Ms Bickham, aged 51, is living in a shed after her home was destroyed in the 2009 bushfires.
"My partner and I weren't at home during the bushfires; (when we came back) all we had left was the car and a change of clothes," she said.
The wildlife carer, who has run the shelter for 15 years, said she attended the photography, drawing and printmaking classes under the art program.
"It's all been great; the instructors know what they are talking about," she said.
The program, mooted by the university in collaboration with local artists, aimed to provide a way for older people to come together and build connections.
"The workshops have been successful and almost all have been booked out completely," project developer and senior research fellow Dr Matthew Carroll said.
"We have seen real masterpieces come out of the sessions; we hope to have a lunch gathering and invite all the participants to showcase their work; we're exploring various options now," Dr Carroll said.
"The workshops will hopefully inspire some older people to get together to form an art group and find opportunities with other forms of art."
Monash University Gippsland Pro-Vice Chancellor Professor Helen Bartlett said the series of workshops had combined the university's research interests in ageing adults with the effects of the major community event (the bushfires).
Additional art workshops will be held over the next few weeks in Mirboo North, Boolarra, Churchill and Callignee.
More information on the workshops is available online at www.gippsland.monash.edu.au/research/lifecourse/artworkshops.html