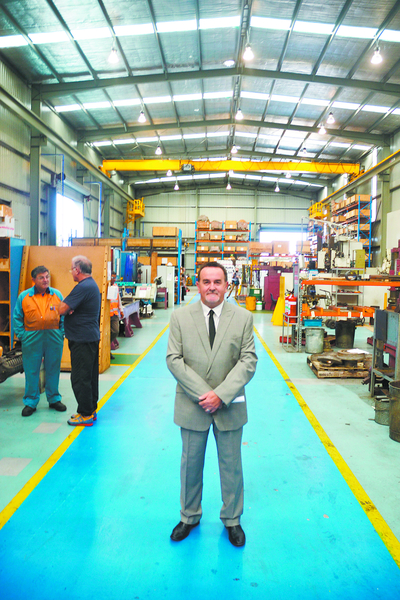 A Morwell industrial maintenance company is moving to employ extra staff during an industry wide downturn, after tapping into the tight Western Australian market.
Hydro Australia, an industrial pump refurbishment company, has landed a maintenance contract with a Japanese pump manufacturer which supplies the WA mining industry.
The contract has helped prompt a $576,000 expansion of the business, and has attracted the attention of a $280,000 State Government grant through the Latrobe Valley Industry and Investment Fund.
Hydro Australia general manager Ross Bertoli said after the company struggled to maintain its 29-strong workforce through an 18-month downturn in maintenance demand from the power industry, its persistent attempts to chase new markets were paying off.
"This will allow an initial increase of services, and see Morwell as our base for next 30 to 40 years; we've been trying for a long time to get into WA, it's very difficult to get in over there," Mr Bertoli said.
The expansion will see seven extra positions emerge at the business, including a managerial role overseeing the company's new services, plus tradesmen and field officers, positions which would "ultimately come from the Latrobe Valley".
"We haven't made a lot of money over the last 18 months … we've taken hits on a month by month basis where we've not made any money … but we made a commitment not to shed any jobs, so we weren't going to wait around until things improved."
Mr Bertoli said while a maintenance contract with a local power station was worth about $1.5 million two years ago, it had dropped to $400,00 last year after significant cutbacks in power station maintenance programs.
"The power industry have high energy pumps which rotate very quickly that need to be engineered, and all these things cost a lot of money, but the uncertainty surrounding the carbon tax has seen the industry really pulling back (on maintenance) until the effects of the tax becomes more clear," Mr Bertoli said.
Latrobe City chief executive Paul Buckley said Hydro's proactive approach to diversify its market was the key to landing the government's infrastructure investment spending.
"It's about knowing what your market is, and what it can be; it's about understanding the change in your broader environment, a recognising that with new equipment and new approaches you can diversifying your market," Mr Buckley said.
Announcing the funding at the Morwell site on Thursday, Minister for Regional and Rural Development Minister Peter Ryan said key aspects of the Hydro Australia Capability Improvement Project would enable the company to expand the scope and size of repairs the company could accommodate on site.
"This will include repairs and upgrades to gear boxes, large scale mining equipment, on and offshore oil and gas production equipment and small to medium turbine work," Mr Ryan said.
"The LVIIF is designed to support projects that increase the capacity of communities in the Latrobe Valley drive development and assist with the growth of the local service industry," Mr Ryan said.