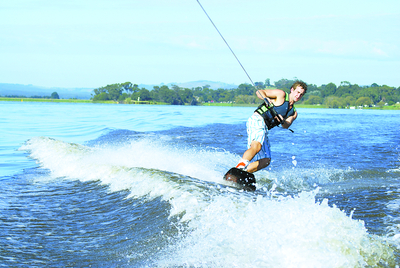 MELBOURNE residents will be enticed to relocate to the Latrobe Valley at Victoria's first Regional Victoria Living Expo, on this week.
GippsTafe, Latrobe City Council, Monash University Gippsland and Workways will represent the region and try to poach city dwellers to relocate.
Latrobe City economic development manager Geoff Hill said council would showcase what the Valley had to offer.
"We will be demonstrating and showing Latrobe City as the network city; all the different towns and residential options from urban living in bigger towns like Traralgon and opportunities for village life, in smaller towns," Mr Hill said.
He said the Valley businesses, sport, careers, education, recreation and lifestyle benefits would be showcased at the event.
"Also we will be making sure people are aware of Latrobe as a central location in the whole of Gippsland," Mr Hill said.
"It is close to the high country, snow, beach and lakes."
Latrobe City Council will use tablets and visual presentations to sell the region to prospective residents.
"We are going to try and get the message across Latrobe City is a comprehensive and interesting place to live in, which is what a lot of people really believe," Mr Hill said.
"Latrobe City staff including executives, management and councillors will be there through the three days and have been substantially briefed with the sort of questions that may be asked and to say how wonderful it is live, work, invest and play here."
Deputy Premier Peter Ryan recently noted in Parliament population growth in metropolitan Melbourne was increasing at a far greater rate than what currently occurs in regional Victoria.
State Member for Morwell Russell Northe said it was imperative to promote the opportunities for people to live and work in Latrobe Valley.
"This means there is currently an economic difference in terms of government spending on infrastructure as a consequence," Mr Northe said.
"The aim of the expo was to consider the region's communities as a place in which to reside."
Gippsland will join 130 exhibitors on site over the three-day event from Friday.
For more information on the expo visit www.rdv.vic.gov.au/expo