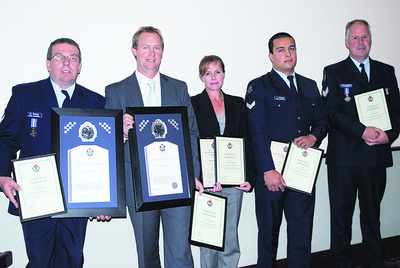 FIVE local Victoria Police members were honoured in an "unusual commendation" from Ambulance Victoria for outstanding efforts in providing assistance at a traumatic scene in Moe last year.
At the Eastern Region Division Five Morwell police service medal presentations and commendations ceremony held at Moe on Tuesday, Superintendent Tess Walsh said the members had displayed extraordinary character strength and professionalism at a double stabbing murder on 19 February 2011.
The members honoured were Sergeant Jeffrey Graham, Sgt Melanie Hamshere, Leading Senior Constable Murray Brown, Retired Ldg Snr Const David Matchett and Const Jordan Atkinson.
"They attempted to perform first aid, calm witnesses and coordinate a difficult scene despite the trauma," Supt Walsh said.
"In a volatile and dangerous environment, they displayed exceptional interpersonal skills in calming witnesses, tending a crime scene and delivering death notices.
'In Melbourne, (members) would not have been expected to finish the job (delivering death notices), but it's different in the country.
"They were brave and committed."
Ldg Snr Const Brown and Ret Ldg Snr Const Matchett also received regional commendations for the performance of their duties in Moe on the day, while Sgt Hamshere and Const Atkinson received Latrobe Police Service Area commendations.
At the ceremony, 49 awards for service of 10 years and more were given to Victoria Police members by Regional Commander Assistant Commissioner Wendy Steendam in the presence of members' families.
Police members from the three PSAs of Bass Coast, Baw Baw and Latrobe were recognised in the ceremony.
For the Latrobe PSA, 19 members received medals, notably Ldg Snr Const Gary Mills who received the Victoria Police Service Medal 40 years clasp and National Police Service medal.
Supt Walsh said it was important to recognise the sacrifices made by police members' families.