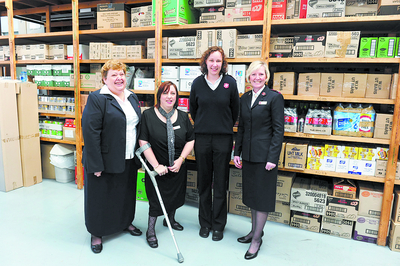 THE new Salvation Army premises in Morwell is the new Latrobe Valley 'hub' and will provide more space for the Salvos to carry out their good work, say staff.
The Latrobe Community Outreach and Support Services with Gippsland Disaster Relief and Recovery Centre was officially opened on Monday, although it had been up and running since February, said Latrobe Community Outreach and Support Services manager Joedy Meers.
"The bigger premises means we can be more responsive rather than reactive to situations, and means we can expand our services to include case work, financial counselling and community development," Ms Meers said.
She said the pressure on the Salvos to provide assistance to families in need was increasing.
"We don't have enough resources – namely money – to meet everyone's needs to help them support their households," she said.
Ms Meers said she hoped people would give generously to the Salvos, particularly during their Red Shield Appeal Doorknock this weekend.
During Divisional Social Program secretary Major Jenny Begent's presentation at the site at 1 Chickerell Street, she said the Salvos assisted 3078 clients last year in the Latrobe Valley, with a total spend of $286,000 or $95 per client.
"Most of our clients are women, and almost all of them have accompanying children," Maj Begent said, adding the average client was aged 21 to 55 years.
"Some of the issues they face include poverty, health problems, homelessness and substance abuse."
Assistant Divisional Social Program secretary Captain Claire Emerton said the new centre was not only the first port of call for those in need of the Salvos' assistance, but would also be the centre of packing and distributing goods during an emergency.
"The bigger space is more conducive for our staff and volunteers," Cap Emerton said.
About 30 people, including Latrobe City councillors, representatives from Victoria Police and State Emergency Service, Salvation Army staff from Melbourne as well as State Member for Morwell Russell Northe, were present for the official opening.