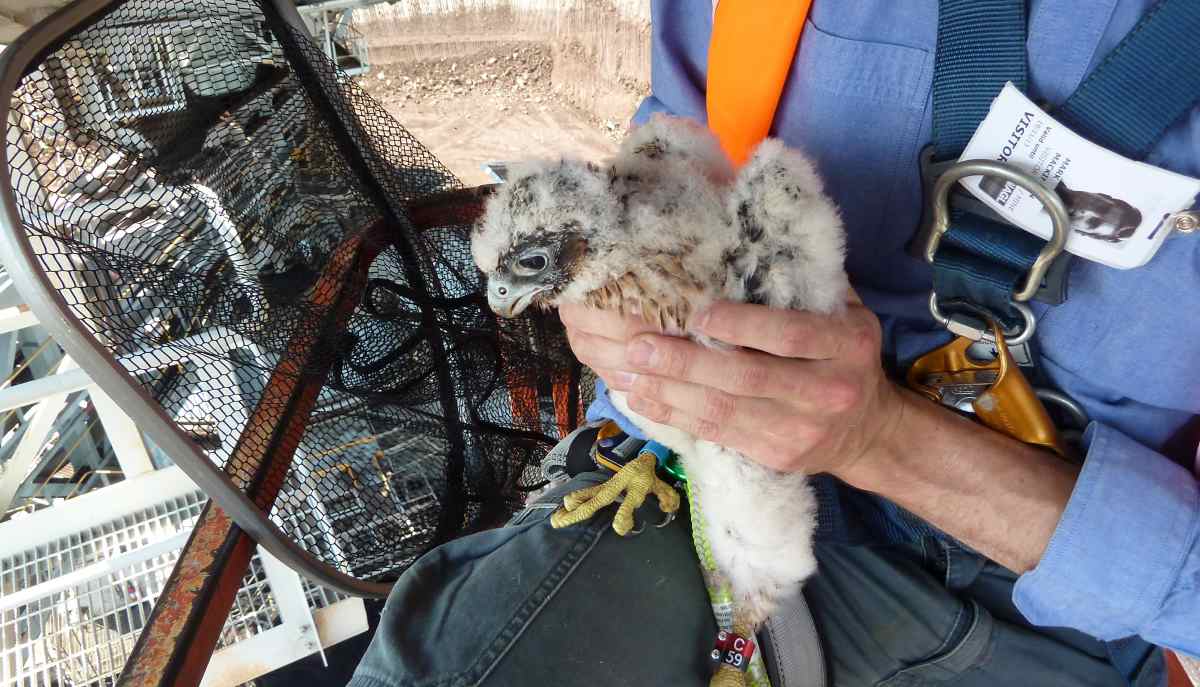 Loy Yang Power Station agreed to scale back coal mining operations on Tuesday to return a displaced falcon chick to its nesting place – 40 metres up an operational bucket wheel dredger.
In a major logistical operation, which local bird rescuer Linda Cunningham described as "astonishing", Loy Yang operator owner AGL shut down the number 14 dredger while experts replaced the month-old female peregrine falcon chick with the aid of a cherry picker.
"For AGL to shut a dredger down for this bird is really quite remarkable – at first I wasn't too confident of our chances – but what they did has totally and utterly amazed me," Ms Cunningham said.
As a registered rehabilitator of birds of prey, Ms Cunningham received a call Saturday afternoon after a mine worker found the falcon chick on the mine floor.
"Peregrines don't have nesting materials like other birds, and they usually nest on horizontal cliff faces, but unfortunately this one was a flat beam without any recesses, which was an obvious problem in terms of slipping," Ms Cunningham said.
"Luckily it fell into a wet area and got stuck in the mud, which really broke its fall – it could've hit a conveyor or anything, so thank goodness the workers found it.
"It was completely covered with coal dust underneath, which made it look black rather than white, and had ingested a lot of coal as well – so it needed quite a bit of care to clean up."
Ms Cunningham said the bird needed another three weeks in the nest and required immediate return to its chick brother and parents, who have taken up residency on dredger 14 for the current breeding season.
Cleared of fractures at an emergency veterinary visit on the Sunday, the phone calls began to negotiate the bird's return.
While having hosted a breeding population of peregrine falcons among power station infrastructure since 2004, reports of peregrines nesting in coal excavation infrastructure are previously unheard of in Australia.
With starling and pigeon populations nesting and defecating throughout power station infrastructure, the peregrines have been long encouraged at the operation to help keep pest numbers down.
"Having peregrine falcons in the mine is actually an asset, as they frighten away other birds who sometimes cause issues for our operations," acting head of mining John Kienhuis said.
"With the arrival of a new couple in the mine we were happy to do our part to support the survival of this rare breed."
Called in to action the replacement, Victorian Peregrine Project manager Victor Hurley, along with a colleague, banded the female chick before returning her to the high altitude nesting site.
"Females are always territorially protective of their chicks; but they had both parents flying around the cherry picker screaming their brains out when they were returning her," Ms Cunningham said.
"The female will come back to that nest site every year from now on, so they will have to get used to falcons in the mine."
Mr Hurley said the VPP would work with AGL Loy Yang to create a more stable nest box for the birds either in its current location or somewhere close by.