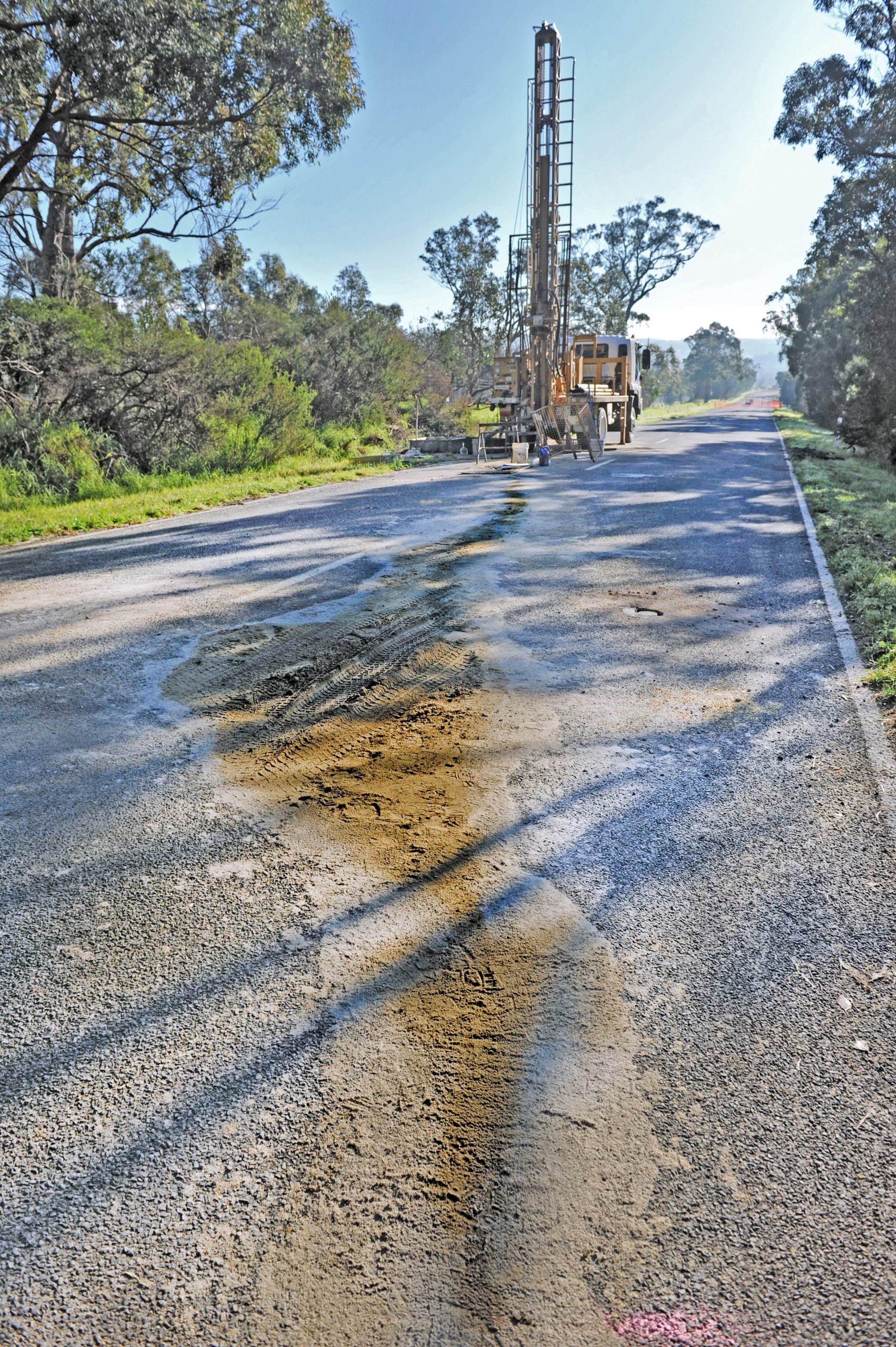 DRAINAGE issues and heavy rainfall may be behind a large crack, which appeared on Latrobe Road, near Morwell on Sunday.

Latrobe Police Inspector Dean Thomas said "at this stage" the combination of a soil type specific to the area, heavy rainfall last weekend and drainage issues due to recent fires was believed to have caused the damage.
The estimated five metre deep and 11 metre long crack runs diagonally across Latrobe Road, and between Hancock Victoria Plantations and the Yallourn mine.
It has forced the closure of the road between Old Melbourne Road and Tanjil East Road.
"We had the bushfires in February of this year, and a lot of trees have been damaged, so they're not sucking up the water in the plantations and of course we've had drainage issues," Inspector Thomas said.
"Drains haven't been maintained and as a result the water has caused this."
Insp Thomas said drilling had assisted to identify the damage to the road and plans to repair the road could now progress with an aim to reopen the road to the community later this week.
"Obviously there are a lot of factors that come into play, weather conditions etcetera, because to repair the road and do their asphalting, they need particular weather conditions," Insp Thomas said.
"If all of that is favourable, hopefully by the end of next week the road will be opened," he said on Friday.
Insp Thomas also assured the community should not worry about the integrity of roads around mines.
"There's nothing to indicate that that's a problem. Once this road is repaired and it's reopened again to the public, VicRoads and Victoria Police will be satisfied that it's safe for road users to use," Insp Thomas said.
VicRoads manager of operations Henry Lam said geotechnical engineers had established there were no problems with the stability of the road.
Mr Lam said the drill went down five metres, indicating the crack was about five metres deep, and the length of the crack was 11 metres.
"Because it goes on a diagonal, it sounds a lot longer than what it was," Mr Lam said.
"We've gone ahead to fill the cracks to stop any more water getting in. Once that's been done, we'll be in a position after the weekend (this weekend) with favourable weather to repair the road pavement," Mr Lam said.
Insp Thomas said traffic management points would remain in place at Latrobe, Old Melbourne and Tanjil East roads.
"Traffic users cannot use this part of the road and (should) use the detours in place… and give yourself that bit of extra time to get to and from work or wherever you're going," Insp Thomas said.