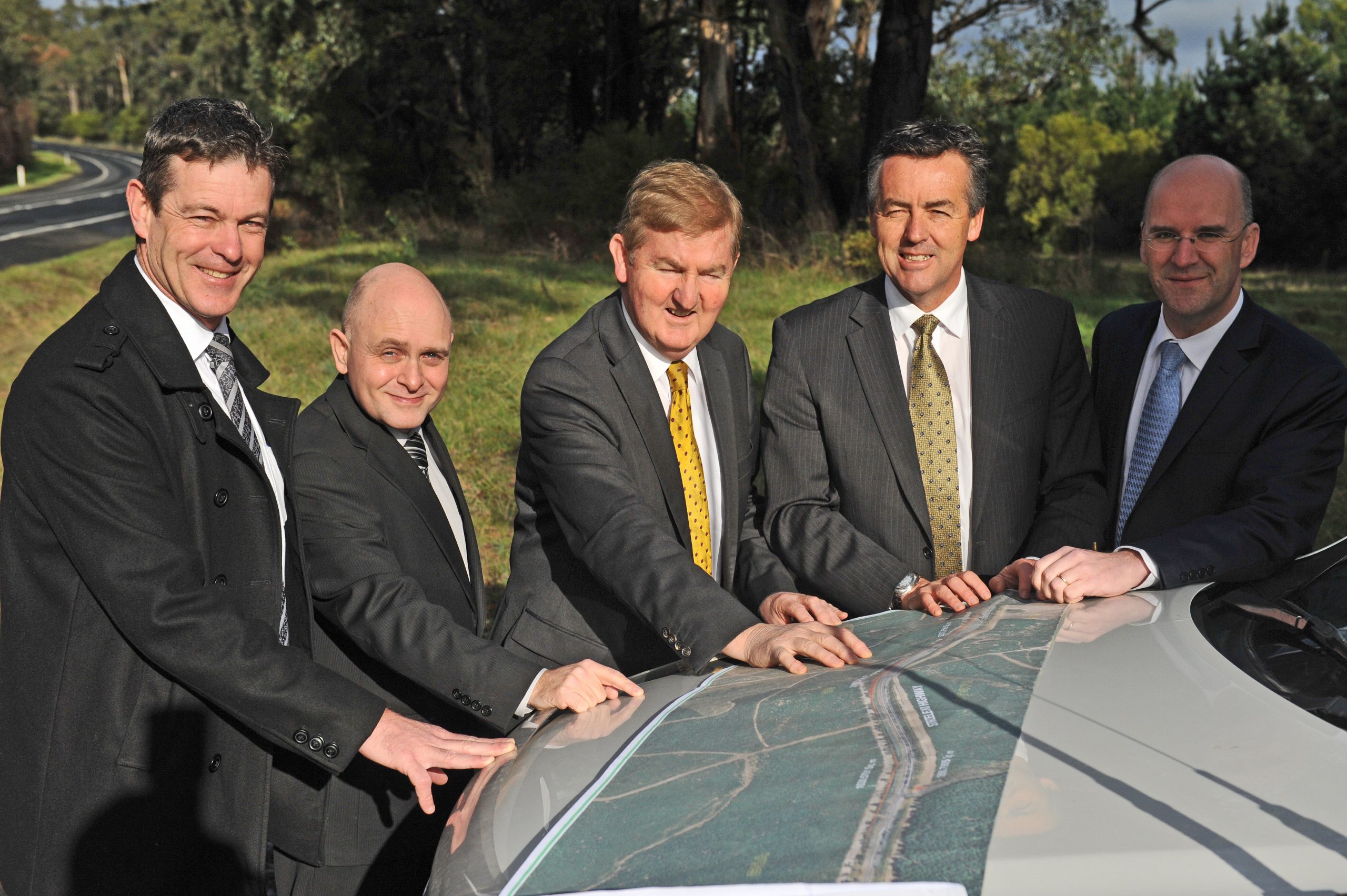 People who have fallen victim to the schlep along the Strzelecki Highway while stuck behind a milk truck will soon have the ability to overtake.
A combination of state and federal government funding worth $4.27 million was announced on Friday for a 1.7 kilometre overtaking lane on the highway near Smiths Road, Driffield.
"We get about 4000 or 5000 vehicles a day come past this point," Deputy Premier Peter Ryan said.
"Many of them are heavy trucks to do with the dairy industry or the timber industry and it's a frustration for drivers to wait and not to have the opportunity to pass.
"This will work very well with the other passing lane that's on the other side of the Strzeleckis between Morwell and Leongatha so these two projects once completed will be a real transition in safety and the general movement within this region."
With many road accidents having occurred on the Strzelecki Highway in previous years, VicRoads regional director Scott Lawrence welcomed the upgrade, especially in the lead up to Summer when holiday makers took to the road.
"There has been road crashes along this section of road and this will help make it safer for people to share the road safely," Mr Lawrence said.
"We understand it's frustrating when you're stuck behind a slow moving truck and at times people just make the wrong choices.
"It will be a benefit not only for road safety but also for freight, allowing them to continue up the hill without them being slowed down or hindered by other vehicles as well."
Federal member for Gippsland Darren Chester said the upgrade was important to reduce the lives lost on country roads.
"At the end of the day we understand that you invest in safety in country roads then ultimately you're saving people's lives and reducing road trauma," Mr Chester said.
"Most people have been touched by road trauma and we understand that if you reduce the number of road accidents and you reduce the severity of those accidents there will be benefits for the whole community."
When asked about the possibility of double lanes on each side for the highway, Mr Ryan concluded it would not happen in the near future.
"In a perfect world… you'd love to have two lanes going each way," Mr Ryan said.
"Who knows, (it may happen) within time to come particularly as the Latrobe Valley continues to develop and very particularly as the coal allocation scheme comes together as we think it will."