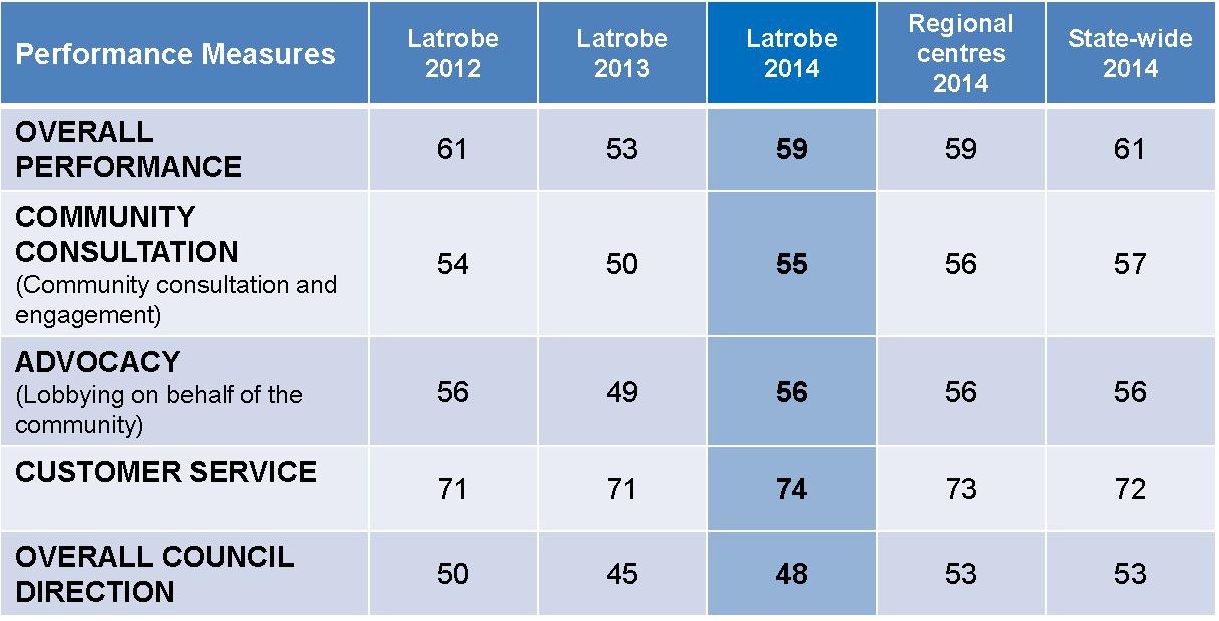 SATISFACTION with Latrobe City Council has risen to 2012 levels after a dip last year, a recently released survey has revealed.
In this year's annual Local Government Community Satisfaction Survey, council returned to results similar to other regional centres in key areas such as overall performance, community consultation, advocacy and customer service.
However, council's score of 48 for overall council direction is still below the state average of 53.
Mayor Sharon Gibson said she was not surprised by the result.
"I can understand why that would be down at the moment because we are going through a change with the organisation," Cr Gibson said.
"I would hope to see that figure a lot higher than the state average in time to come."
Cr Gibson said she thought the dip in satisfaction levels in 2013, of about four to eight points per area, could be attributed to "uncertainty" after a change in council following the 2012 election.
"It could be a number of things really, but when you're coming off an election… there can be uncertainty and unease until people understand where you're going, especially when there's been three councillors who had lost their seat," Cr Gibson said. She said she hoped this year's gains would be the starting point for further improvement.
Cr Gibson said she also hoped council's focus on jobs would pay off in the near future.
"The council has really a put on major focus on job creation and putting our municipality in the best place possible for the future – that's what our mandate is," Cr Gibson said.
"We haven't hit our straps by any stretch of the imagination.
"We hope that in future years that's something that really sets us apart because, if the hard work means anything, then we should be doing better than other municipalities."
The Local Government Community Satisfaction Survey is conducted annually, this year by JWS Research, which surveys 400 residents within each of the 67 municipalities to produce scores for five performance measures and 19 service areas, plus some qualitative data.