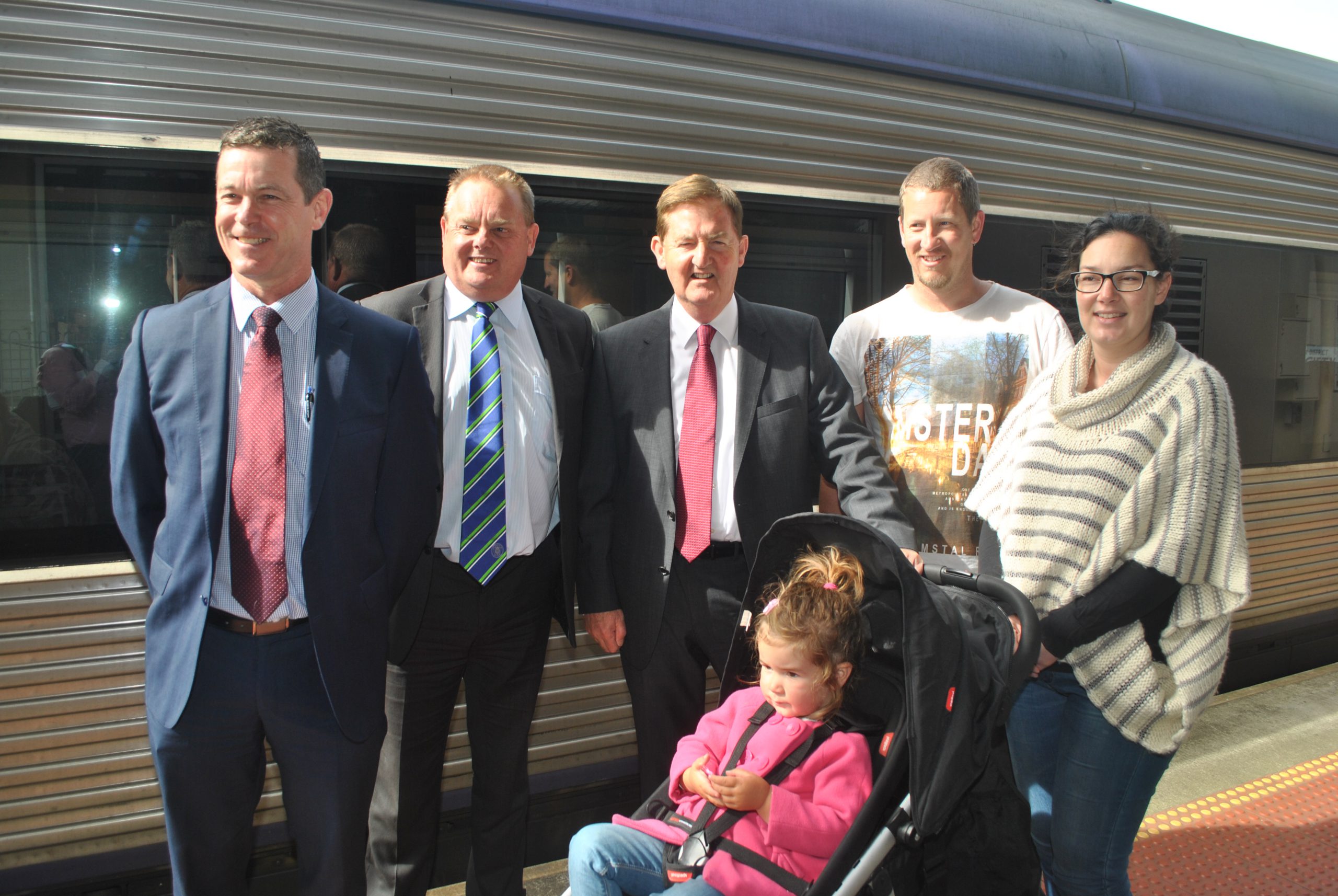 EXTRA train services on the Gippsland line and a track duplication between Bunyip and Longwarry have been promised if the Coalition is re-elected.
Deputy Premier Peter Ryan visited Traralgon railway station on Tuesday to announce the commitment.
The $178.1 million promise would see 24 additional train services to and from Melbourne per week, with trains departing from Traralgon, Sale or Bairnsdale.
The funding also includes a track duplication between Bunyip and Longwarry with the aim of improving train punctuality on the Traralgon and Bairnsdale lines.
The duplication would allow trains to pass each other so services affected by metropolitan trains would not hold up those running on time.
Member for Morwell Russell Northe welcomed the additional services and said they would benefit Latrobe Valley residents commuting to work in Melbourne.
"What I'm excited about is the additional peak week day service, that's critically important, we do have capacity issues and with additional carriages coming online and additional services that will help alleviate that pressure," Mr Northe said.
"Weekday commuters and weekend leisure travellers will be winners."
Greens candidate for the Morwell electorate Dan Caffrey said while a track duplication in the proposed area would improve one service, he believed the problem should be fixed further up the line.
"The real bottle neck is between Caulfield and Dandenong and if they duplicated that section that would improve travel times to Melbourne by at least 15 to 20 minutes," Mr Caffrey said. Mr Caffrey said he would advocate for rail services earlier and later so workers commuting from Warragul could get to Traralgon by 8.30am and night riders return later.
Extra train services:
– An extra early-morning weekday return peak period train departing Traralgon, stopping all stations. On the return, this new weekday train would depart Southern Cross at 5.10pm and stop all stations, allowing the 4.58pm train to run express from Dandenong to Drouin and then stop all stations to Traralgon
– An increased train frequency on weekends with three additional return trains on Saturdays and four extra each way on Sundays, increasing train frequencies between 7am and 11pm on Saturdays and 8am and 9pm on Sundays
– The extension of the 6.37am weekday train from Traralgon to originate at Sale at 6am
– The extension of the 3.19pm Southern Cross to Traralgon train to Sale, arriving at 6.20pm
– A new Sunday return train at 9.25am from Southern Cross to Sale and Bairnsdale where it would arrive at 1.10pm, with an extra train departing Bairnsdale at 2pm, arriving at Southern Cross at 5.45pm