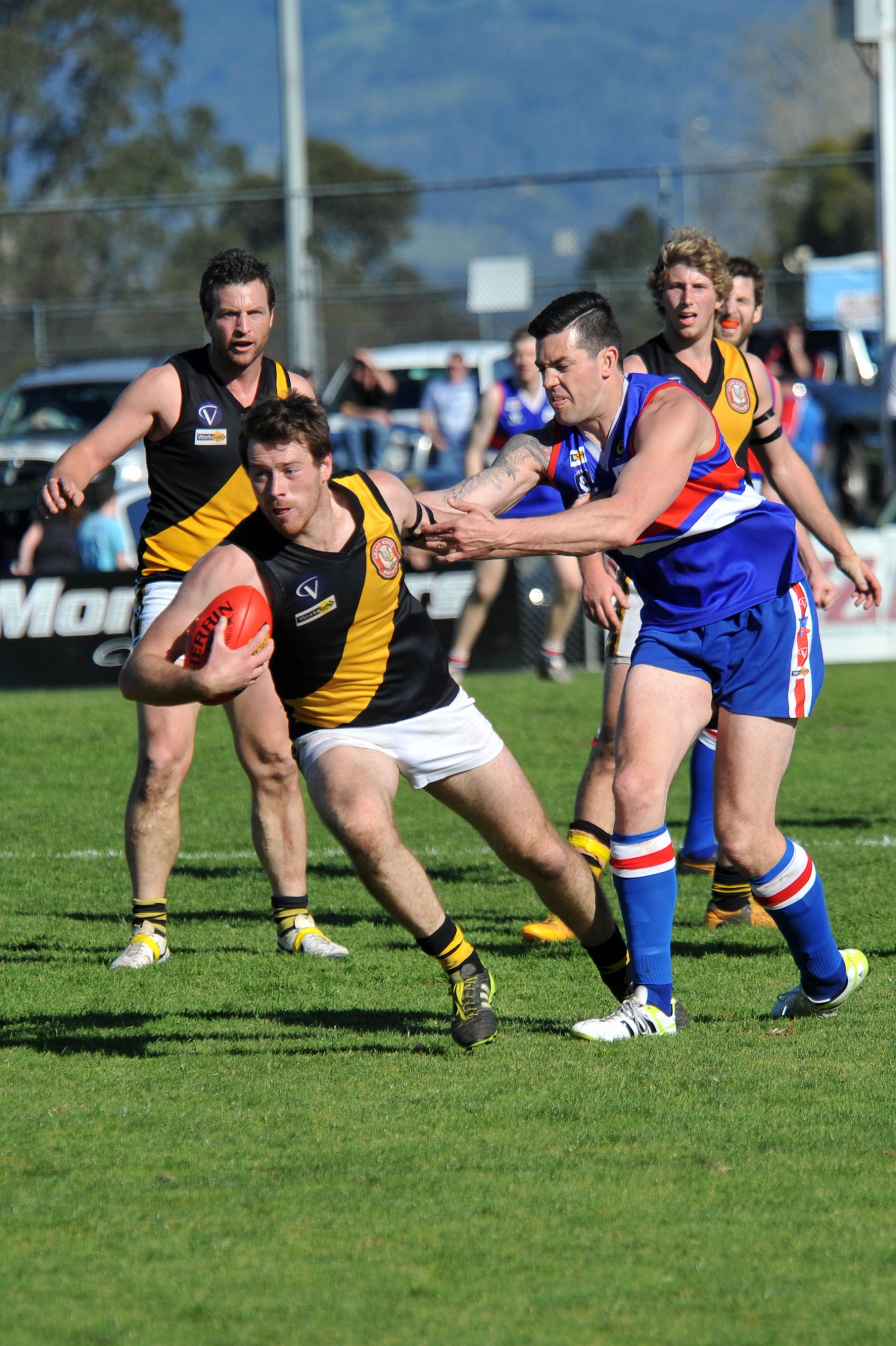 FOOTBALL

Mid Gippsland Football League
IT'S a trophy weekend in Mid Gippsland football with no fewer than three pieces of silverware up for grabs.
Boolarra and Hill End will play for the Hambone Trophy, Newborough and Mirboo North for the Ron Skinner Memorial Trophy, while Thorpdale and Trafalgar will contest the newly instigated Trafalgar-Thorpdale RSL Merger Trophy.
Newborough v Mirboo North
THE spotlight this week turns to the Newborough versus Mirboo North match as the one to watch as far as finals are concerned.
With only seven matches of the regular season to play every win is critical for ladder position.
Currently Mirboo North sits second (34 points) while Newborough is just behind in third (32), after both teams went up a rung courtesy of Yinnar's surprise loss to Thorpdale.
Newborough got the jump on Mirboo North last time they met to upset the reigning premier, but this time the Tigers should be a bit stronger and avenge the first round loss.
The Ron Skinner Memorial trophy is up for grabs, a recently formed cup commemorating the life of the late former coach of both clubs.
Both teams have high profile forwards who are capable of turning a game; Mirboo North has scored most freely in the league this season with 999 points at 90.81 per match but Newborough is not far behind with an impressive 907 points at 82.45 per match.
History barely favours Newborough with a 45-44 win-loss record in 89 matches against Mirboo North.
> Last Time: Newborough 13.11 (89) d Mirboo North 9.9 (63).
Hill End v Boolarra
WITH both teams at their lowest ebb the bout between Hill End and Boolarra is going to be a survival of the fittest.
Boolarra is in ninth position with three wins while Hill End sits 10th without victory.
It has been a disappointing campaign for both after Boolarra finished fifth (12/6) while Hill End finished seventh (5/13) last year.
Neither will reach the heights of 2014 but with seven games to go there will be pride at stake.
Last time Hill End went through the season without a win was in 1969 and the club will be desperate to keep it that way.
To fall from finalists in 2014 to near bottom is a disaster for the Demons who need to lift.
The two clubs will be playing for the Hambone Trophy, donated by Hall of Fame recipient Reg Bacon who is a past coach of both teams.
Hill End Past Players will be holding its annual reunion on the day, with guest speaker Terry Daniher. All former players are welcome. For more information phone Peter Hopkins 0417 332 005.
> Last Time: Boolarra 12.12 (84) d Hill End 9.11 (65)
Thorpdale v Trafalgar
FIFTH placed Thorpdale (26 points) and seventh spot Trafalgar (16) will clash for the newly instigated Trafalgar-Thorpdale RSL Merger trophy.
The silverware will be sought after, but the four points are more important for both given ladder permutations.
Thorpdale is making a determined bid to hold onto fifth and showed true grit to knock off Yinnar.
Trafalgar is in dire need of senior players after some 15 were unavailable last week due to injuries and work commitments.
Under this cloud the Bloods are not performing like the team which finished fourth last season.
Thorpdale should win, but it should be wary of Trafalgar under caretaker coach Dale Burridge.
> Last Time: Thorpdale 7.10 (52) d Trafalgar 4.7 (31)
YYN v Yarragon
A historic run this year from Yallourn Yallourn North will see the Bombers go in as keen favourites against Yarragon.
The Bombers are undefeated in 10 games, a feat last observed in 1999.
The club is pulling big crowds and coach Adam Bailey has got his team fired up about the rest of the season.
Even the reserves (who finished last in 2014) have started to show potential and are currently sitting second in what has been a boom season.
Yarragon went through a period of six games without winning, but with three wins on the board have some confidence back.
The Panthers are within two games of equalling last year's win tally.
YYN should win, but Yarragon could prove a belligerent obstacle.
> Last Time: YYN 13.4 (82) d Yarragon 8.9 (57)
Morwell East v Yinnar
MORWELL East has shown its determination to fight Thorpdale and Trafalgar for the vital fifth position on the ladder in recent weeks.
The Hawks will be eager to challenge Yinnar and claim a first win over the Magpies since 2011.
A big win over Hill End last week gave the East plenty of confidence while Yinnar suffered a downer against Thorpdale, recording its lowest score for the season.
The fall from second to fourth will hurt the Magpies who won their first six games, then suffered three losses and a draw.
Injuries have played a big part in their sudden drop but as players return so to may their power.
Morwell East will give them a run but Yinnar may prove too good.
> Last Time: Yinnar 10.24 (84) d Morwell East 1.3 (9)