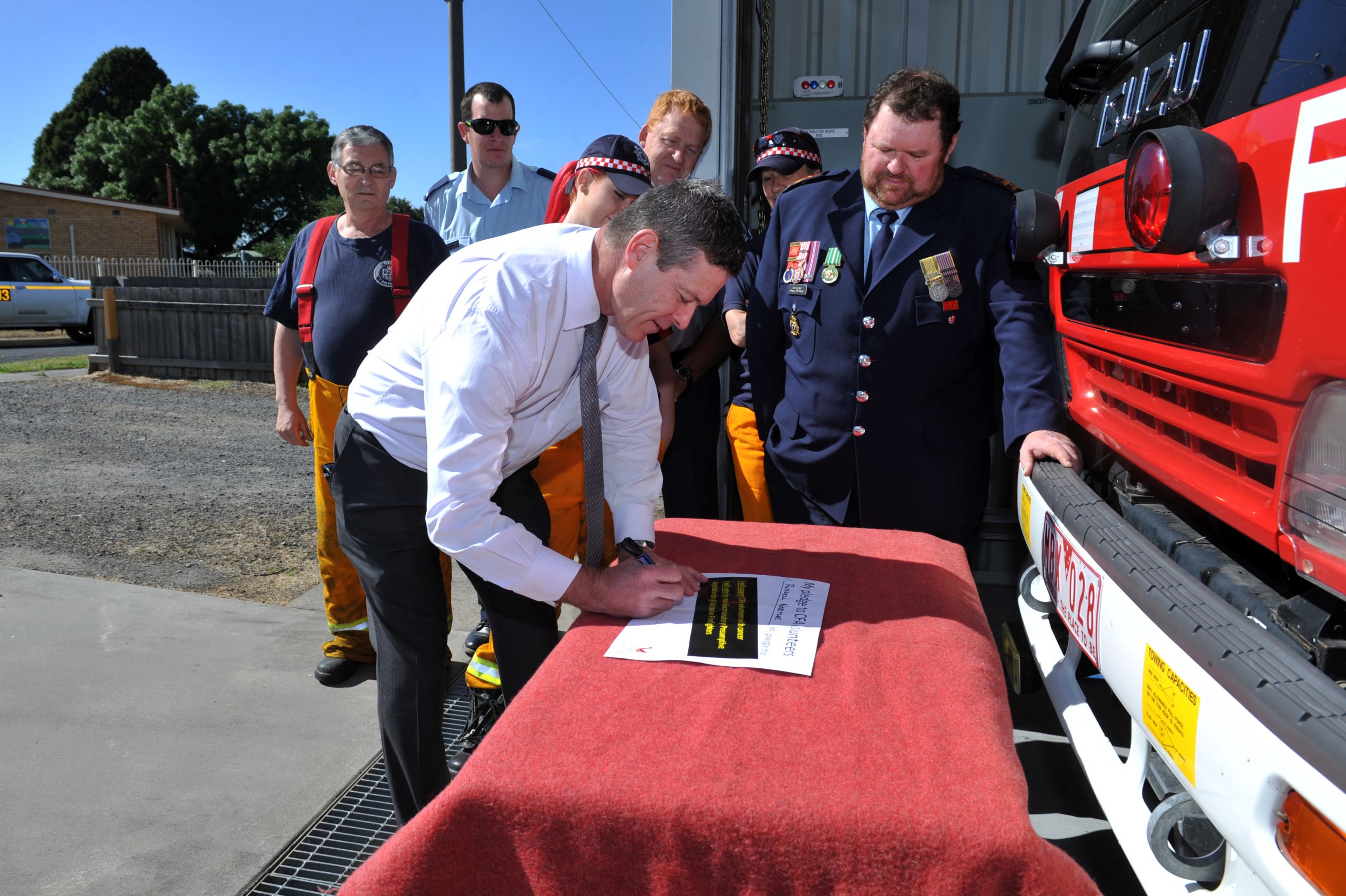 The call for compensation for all Victorian firefighters diagnosed with cancer is getting louder.
Volunteer Fire Brigades Victoria is asking the State Government to introduce legislation to help volunteer and career firefighters better access cancer compensation.
On Friday, Member for Morwell Russell Northe joined the campaign, signing a pledge of support to vote for non-discriminatory presumptive legislation.
"Over time I have spoken with both career and volunteer firefighters, and particularly career firefighters, very concerned with the hurdles they had to endure when they did make a claim," Mr Northe told The Express.
"The burden was onerous and in some cases, maybe the outcome was not what they anticipated.
"So what the presumptive legislation does is reverse the onus of proof, if you like, in terms of some forms of cancer."
Mr Northe pointed to research, such as Monash University's Australian Firefighters' Health Study, which has found firefighters faced a higher risk of developing some cancers.
Currently, any Victorian firefighter diagnosed with cancer must go through rigorous checks to support a compensation claim.
Although other state and territory parliaments have removed such barriers, no Victorian legislation recognises firefighters are prone to certain cancers.
In the lead up to last year's state election, both the Liberal and Labor parties promised reform.
"The Andrews Labor Government is keeping its promise to deliver presumptive legislation in 2016," a spokesperson for Emergency Services Minister Jane Garrett said.
"Firefighters put their lives on the line to keep Victorians safe and this is about protecting those who protect us.
"This is a significant step forward and the development of this legislation is a priority for the government."
VFBV District 27 state councillor Pat Quinn said if introduced, firefighters could get immediate help and community members would be more willing to volunteer.
"It's about not making people jump through hoops; not making it hard for them," Mr Quinn said.
"We can get crook from what we do – I suppose it is a peace of mind for all firefighters that we have that back-up from the community and the government that if we do get crook, we have immediate help.
"We are not having a battle about whether we did get it from a fire, when it's more prevalent that that's probably what it's come from."