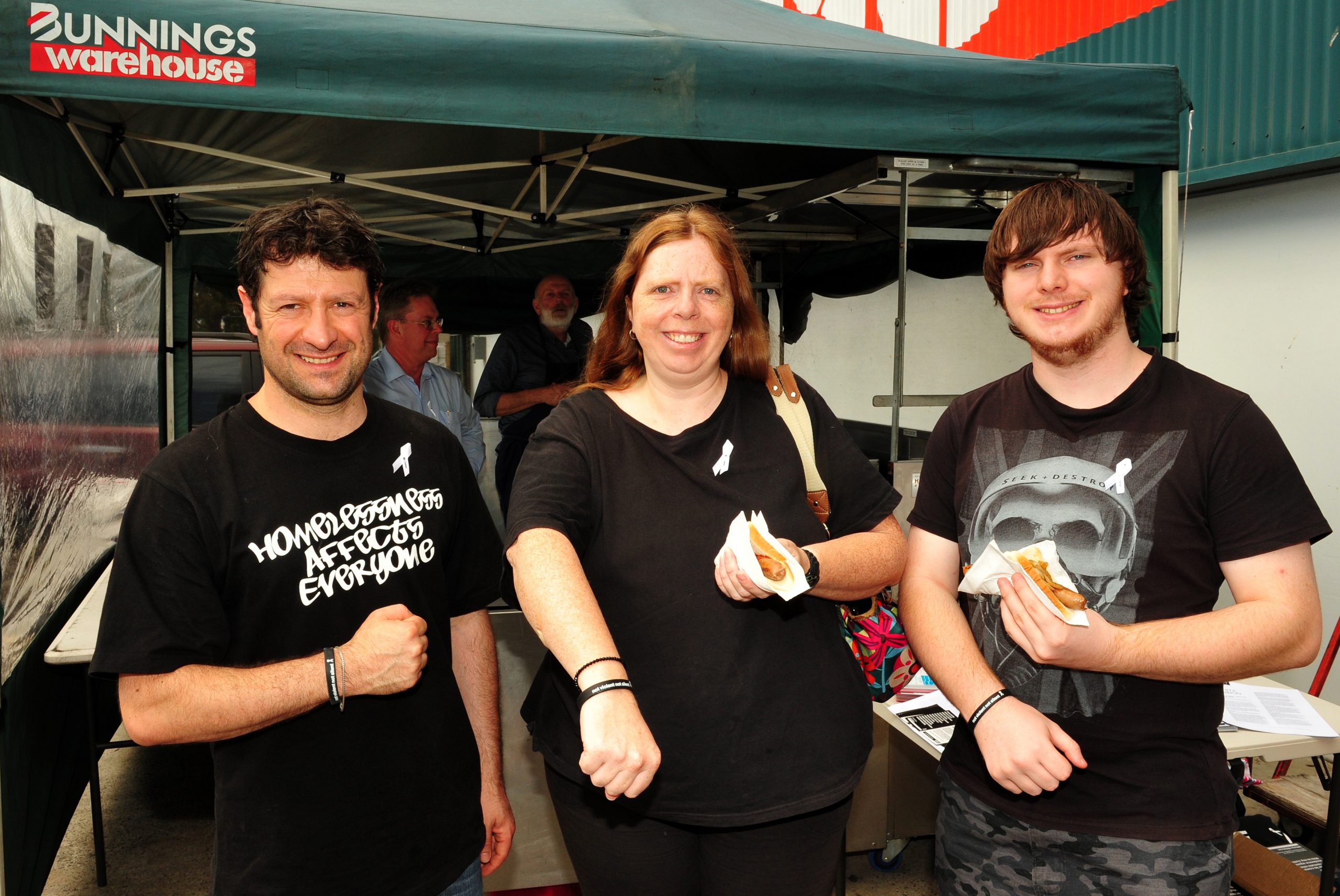 A BARBECUE, black and white wrist bands and a group of blokes taking a stand against violence toward women.

Employees from Quantum Support Services, with help from Latrobe City Council staff, held a cook-up outside Bunnings Morwell yesterday in a bid to spread the word about White Ribbon Day.
As part of the national day, men are encouraged to swear an oath never to commit, excuse or remain silent about violence against women.
"It's the opportunity for guys to say 'this is something that we don't condone, something we don't think is right for our community'," Quantum service coordinator for housing, homelessness and community support, Adrian Terranova said.
"It's really about men's behavioural change."
Quantum workers know all too well the scourge of violence against women in the local community, with the family violence service provider receiving 2800 police referrals for family violence from the Latrobe, Baw Baw and Wellington areas for the last financial year.
So far this financial year, the organisation has received about 300 referrals a month.
"It is disheartening when you see the numbers and the sheer volume of clients coming through… let's address this," Mr Terranova said.
Between April 2014 and March 2015, the Latrobe Valley topped a state list of family violence 'hotspots', with a rate of 2993 per 100,000 population.
It was followed by Mildura, Horsham, Swan Hill, East Gippsland, Central Goldfields, Wodonga, Greater Shepparton, Benalla and Ararat.
Also aiming to highlight violence against women yesterday was the inaugural Connecting Women Across Gippsland Conference at Lardner Park.
More than 400 women from across Gippsland took part in the daytime workshops and presentations, and 250 attended a dinner.
"We are just so grateful people have given up their time to come out and be part of this event," organiser Kerry Irwin said.
The conference focused on gender equality issues, life challenges, business successes, community engagement, social justice and the achievements of Gippsland women of varying backgrounds.
"The conference aims to celebrate and connect women from across the region, as studies show an inherent link between empowering women through social connection and reducing the prevalence of violence in the community," Ms Irwin said.
Gippsland Women's Health chief executive officer Jodie Martin said the community needed to promote women's independence and decision-making, and encourage respectful relationships between women and men, girls and boys.
"Violence is about power and control and stems from a lack of gender equality in society," Ms Martin said.
"We live in a country where one in five Australians think men should take control in relationships and be head of the household."
If you are experiencing family violence, phone 000 for immediate assistance.
For counselling and support phone 1800 737 732.
Quantum support services can be contacted on 1800 243 455. For the men's behaviour change support program, phone Latrobe Community Health Service on 1800 242 696.