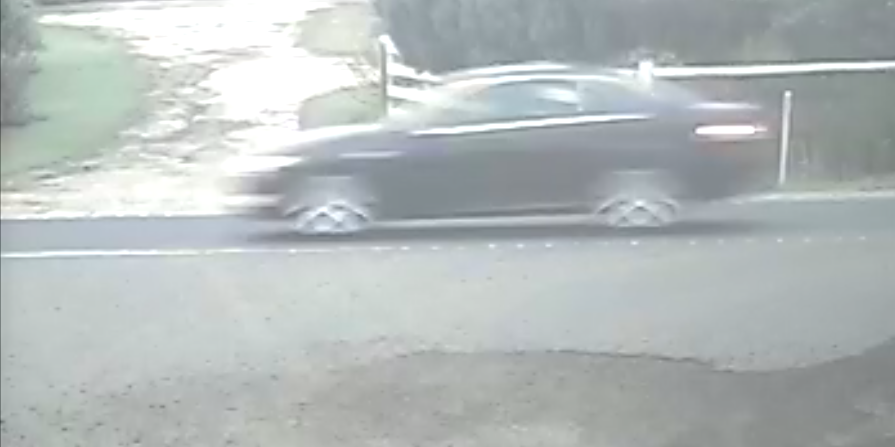 POLICE are appealing for the owners of a Holden sedan spotted driving along the Strzelecki Highway on the day a couple was brutally assaulted in Delburn to come forward.

Last week, police announced a $350,000 reward to find the perpetrators who assaulted the elderly couple at their farm after forcing their way through a window about 2am on 11 January 2015.
The couple were asleep when the two men tied theme with duct tape and assaulted them with an unknown weapon in their bedroom.
Latrobe Criminal Investigation Unit Detective Senior Constable Rob Ormerod said the black, late model Holden sedan, with distinctive details was in the area at the time of the incident and asked the owner or someone who recognised the car to come forward.
Det Snr Const Ormerod explained four hours of CCTV facing footage the Strzelecki Highway had been provided by a business near the victims' property at the beginning of investigations, but detectives had recently been given information that a "black sedan was involved".
He said the owner of the car could be either involved or a witness to the incident.
"It could be something or nothing, but it's important to exclude or include the information," he said.
The 75 year-old woman suffered minor injuries and was able to free herself before alerting neighbours at a nearby property.
Her 80 year-old husband of 55 years received life-threatening injuries and was airlifted to The Alfred Hospital.
Cash and jewellery were stolen from the property and the offenders left in a vehicle in an unknown direction. Anyone with information should phone Crime Stoppers on
1800 333 000 or make a confidential report at
www.crimestoppersvic.com.au
Motorcyclist hit
Police are appealing for information about a Traralgon crash in which a motorcyclist was allegedly knocked from his bike.
According to police, the motorcyclist was heading west on Kay Street on Saturday, 9 January about 5pm when the bike was allegedly struck from behind by a late model, grey-coloured Commodore.
Latrobe Highway Patrol Leading Senior Constable Bromley Llewellyn said the rider was knocked from the motorcycle and the driver of the vehicle allegedly continued without stopping. Police are appealing to anybody with information to phone Crime Stoppers on 1800 333 000 or Ldng Snr Const Llewellyn at Latrobe Highway Patrol on 5128 1100.