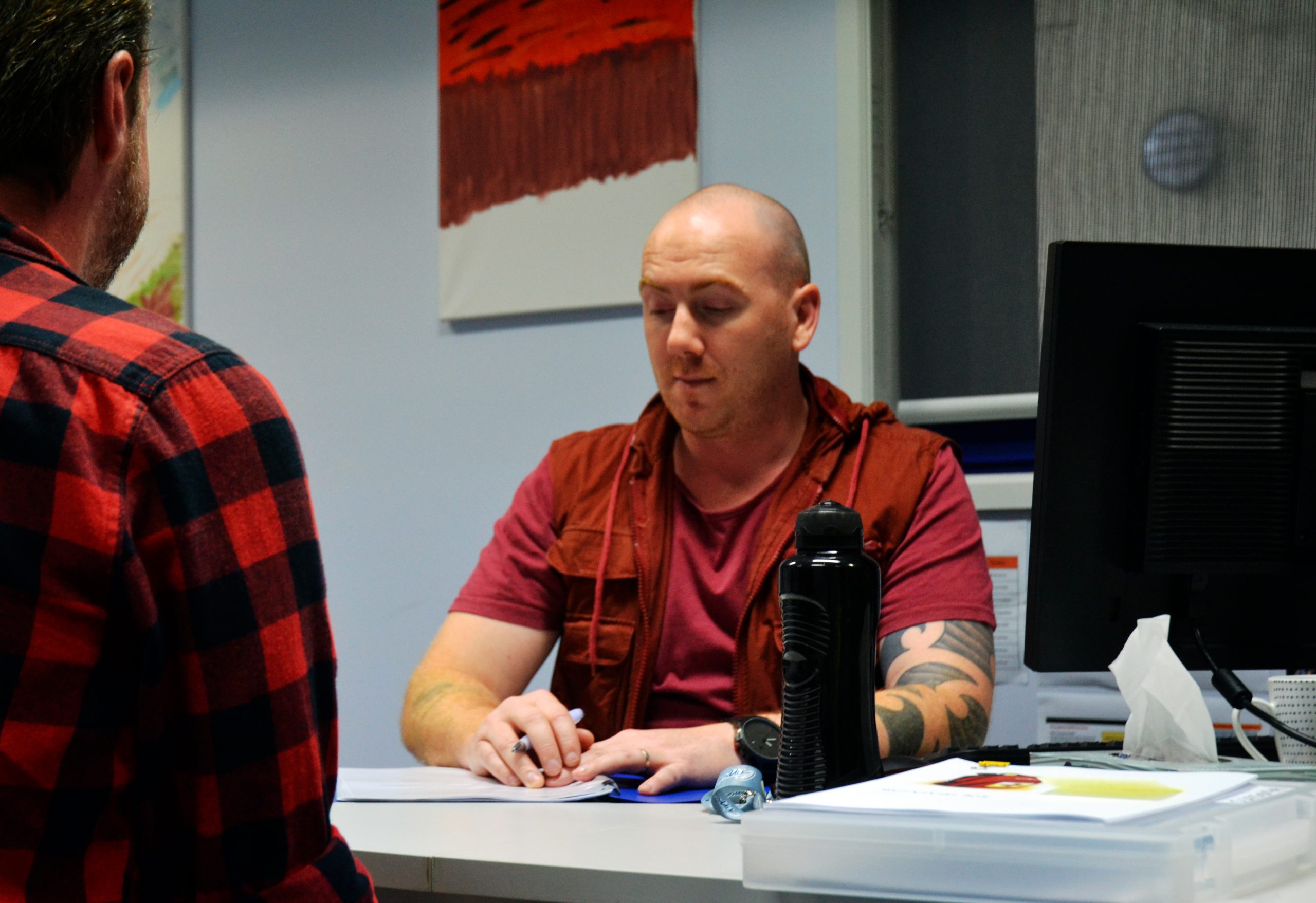 THE first thing you notice is the welcoming environment.
There are no white walls, no stark, hospital atmosphere.
Instead, colourful paintings line the walls and second-hand books fill a bookshelf near the door.
Partway along Fowler Street in Moe, the newly-launched non-residential alcohol and other drugs rehabilitation day program is changing the lives of people of all backgrounds.
"It kept me out of jail and alive," 25 year-old Ben*, one of the first to graduate from the program, said.
From about 15 years of age, Ben found himself using marijuana, a habit that escalated to ecstasy, juice (also known as GHB) and speed by the time he was 17.
He said drugs were "cheaper than alcohol back then" and continued using, "'til none of that affected me anymore".
So he started using methamphetamine, commonly referred to as ice.
Having grown up in the Valley, Ben moved away to "get away from everything, get away from it all", but returned home about five months ago.
"It sort of worked a little bit, but (meth) sort of still had a hold of me," he said.
"(I came home) to mum to try and straighten myself out. And then yeah, this course popped up."
The course – a six-week, non-residential rehabilitation day program – is the first of its kind in Gippsland.
Latrobe Community Health Service and Windana Drug and Alcohol Recovery are jointly running the venture, having received about $1.9 million over four years as part of the State Government's Ice Action Plan.
"There is an education focus around addiction, triggers and relapse prevention. We also look at it from a holistic view as well," program clinical lead James Dale said.
"We touch on things like emotional resilience, anger management – a lot of those things that surface when people are in drug post-acute withdrawal or they've stopped using substances.
"They no longer rely on the substances to deal with their emotional content that they're going through, so we're trying to build up resilience to that."
The program offers rehabilitation with a therapeutic focus.
Yoga, art therapy and nutritional sessions complement discussions around rebuilding relationships and future employment or educational pathways.
Family and friends are another major focus, with loved ones given the opportunity to attend an after hours session run by the Self Help Addiction Resource Centre.
Prior to joining the program, individuals must complete withdrawal, which involves clearing the substance out of their system at an inpatient detox unit.
Participants receive individual treatment plans, reviewed fortnightly, along with a clinical discharge plan focused on preventing relapses, as well as social connections.
"Because people can't recover in a vacuum," Mr Dale said.
"I usually talk about, when you first started taking drugs, you jettisoned a lot of the people that cared about you.
"Now that you want to give it up, you're jettisoning the people that you've used drugs with.
"So you're alone, and you're alone. That kind of social connection is really important."
Ben doesn't recall the person he was while he was using; "everything was just a fantasy world back then".
He said it was the support of his mother, who has "never buried her head in the sand", that enabled him to become more grounded.
Clean for five months now, he said his biggest challenge was beating the cravings and resisting the urge to use again.
He plans on returning to work in about six months, with the possibility of pursuing a career helping others struggling with addiction.
Ben advised those with loved ones affected by drugs or alcohol to "just be patient".
"Don't force or pressure people into it (giving up substance use), because it just won't happen then," he said.
"Look at all the right avenues, do a bit of homework to see what is going to be best and suitable.
"Whether it be their child, family member or whatever, just (practise) patience; it's not going to happen overnight."
Those interested in participating in the program must meet certain criteria, including completing withdrawal and having secure accommodation.
For more information, including how to refer, phone LCHS on 1800 242 696 or the Australian Community Support Organisation on 1300 022 760.
* The Express has chosen to use the pseudonym of Ben to protect the participant's identity