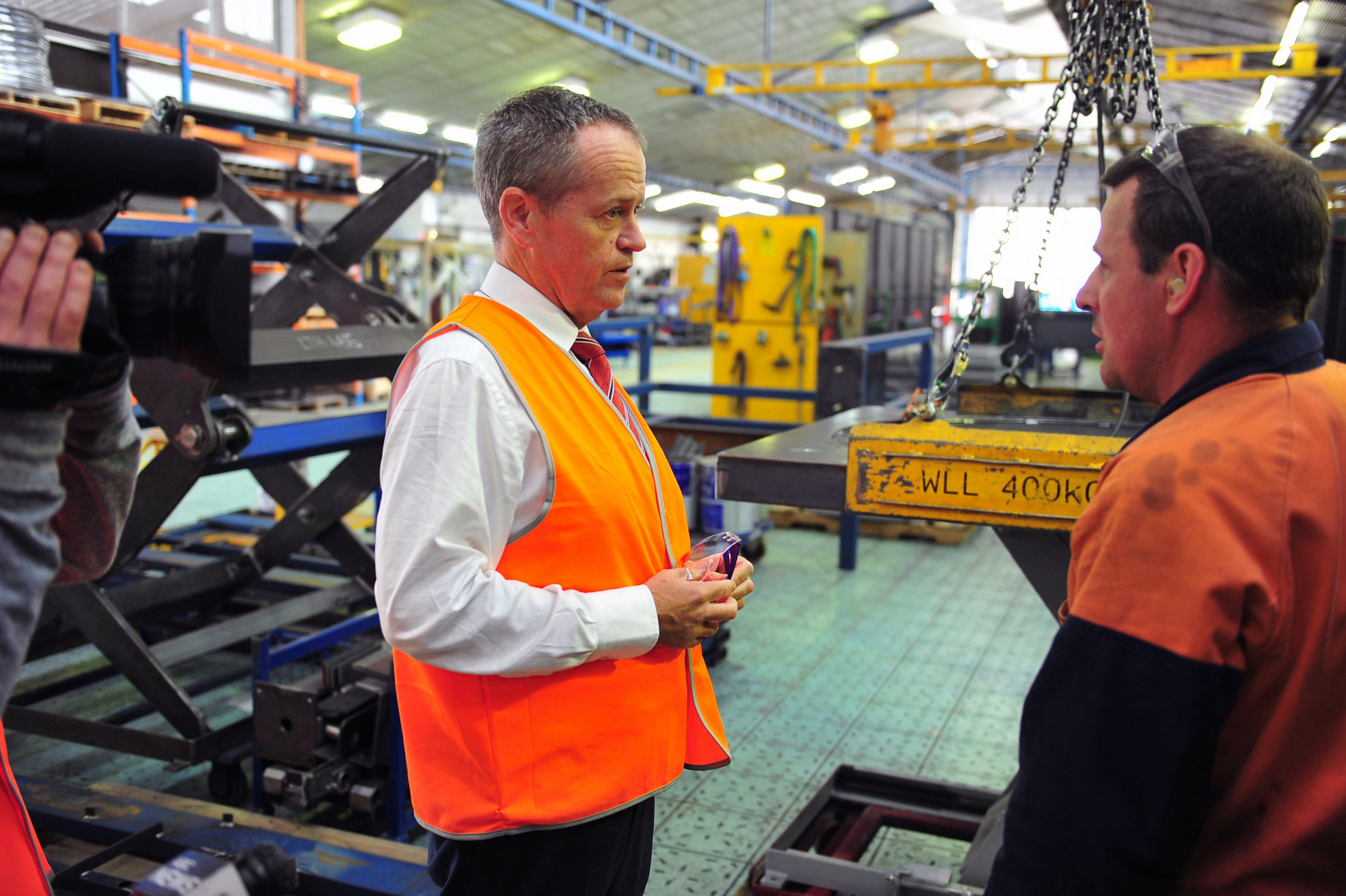 Federal Opposition leader Bill Shorten used a trip to the Latrobe Valley today to spruik the importance of supporting local manufacturing as the region grapples with the impending closure of Hazelwood.

Mr Shorten visited Moe engineering firm Safetech during a trip to Gippsland which included a meeting with Hazelwood workers who will lose their jobs when the plant closes in March next year.
He toured the company with Opposition employment and workplace relations spokesperson Brendan O'Connor, who concluded their visit to the site with a meeting with management.
Mr Shorten hailed the company, which manufactures materials handling equipment, after the meeting.
"Part of the reason we're in the Latrobe Valley today is to show some support and interest in what's happening to the workers who are losing their jobs at Hazelwood," he said.
"But the other part of the reason we're here is to remind Australians that when we give Australian manufacturing a level playing field they can compete and win against the best in the world."
Safetech employs about 100 staff nationally, including 80 who work at its Moe headquarters, with tradespeople and engineers on its payroll.
Mr Shorten used the visit to call for companies such as Safetech top be favoured for Federal Government contracts.
He said giving contracts to firms like Safetech would help tackle unemployment in the region.
"When there are taxpayer funded contracts we want to maximise Australian content," the Opposition leader said.
"Why on earth when you've got a great company like Safetech would you just be buying overseas product which doesn't have the same quality?"
Mr Shorten struck a populist tone on economic policy during his visit, which comes less than a week after Donald Trump won the US presidential election on the back of working class discontent about free trade.
During his visit the Opposition leader took aim at Safetech's foreign competitors, which he accused of importing products and bringing in labour to perform installations.
Safetech commercial manager Toni Wakefield said the purpose of Mr Shorten's visit was to demonstrate manufacturing can succeed in Victoria and welcomed his call to buy Australian products.
"The trouble is all of us consumers… do like to buy something that we consider might be value for money," Ms Wakefield said.
"But the problem is that might be at the expense of our locally made products, keep the jobs here.
"We enjoy a terrific standard here in Australia and so we can't have it both ways – we can't have everything super cheap and be paid well and have great conditions as well."
Committee for Gippsland chief executive Mary Aldred, who joined Mr Shorten and Mr O'Connor during their tour of the company, said she was happy with the outcome of the visit.
"It's been fantastic to have Mr Shorten through Safetech which is a thriving manufacturing business," Ms Aldred said.
"They have a very strong export future here in Moe and so that's the sort of example we really want to impress upon Mr Shorten and I think we've done that very well."
For more on Mr Shorten's visit see Thursday's Express.
RELATED COVERAGE: Council fuming at Shorten snub

RELATED COVERAGE: Governments consumed in war over Hazelwood coverage