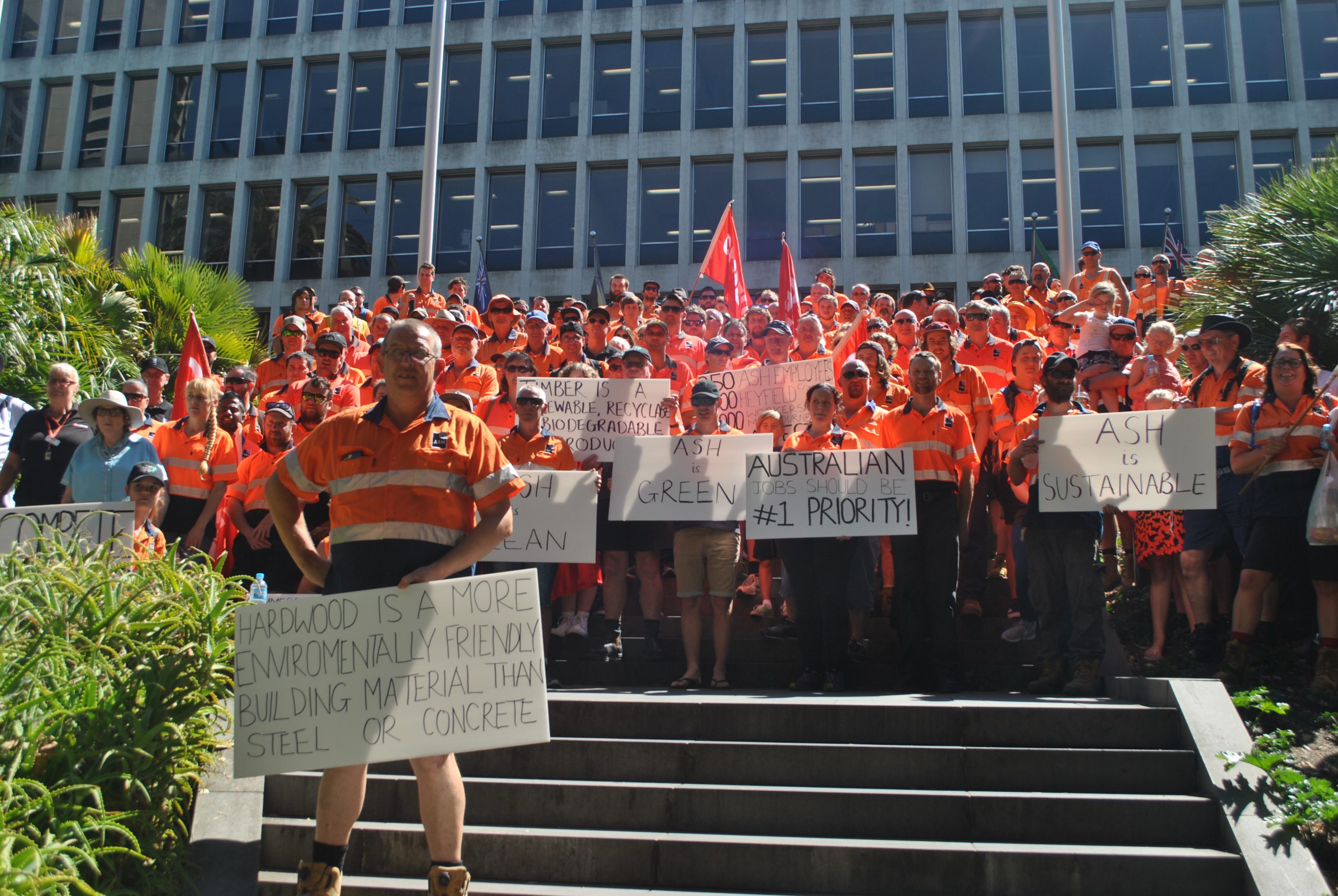 A 250-strong delegation of Australian Sustainable Hardwoods workers and their families gathered on the steps of Parliament and in Treasury Gardens on Tuesday, hoping to put faces to the immediate job losses Heyfield will sustain if the timber mill closes.
Led by Green Mill supervisor Anthony Wilkes, the delegation congregated in the Treasury Gardens, hoping to hear word about the mill's future.
The State Government was expected to make a decision in a cabinet meeting early on Tuesday morning.
Despite a few ministers seen entering and exiting the building, and some more peering down from the windows of Treasury Place, no State Government representative acknowledged the workers.
ASH chair Ron Goldschlager said the gathering was about gaining attention from the State Government, but he didn't have any expectations.
"[We] wanted the politicians to see the faces of real people … our people; I'm very proud of them," he said.
"We're an ethical, moral organisation, we're clean, we're green, we're sustainable, we're doing all the right things, and there's no reason to be closing us down."
Mill drying supervisor Shane Phillips followed in his father's footsteps and began working at the mill when he was 17 years old, and has continued there for the past 38 years.
He married Leanne, whose father, grandfather and great grandfather all worked at the mill, and the pair put two daughters through university.
Mr Phillips questioned, with job losses at Hazelwood Power Station, Patties Foods in Bairnsdale, and speculated job losses at Murray Goulburn plants in Maffra and Leongatha, where people were supposed to work in Gippsland.
He said he was worried how his 10 month-old granddaughter was going to be raised in a family with no income.
"It's pretty emotional; I've spent my whole life in this industry, all my friends work in this industry and nobody seems to care because of a few people down here who want to change the rules," he said.
"All we're doing is earning an honest living, to bring up our kids."
One politician who did talk to the group was Member for Gippsland East Tim Bull, who called on Premier Daniel Andrews to provide a resolution.
"He's been dilly-dallying on this for a number of months when he hasn't had to, and it's time that he came out, stumped up, and gave these workers the peace of mind that they need," Mr Bull said.

Today marks the deadline for a closure decision from ASH, which delayed its determination by a week last Thursday to await a State Government announcement on what support it could offer.
-The Gippsland Times