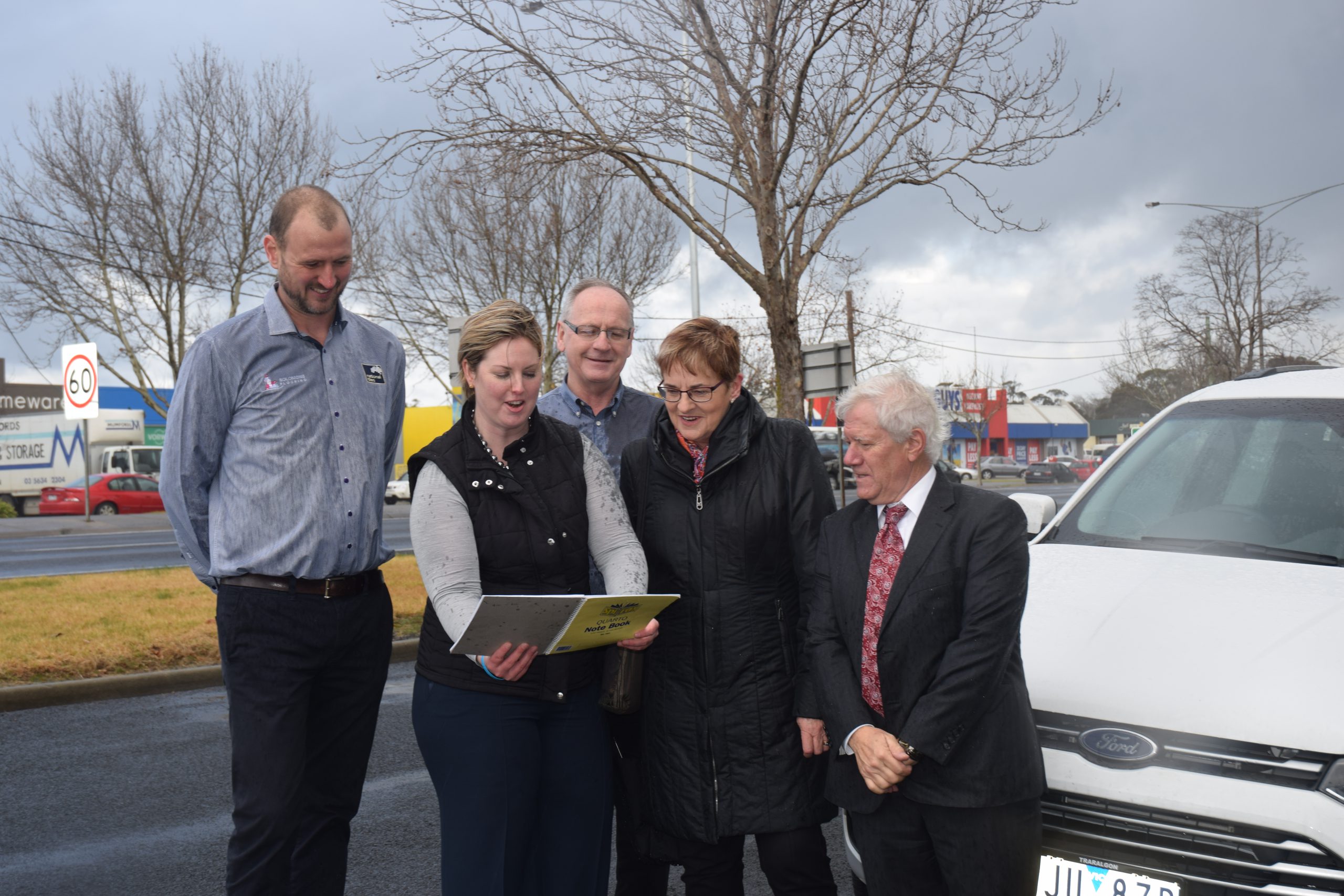 Community members are leading a renewed push to secure funding for a Traralgon bypass.
Local business-owners, a freight company representative and the Committee for Gippsland met on Wednesday to launch a campaign in support of the bypass.
Brenton Wight of Soloman's Flooring along the Princes Highway in Traralgon who is also a parent of school-aged children, said safety was the key reason for his support of the bypass.
"A lot of heavy freight which is vital for the food chain and the transport of goods up and down the highway from East Gippsland through to Melbourne… need an alternative to keep traffic flowing and to be able to ensure the safety of people who come and utilise the wonderful traders who use this stretch," Mr Wight said.
"It's not just heavy vehicles (expressing concerns), its also the mums and dads who are coming into the stores in the eastern part of town now, the flow of traffic in and out of there now can be quite frightening.

"Cars can be banked up 20 or 30 deep and having to make risky calls coming across four lanes of traffic. "
Mr Wight believed a bypass would not cause major detriment to local businesses.
"I think the CBD has a strong enough pull for people to be able to come off the highway and come into Traralgon. Traralgon has a large enough town to be able to support and attract people to come here," he said.
"We've seen examples of that in northern parts of the state. Some worked detrimentally, but I think the majority worked positively."
Owner of BransTrans, a transport company based in Traralgon, Nola Bransgrove said a bypass would be a "big win not just for freight, but for anybody that doesn't need to be in Traralgon".
"Any traffic, certainly freight traffic will pass the town. That will free up the local roads for local users, makes for less congestion, as far as freight goes, not just regionally, but nationally," she said.
"(Using this corridor) adds time, because obviously you are sharing the road with lots of people who want to use local businesses.
"The more traffic we get, the more traffic lights we get. People who need to get from point A to point B which are long distances, it is a lot easier on a freeway."
Ms Bransgrove said a bypass would improve travel times and reduce stress for drivers.
"It is pretty stressful driving through heavy traffic, and with big trucks that is a lot of responsibility for people, they've got to be aware of everybody on the road, not just themselves," she said.
"So the more freely that traffic can move, the safer it is for everybody."

Committee for Gippsland chief executive Mary Aldred said Traralgon remained the largest town in Gippsland without a bypass and securing funding was "an imperative for the Committee for Gippsland from a safety and efficiency perspective".
In 2008, the then-State Government settled on a preferred route for a bypass, however, the project has not gained funding.
Ms Aldred said the Committee for Gippsland would do a cost-benefit comparison with other regions like Ballarat and Goulbourn, and would look at the Pakenham bypass to see what the gross regional product dividends had been for those regions before and after the insertion of a bypass.
"We're also going to work with Gippsland's freight and transport industry to be able to demonstrate an evidence based case back to the Victorian government to say this is really important to get funded and get done," she said.
"We're also going to work with local traders to understand if they're supportive of the Traralgon bypass and if they've got concerns about a Traralgon bypass, what those concerns are and if we can provide some information and a fact-based analysis back to them.
"We understand a business case would be first cab off the rank, and that's what we will be pushing for with this project to be able to put an evidence base to the Victorian Government to fund a business case for a Traralgon bypass followed by construction that will provide jobs for the region as well."