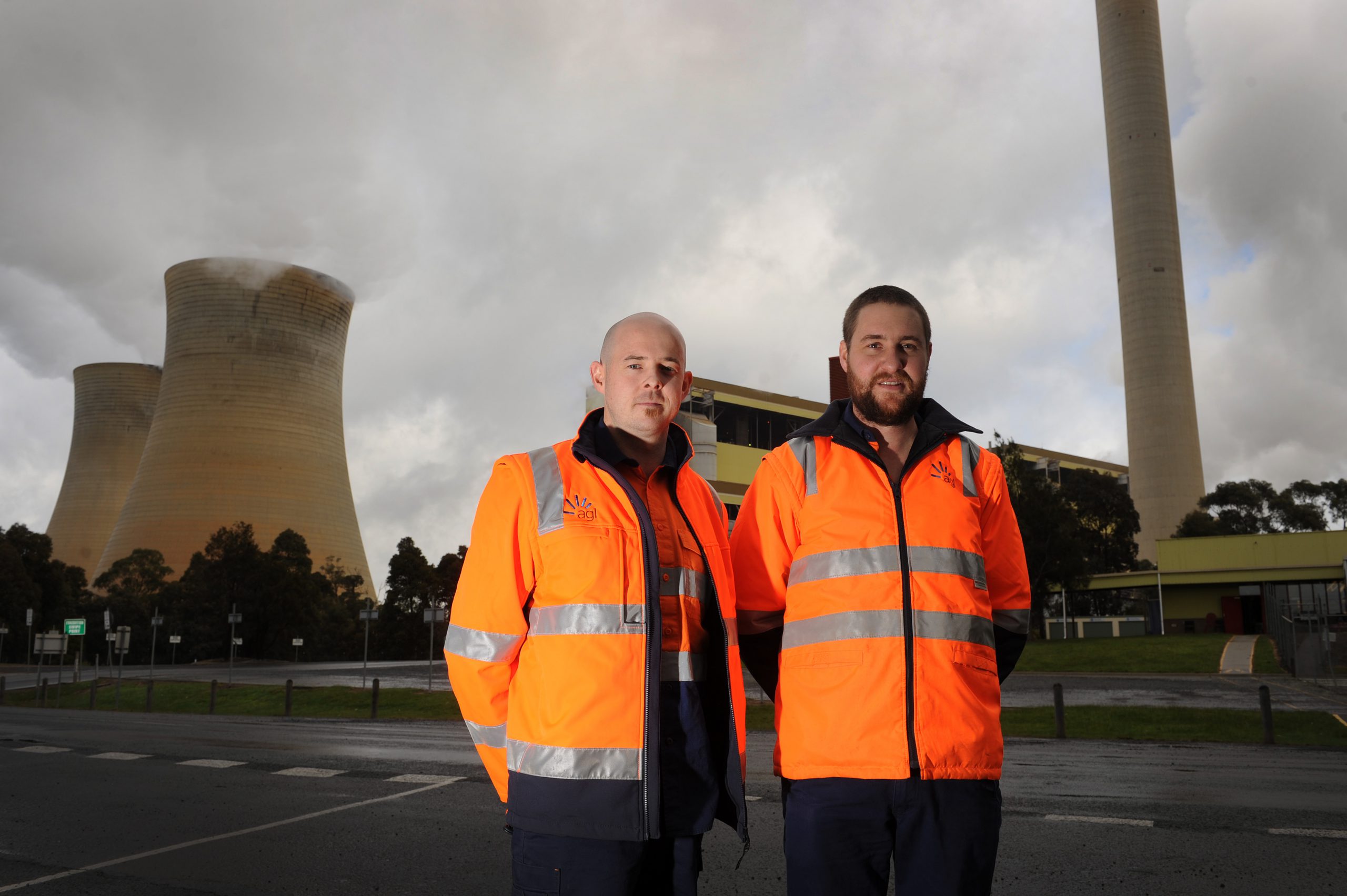 Twenty-five retrenched Hazelwood Power Station workers have begun work at AGL Loy Yang A power station as part of the state government's worker transfer scheme.

State Industry and Employment Minister Wade Noonan met with the newly-hired ex-Hazelwood workers on Wednesday to congratulate them on their new roles.
"This is a day of fresh starts and new beginnings," Mr Noonan said.
"There has never been a template to create a transfer scheme anywhere in Australia.
"The scheme has helped allow [retrenched Hazelwood workers] to transfer their skills which is a win-win for the power generator, and a win for them, their family and the community."
Mr Noonan said the Australia-first scheme received $20 million funding from the state government to "support the generators in terms of early retirement arrangements where vacancies have been created".
"AGL were the first to sign up to the worker transfer scheme… and should be congratulated for their leadership," he said.
"It was really at [the unions] pushing to get government and generators involved in this scheme. They need to be appropriately recognised for the work they have done."
Mr Noonan said state government had also reached agreements with Venetia, RTL Mining and Earthworks, with ENGIE and EnergyAustralia also expected to open up new job opportunities for retrenched workers soon.
AGL Loy Yang general manager Steve Rieniets said he was proud to be able to recruit retrenched Hazelwood workers.
"Supporting the community we operate in is very important to us and this has been one way we can assist here with local employment and the local economy," he said.
"While we've been able to offer the workers local jobs they've offered us fantastic skills and expertise. It's a win-win.
"We've opened our early retirement scheme and we anticipate by the end of the year we'll have about 40 ex-Hazelwood workers coming across to Loy Yang."
The scheme was created following the efforts of Latrobe Valley unions to create employment opportunities for workers affected by the closure of Hazelwood Power Station, which powered down at the end of March.
Gippsland Trades and Labour Council secretary Steve Dodd said it was a "landmark day" and "win for the community".
"[We] have always had a view that the worker transfer scheme would work," he said.
"All the generators have shown that they're willing to retain a skilled workforce in this region," he said.
Mr Dodd said he hoped to see a similar transfer scheme model be implemented for retrenched Carter Holt Harvey workers to be transferred to Australian Paper's Maryvale Mill.
"I believe this is a model that could work not only in the Latrobe Valley but Australia-wide.