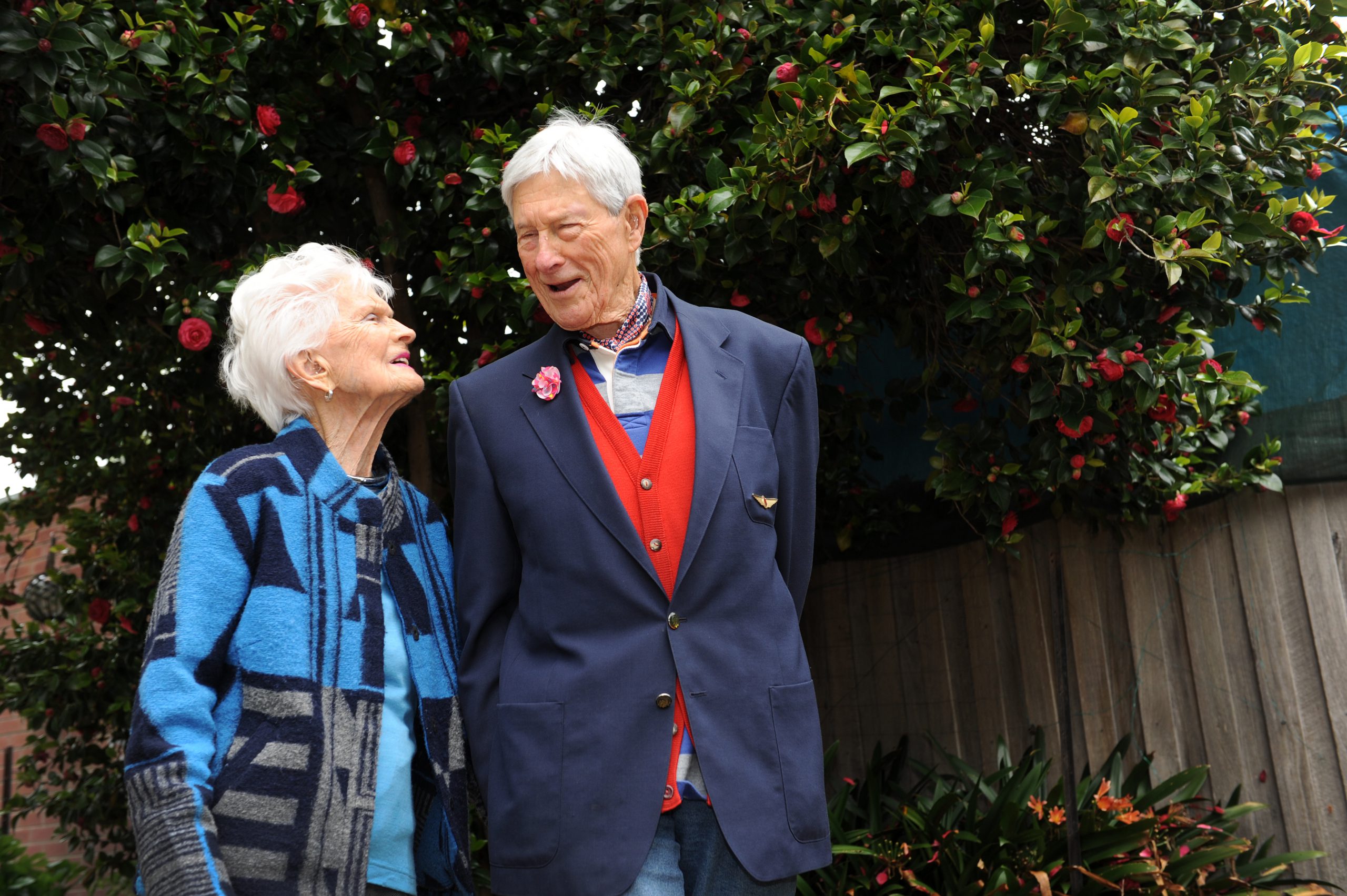 Newborough nonagenarians Peter and Kathleen Lynch are living proof a healthy diet, fun spirit and entirely mad sense of humour is the winning combination for long, meaningful life.

And perhaps a long marriage.
The couple recently celebrated an incredible 70th wedding anniversary, however the milestone itself is far from the pair's most interesting talking point.
"Your whole life has to have fun in it, there's no other way to survive," 92-year-old Peter Lynch said.
Peter was a pilot earlier in life, and the couple moved to the Latrobe Valley 13 years ago after a 25-year retirement in Noosa to be closer to their daughter, Nina Burke.
"We were dragged here kicking and screaming by our daughter who said that she wasn't coming up to watch us die in Noosa, it was too far," Peter said.
"Thirty years ago Noosa was just a little fishing village, no high rises, just lovely, and now it's the roundabout capital of the world."
There Peter and Kathleen found a group of people "mad enough" to take up tap dancing in their 60s dressed in extravagant sequined outfits to entertain people in their 80s and 90s in rest homes.
The beginnings of their relationship was in Melbourne, where Peter, a boarder at Xavier College, spotted Kathleen on a tram when he was heading home to Windsor on a Sunday.
"I saw this gorgeous chick … and I thought to myself, 'I'd like to get to know her'.
"When I was in the air force in Canada, one of my girlfriends sent me a photograph of her and Kath at the races and I said, 'when I get back, have a party and ask that girl – I'll marry her'."
They married on October 1, 1947.
Their connections to people in the aviation industry led to many unbelievable stories.
On the way to witness Donald Campbell break the land-speed record at Lake Eyre, the passengers in the small aircraft had a mighty shock when they made a stop at an airstrip at a South Australian hotel.
"Fortunately I wasn't flying, we took it in turns to fly and my friend was flying and he knew the strip was very short so had to get the aeroplane on the ground early as possible," Peter said.
He landed in a shallow ditch, the propeller became stuck in the ground and the plane flipped upside down, and somehow no one was very hurt.
Kathleen however said she thought a bottle of gin hit her on the back of the head.
The pair made many friends through Peter's highly popular reception house, Number 9 Darling Street, which pulled in a huge amount of business during the 1956 Olympic Games.
"Every country that was involved in the Olympic Games had a reception … It was the best money-making business in the country at that stage," Peter said.
"[The Olympics] changed Melbourne totally. Prior to that there were no chefs."
Kathleen's mother, Nina Christie, also ran a prestigious function venue called Butleigh Wootton on Glenferrie Road, Kew.
Peter said they used to take her mother to an unlicensed music venue in South Yarra.
"No one would suspect an 80-year-old woman having a bottle of gin under her skirt … so we'd all get loaded with grandma trying to look as though she was comfortable about it but she wasn't too happy at all," Peter said.
Peter once met British actor Derek Nimmo on his visit to Australia and the two of them "hit it off".
The actor asked Peter to be the host in his Australian documentary film that would take him "hither and yon".
Peter said his friend Reg Ansett – founder of Ansett Transport Industries – conveniently offered an old DC-3 aircraft for the exploit he and Kathleen joined Derek Nimmo on.
"We chased kangaroos [in the DC-3] over the desert parts, up into Darwin and so on. It's been an eventful life," Peter said.
The couple eventually stayed at Kirribilli House after befriending Harold Holt in Portsea before he became prime minister.
"Portsea was untouched … We used to catch enough fish to feed the four houses around us with no trouble at all," Peter said.
"I taught Harold how to spear fish and that's where he met his demise."
Peter and Kathleen now spend much of their time involved with the Latrobe Valley U3A and have had an "unbelievably good" time exploring much of the industrial sights of the region through the Fantastic Gippsland program.
Kathleen's love for gardening has created a beautiful outlook at their Newborough home, which is decorated with photographs of their family which now includes three children, seven grandchildren and five great-grandchildren.
The 91-year-old said she "had no regrets" about moving to the Valley, and Peter thinks it's Australia's "big world-kept secret".
"Don't tell anybody about it; they'll all be here," he said.