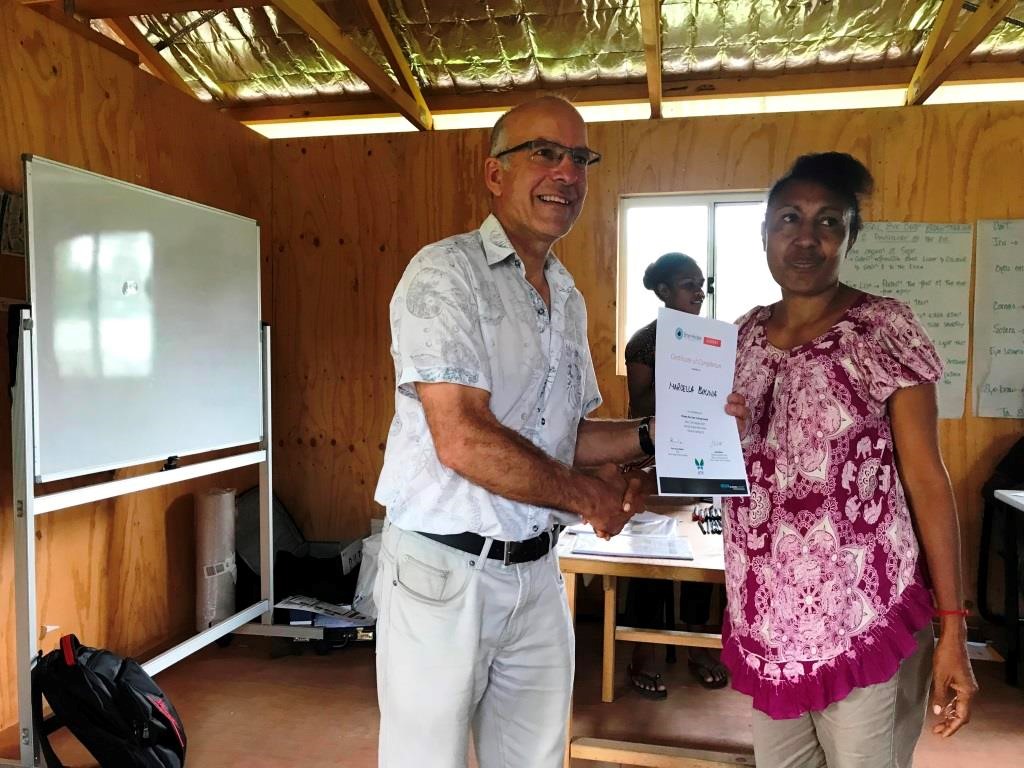 L&F Eyecare Moe and Drouin therapeutic optometrist John Farmer has lost count of the number of times he's been to Papua New Guinea, having made about 100 visits or more since the early 1980s.

It's helped him understand some ironies about the Australian way of life.
"It's like we spend all our money working to go on holidays so we can do what they do every day of the week," Dr Farmer said.
Dr Farmer hasn't been regularly heading overseas to fish and bushwalk, but rather has been instrumental in training health workers in remote parts of the country in basic eye care.
He recently returned from a week of teaching basic eye care to 30 community health workers near the northern end of the Kokoda Track.
His first trip was a memorable one.
In 1982 Dr Farmer and his wife Judy arrived in Madang, then later disembarked an airplane on a small airstrip in the Pacific.
"[The plane] took off and left the two of us on the airstrip with half a dozen … people who didn't speak English," Dr Farmer said.
The party travelled in a canoe for two hours before they arrived at a mission station, which was the first stop of many down the course of the river as they visited villages providing eye care support.
This was the beginnings of a long-term relationship with universities, eye care foundations, the education department and health care workers in PNG – a dedication to a cause which saw him awarded a Medal of the Order of Australia at earlier this year.
A Warragul man, Ian Rowse, who was head of a large missionary organisation in PNG was already travelling to the country to help provide dental care in remote areas and encouraged Dr Farmer's practice to "come and do eye visits".
Initially the practice sent someone over for month-long trips to help provide rural eye care.
"We thought, 'what we're doing to help people is great but it's short-lived … we need to train local people'," Dr Farmer said.
They helped establish a pilot training program with the health department and Churches Medical Council to teach eye care to nurses, then started running annual conferences until the The Fred Hollows Foundation initiated a one-year course at the Divine Word University.
Dr Farmer and Judy spent two years in PNG from mid-2010 as he established a national eye plan with a number of aid agencies.
He said key people "at the PNG end" wanted all these things but needed help to get them happening.
"In PNG you don't generally have people who are starving, just their access to healthcare is limited," Dr Farmer said.
He said the lifestyle conditions in general depended on "what pair of eyeglasses you look with".
"The people are not necessarily unhappy, so they've got basic food, they've got basic necessities," Dr Farmer said.
"If people get sick that's a bit of problem, if people need glasses that's a bit of a problem … but otherwise it's not too bad.
"There are people there who are blind who shouldn't be and we're doing what we can to fix that a little bit at a time," Dr Farmer said.
He said it wasn't that people there aren't doing "their darnedest", there just weren't enough eye workers.
"I don't do any eye care provision now. It's about teaching and supporting the people there making sure they have equipment and resources and trying to help with training program," Dr Farmer said.
"I'm working with the university now to try set up an optometry program; there's always things to be done to take things to next level in terms of what the country needs and what their system can cope with."