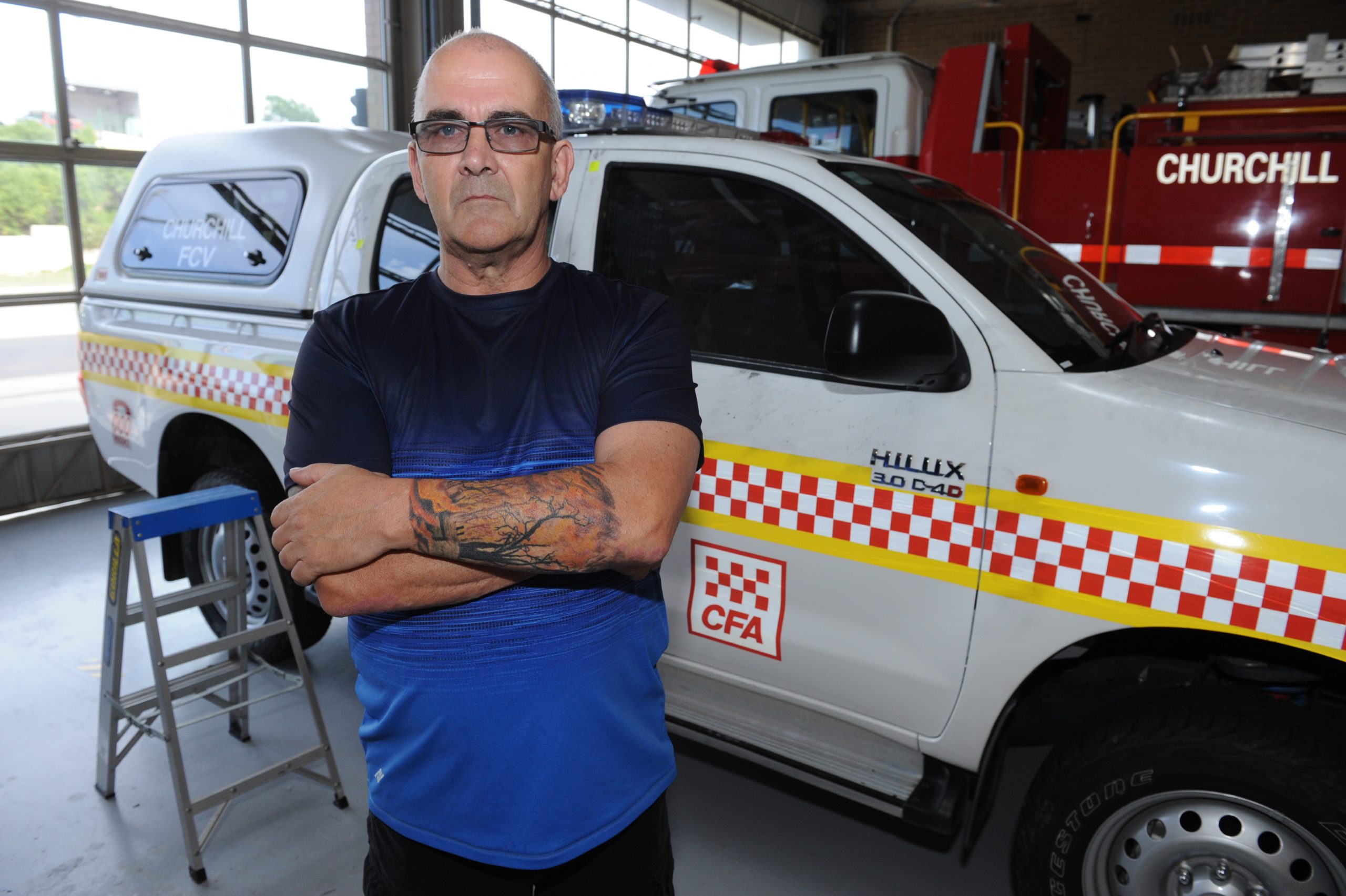 A CFA command vehicle stolen from the Churchill Fire Brigade overnight has been recovered after police said a group of people caused havoc around on Thursday morning.
A maintenance facility at Kurnai College's Churchill campus as well as a car inside a gated mechanic's yard was also damaged during the crime spree.
Churchill Fire Brigade member Rob Langston said he received a call from the brigade's captain this morning following reports the fire station had been broken into.
"I arrived here just after 6am and two police divisional vans were here. The station was wide open and I noticed straight away our Toyota Hilux command vehicle wasn't in the parking bay," Mr Langston, a 33-year volunteer firefighter said.
"I knew straight away it had been stolen … we noticed the rear door of the fire station had been entered, not sure how they got through the door whether it was forced or not, but police are investigating that."
Mr Langston said the thieves used keys located inside the station to access the four-wheel-drive, before taking off with a number of laptops and camera gear from the brigade's kitchen area.
"With all our emergency vehicles, our keys are normally in the station because we have to have them ready on standby for anybody at any time," he said.
"That doesn't mean people can break into the station to use them, on top of that the vehicles have full tanks of fuel.
"But thankfully police got a call saying they had recovered the ute, which was a massive relief. It was in a local street here in Churchill and it still had a full tank of diesel so it hadn't gone far at all."
He said despite a dash-cam being stolen from the car, the brigade was lucky to recover the vehicle unscathed and thanked the person who notified authorities about the command vehicle being found.
"We're a volunteer brigade and we're here for the community and if you take our gear from our station, you're putting your own life at risk," Mr Langston said.
New Churchill Motors owner Steve Abbey, who has run his shop for 17 years, said he first noticed something wrong when he arrived at his Philip Parade shop and saw the rubbish bins sprawled across the road.
"I came in the gate and saw the Subaru, which looks like they grabbed something from the yard, and thrown it through the windows," he said.
"I do have insurance on the yard but it has a lot of impact, it has to be paid for and it's happened quite a few times. I'm getting very sick and tired of it."
At Kurnai College Churchill, a maintenance facility was broken into through a personal access door before a gardening blower was taken from the shed and later dumped up the road.
"There doesn't appear to be anything [else] taken apart from a gardening blower," acting principal Cleo Lazaris said.
"But there's quite a lot of damage to the door and it's going to come at a cost.
"It's not a nice feeling, we're supposed to be part of the community and the fact that someone would come and do this to our school as a member of the community leaves a bad taste in your mouth."
Latrobe Crime Investigation Unit Detective Senior Constable Joey Kurtschenko said police were looking into a series of burglaries in Churchill overnight "which are believed to be linked".
"Police are appealing for any information from the public in relation to these incidents," he said.
Anyone with information is asked to phone Latrobe Crime Investigation Unit on 5131 5000 or Crime Stoppers on 1800 333 000.