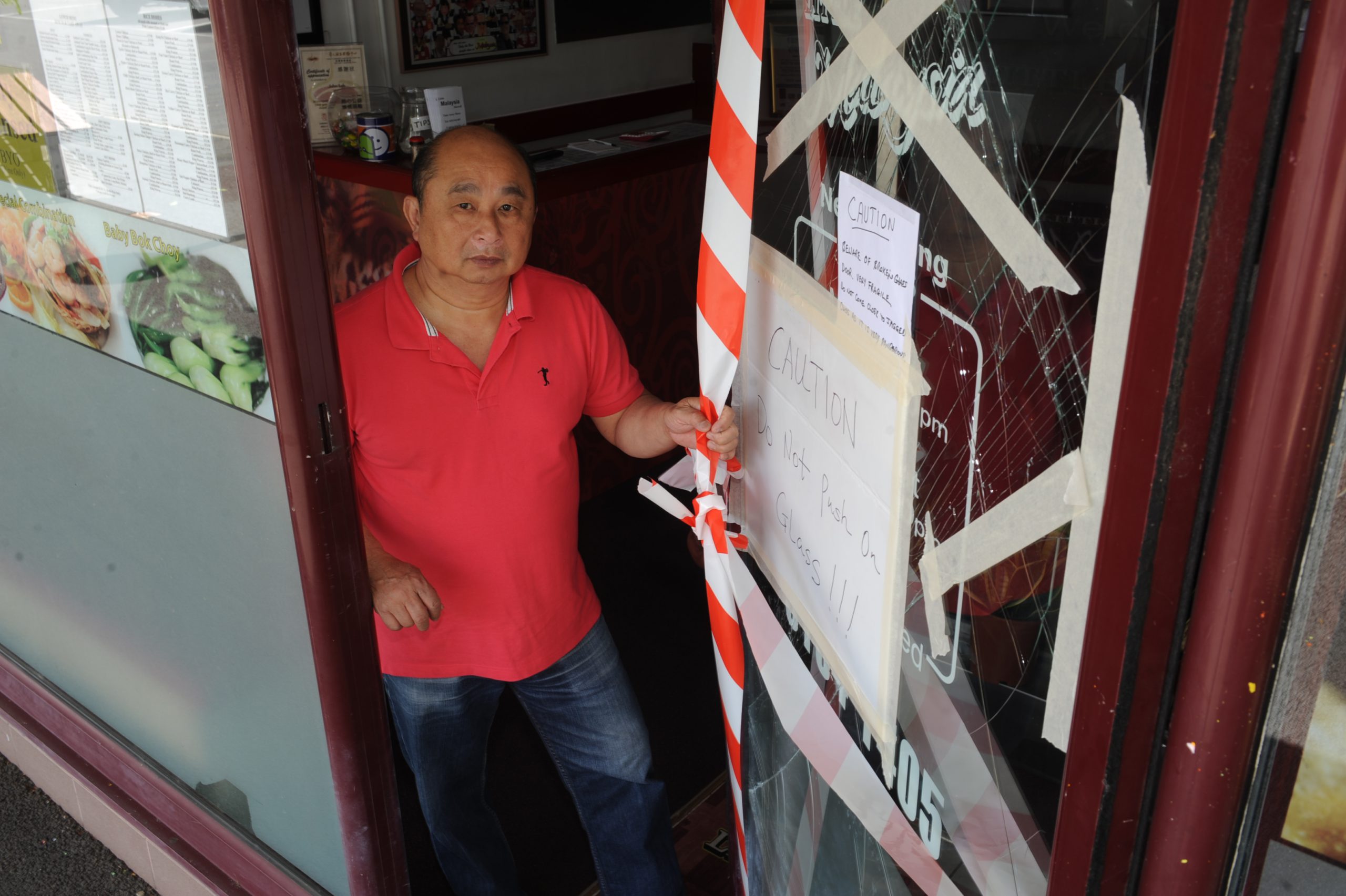 A Morwell hospitality business may be forced to shut up shop if another burglary takes place at the Church Street premises in the coming months.
Little Malaysia restaurant owner John Loh, 58, says he is fed up with "an increase in burglaries" after the door of his Morwell shop was shattered and jimmied open by an unknown person in the early hours of New Year's Day.
It was the third attack on the shop in less than 12 months, leaving Mr Loh out-of-pocket thousands of dollars and questioning whether "keeping the business open is really all worth it".
Police said internal CCTV footage revealed a person forced entry to the property about 1.45am on Monday before "ransacking the inside of the premises" and stealing a large amount of money from the cash float and alcohol.
Mr Loh said the installation of external CCTV cameras along the Church Street precinct "has to happen now" and an upgrade in street lighting "is a necessity" to improve trader and community safety on the north side of town.
In September, the federal government announced it would fund the roll-out of about 10 new CCTV cameras across Morwell, including at four sites along Church Street, as part of a $230,000 safety infrastructure project.
"Insurance is costing me six grand a year now, before I used to only pay two-and-a-half grand so it's gone up more than 100 per cent in a matter of years," he said.
"If these kind of problems continue, I will shut the shop down. We will have to move on and look for another place and all that's going to do is create another empty shop here in Morwell."
In June 2016, the Traralgon resident was forced to close his liquor store following an armed robbery which he said "frightened the daylight" out of his staff.
"The current street lights along Church Street are too dark and we need more security cameras to deter these people. We've been talking about it for years and years but nothing has happened."
Mr Loh, who has ran the restaurant for the last five years, said he was "over" the anti-social behaviour around the town, taking aim at an increase in vandalism including graffiti and damage caused to vehicles in the rear car park of the shop.
He also said he had had trouble in recent times with kids running along the roof of the property after hours.
"I worry everyday I get up that something could happen to the shop.
"I've tried to get my broken front door fixed, but it's the start of the year and no one is open. I've been told it's going to take at least two weeks to fix," Mr Loh said.
Active Crime Task Force Latrobe Crime Investigation Unit Sergeant Paul Stow said there had been an increase in burglaries across Morwell on commercial premises in the past several weeks.
"The common theme has been that people have been looking for a quick hit on the [cash] float area of a business, looking to take money from the till in other words," Sergeant Stow said.
"What we've found in investigating [this] matter is that there is minimal external CCTV in the immediate vicinity along Church Street."
Sergeant Stow said business owners should "take responsibility for their own security" by installing good quality CCTV and sufficient internal lighting.
"We also encourage all businesses to take their [cash] float and any takings off site," he said.
Latrobe City Council acting chief executive Phil Stone said council was in the process of completing a request for information from the federal government in order to progress the release of funds.
"Once funds have been released by the department, council will be in a position to progress the CCTV project," Mr Stone said.
"Council is prepared to meet with Church Street business owners to discuss concerns they have around lighting in the area."