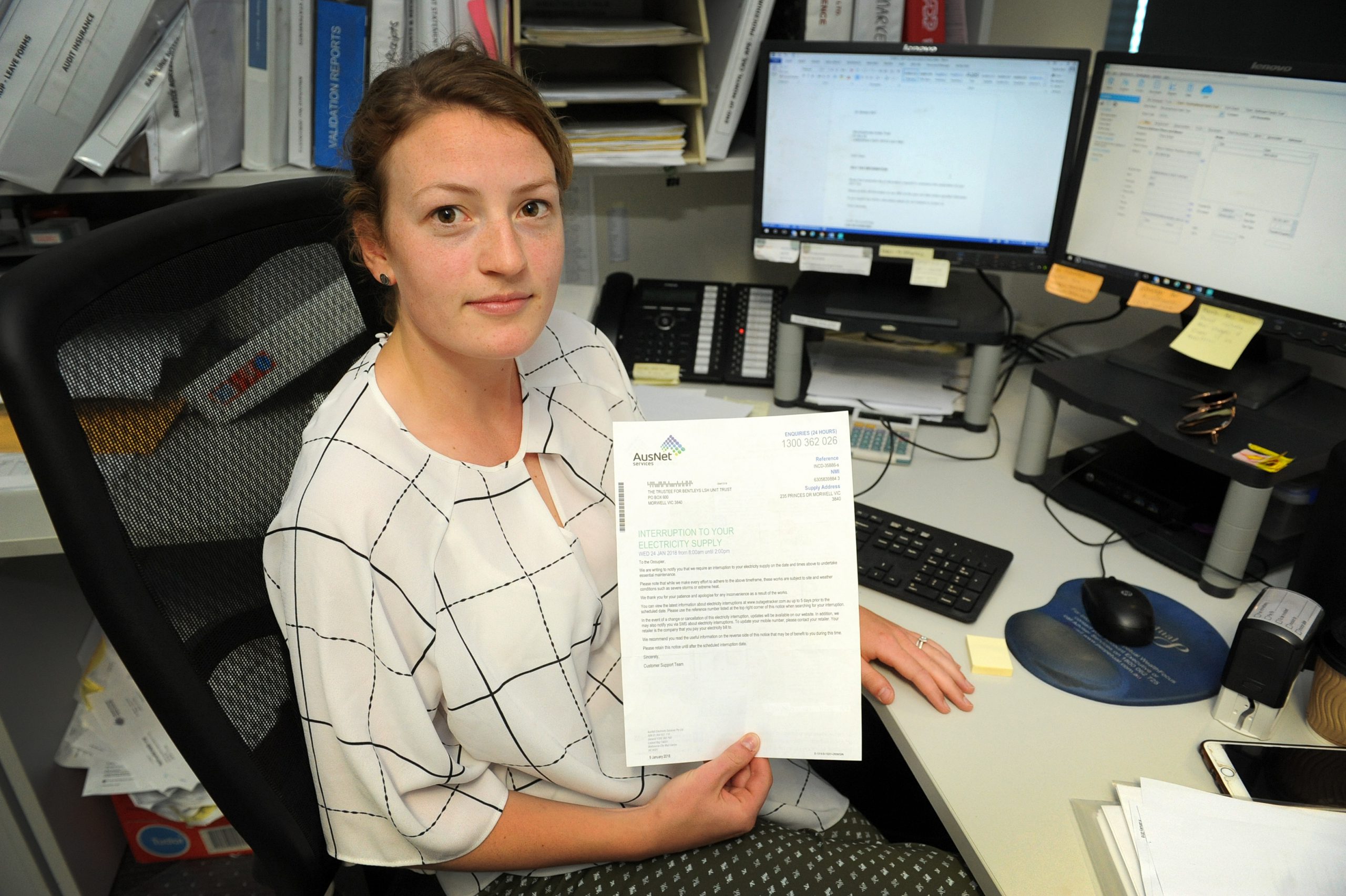 Business owners and residents in the Princes Drive area of Morwell are relieved power service provider AusNet Services has called off an outage planned for next week that many shop owners feared would cause them significant losses.

LSH Accounting owner Peter Henderson was pleased to learn that AusNet would no longer push through a scheduled six-hour power interruption on January 24, which would have affected 180 properties.
Mr Henderson, however, felt the company would probably not have cancelled its planned maintenance if the business community had not raised its concerns with state member for Morwell Russell Northe and The Express.
"It just seems odd that we'd get a letter [advising of a supply interruption] and then after we contacted local member Russell Northe and The Express they changed their mind," he said.
Mr Henderson, who has owned the local accounting business for 32 years, said the power outage would have cost him significant losses as he would have had to close his office for two days in a week because January 26 was a public holiday.
He said he received a letter from AusNet last week advising of an interruption in power supply starting from 8am that was expected to last until 2pm.
However, on Tuesday, Mr Henderson said he was told that other business owners received a text message from AusNet advising of a cancellation of the power outage.
Mr Northe said he was happy that Ausnet had decided to postpone the planned power outage and that "common sense has prevailed".
"I think when it was brought to their attention that it's two days before a public holiday and businesses potentially close two out of three days in the middle of January is simply not acceptable," Mr Northe said.
"The main thing is common sense has prevailed and they listened to the concerns of the community." Mr Northe said he understood AusNet would still carry out its maintenance job but this time it would not cause any power interruptions for business and residential customers in the area.
An AusNet spokeswoman said the company has "managed to find a way for the operations to work around the outage".
She declined to say if the decision to call off the planned outage was due to Mr Northe's contacting AusNet but confirmed that they were "liaising" with him.
Businesses around Princes Drive expressed concerns about a power interruption on a business day and questioned why Ausnet was not doing it on a weekend as in the past.
Wade Presley, who owns a café on Buckley Street, said he would have had no choice but to close his shop if AusNet pushed through with the six-hour power outage.
"I was shocked that they've even contemplated [cutting power] in this area," he said.
"People in high places make strange decisions, don't they?"
Gippsland Multicultural Services director Lisa Sinha said had the interruptions occurred she would have one person working "in the dark" to take calls and ask other staff to work late during the day.

"We're lucky it's not on a payroll day," she said.
The Morwell Healthcare Centre said it had a generator which would allow it to continue running computers and medical equipment during an outage.