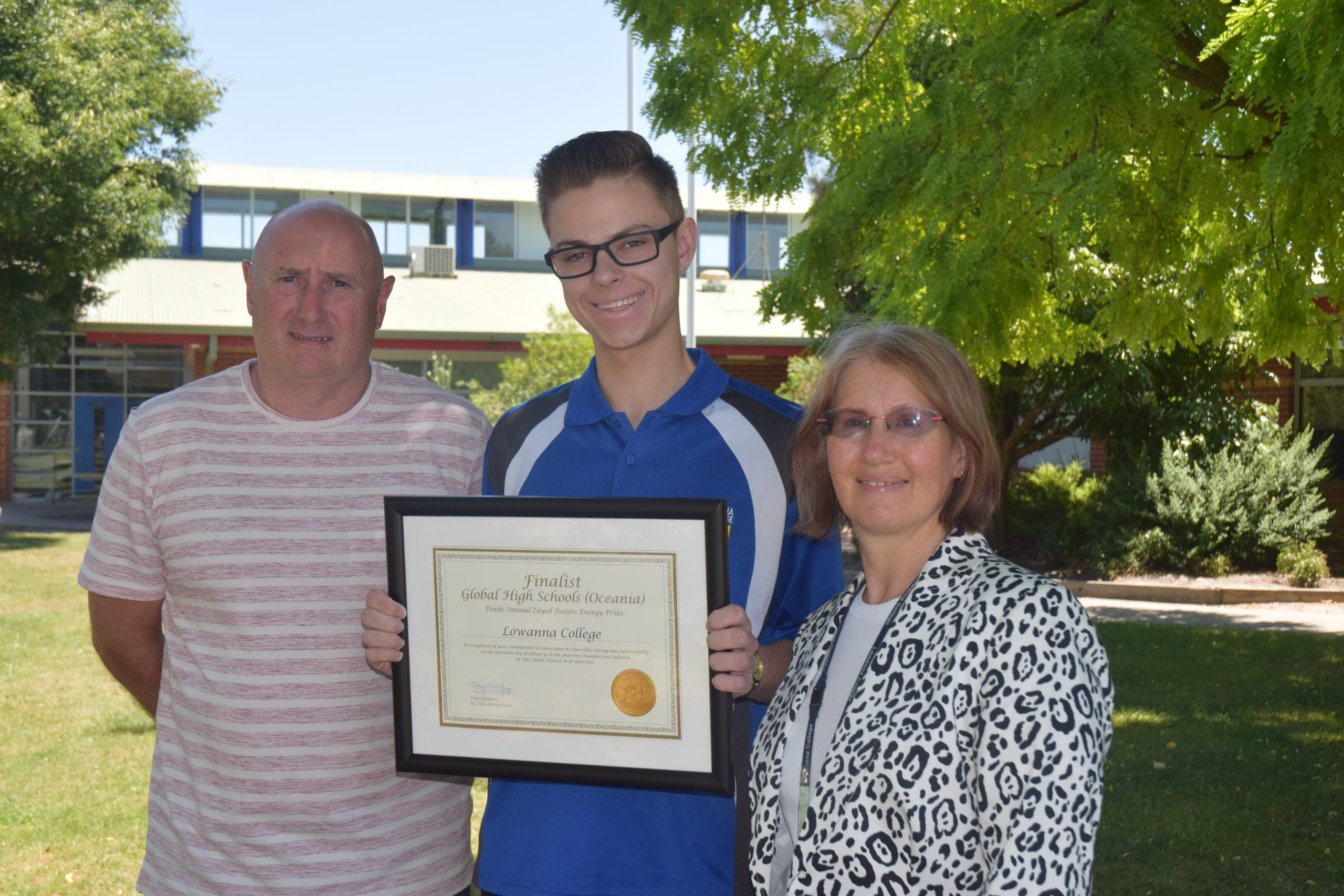 For Lowanna College student Trent Euman, visiting Abu Dhabi to receive a commendation for an international sustainability prize was a nerve-racking experience.
The 17-year-old Tanjil East resident was chosen by the school to represent his peers as the student ambassador on the international stage at the Zayed Future Energy Prize.
The prize acknowledged finalists for their contribution to renewable energy and sustainability, with the winner receiving about $130,000 to improve sustainability around their school.
While Lowanna did not win the award, it was named one of three finalists in the Oceania division, an achievement the school says is something to celebrate
"It was a bit better than what I was expecting because I was a bit nervous of how Abu Dhabi had been portrayed recently in the media," Trent said.
One of the biggest challenges for the former middle school captain was adapting to the culture and what he described as "their way of life".
"With the regulations over there, there were a lot of things [to be aware of] that would be completely acceptable here in Australia," Trent said.
"For instance you couldn't take photos of specific buildings over there, having other people in the photo without consent or wearing clothing that shows your shoulders in public or shorts that were above the knee.
"If you broke any of those, it could've put you in jail overnight."
Part of the school's proposal for the prize was to develop a leadership program for students to teach them how to become "21st century leaders with world-class techniques", Trent said.
Lowanna College science teacher Judy Stewart said the leadership program would have linked back to teaching students about the importance of sustainability.
"That means you catch students who are 15 or 16 years of age and it doesn't matter what field they'll go onto in their life, they could be a hairdresser, a carpenter or a doctor for instance, it won't matter because you have all the ones who show good leadership capabilities and you have then trained them in the most sustainable techniques that are available," Ms Stewart said.
"But to be a runner up in Oceania in the world is something to be really proud of and we were very privileged to have been given the opportunity."
Attendees participated in sustainability week activities where everything from solar and power production to the natural growth of plants was discussed.
"The most incredible thing was a demonstration of power being produced by vibration of bridges instead of having batteries and so on, it was simply done by movement," Ms Stewart said.
The prize was held between January 13-21 with Motufoua Secondary School at Tuvalu in the Pacific Islands named the winner.