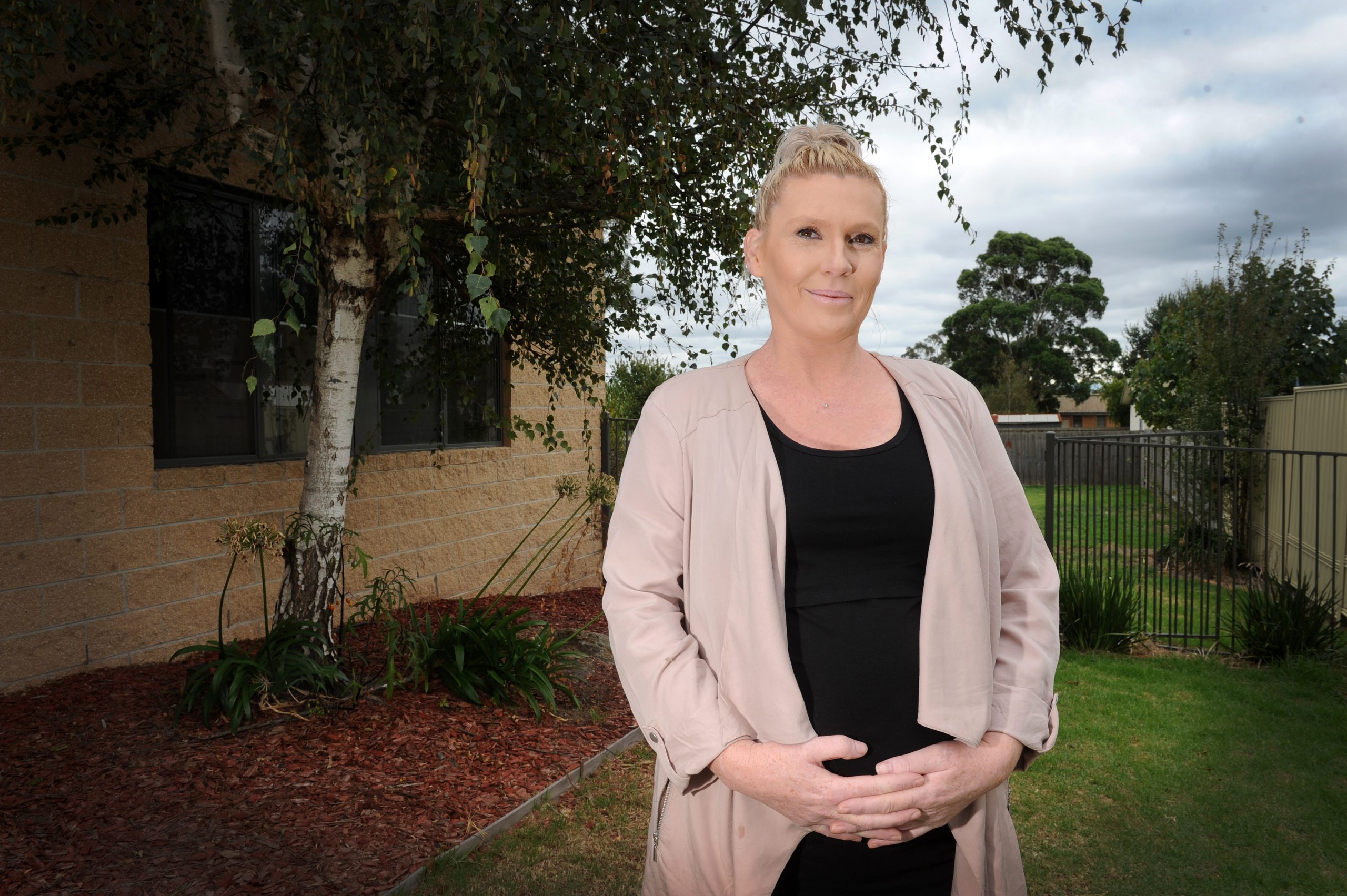 Kellie Moorcroft looked at a photo of herself on Friday from October 2015 and saw a woman's face covered in bruises and sores.

It was taken about eight years into a decade-long methamphetamine addiction which took one of her two children out of her care.
Reflecting on the time the photo was taken, the 40-year-old Melbourne woman said, "I actually wanted to be dead".
"I had no hope at all. There was family violence happening, a lot of drug use … it makes me sick to think back to then."
She has been clean since November 2016 and has taken a month's residential rehabilitation in Sydney, then two six-week non-residential rehabilitation programs in the Latrobe Valley.
Ms Moorcroft is coaching netball, expecting a third child and wanting to do a diploma next year in health and community services.
She said she was "back to all that normal stuff" in a fantastic lifestyle.

Latrobe Community Health Service's Therapeutic Day Rehabilitation program, run in partnership with Windana, helped her replace an addiction with meaningful community connections.

"You isolate yourself when you're using drugs," Ms Moorcroft said.
She said the most challenging part about breaking her addiction was learning to not give in to the thought in her head encouraging her to use.
"It's only a thought. So as soon as you shut down that thought you don't go onto the next thought which goes onto using," Ms Moorcroft said.
Ms Moorcroft is back living in Melbourne and reconnecting with her family which she said meant the world to her.
"That's all I ever wanted was my family back and then sometimes with my actions I didn't show it, but in my heart I always wanted it.
"It was a matter of being able to change those actions and those stupid decisions I was making which the [day program] showed me how to do."
Ice and alcohol addiction are most common for the participants in the LCHS program, however, it is open to anyone with drug addiction.
Therapeutic Day Rehabilitation clinical lead Scott Forrest said there was an educational focus to the program and it aimed to remove the desire for the drug rather than the accessibility which was unavoidable.
"We focus on what else is lacking in their world and once they discover those things they tend to not want to hurt themselves as much when they're feeling better," Mr Forrest said.
He said rehabilitation needed to move away from a punitive attitude.
"If we say to people honesty is integral to your recovery then you're honest about your use and you're kicked out for using, that is not going to encourage people to do that again," Mr Forrest said.
While there is a push for residential rehabilitation in Gippsland, Mr Forrest said day programs were more accessible as they allowed people to continue with other commitments, appointments and parenting.