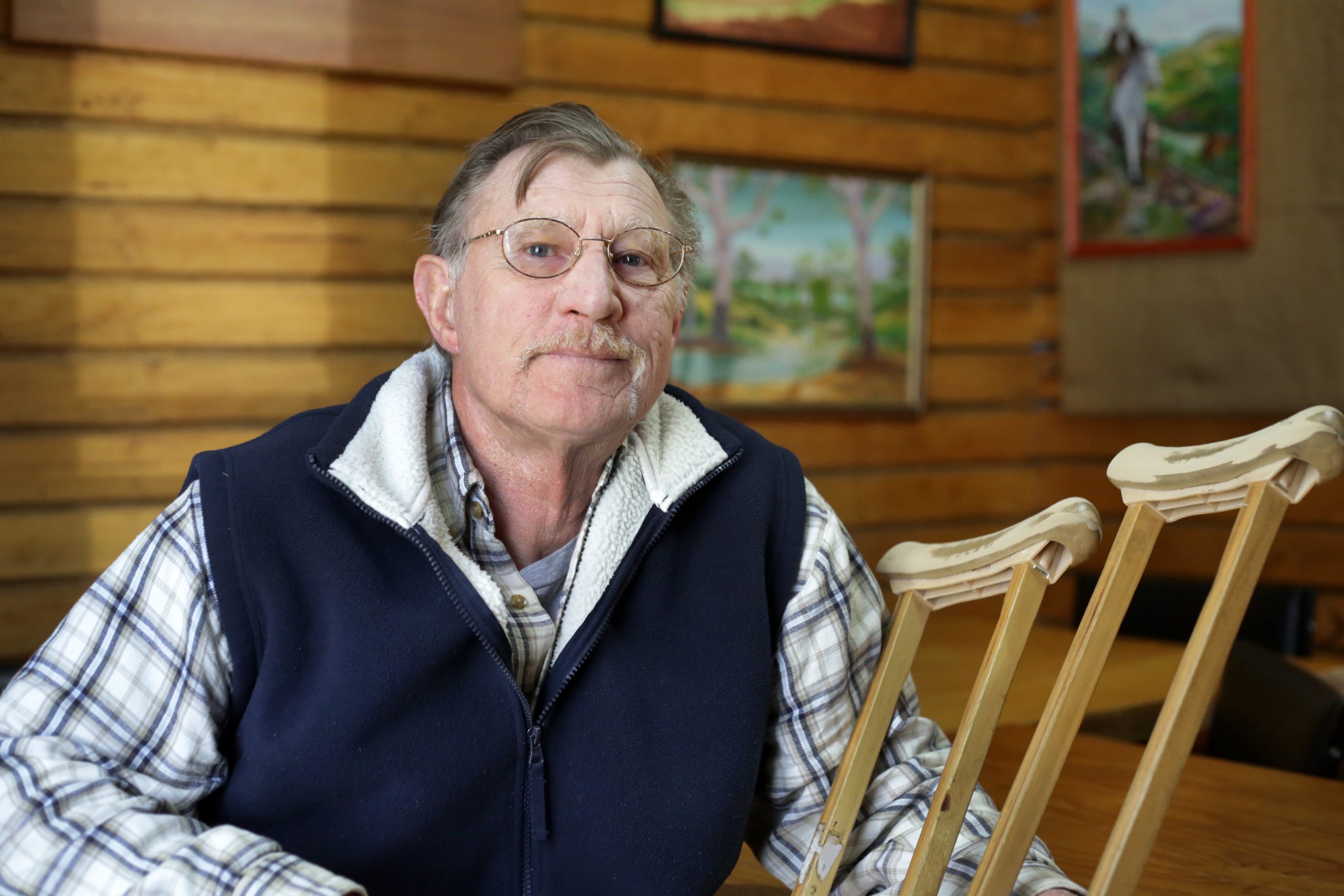 Anne Simmons
Before Bill Keech moved to Mirboo North, and just before the turn of the century, he worked at a clothing factory and he was bored.
It was one of his many short-lived jobs after losing a leg as the victim of drunk driving.
"I could've turned to going out partying or drinking or whatever but that's not me. I missed the bush so I started painting the bush," Bill said.
The blow resulted in an acquired brain injury and as no one was charged for the incident, he received no payout.
Bill started painting memories of his childhood of farming near Gladstone in Queensland where, once he was 13, his father Robert would wait for him in the mornings to get off the bus at school.
"Mum thought I was at school but in fact I was with my father working," Bill, one of 15 children, said.
By 14, he was a manager of a 50,000-hectare farm, then at 15, he was homeless, but working to gather the gear to become a stockman.
"I've had a bit of a rugged sort of experience," Bill said.
In Bill's landscapes, imagery taken from photographs melds with his memories, like wagging school and taking to the creek where he would be blindfolded by an Aboriginal elder and instructed to spear fish using all his senses but sight.
Today, he misses the "utter freedom" of the bush.
"You've got the fresh morning smell mixed with the smell of smouldering gum leaves on your fire and then comes the smell of the cup of tea boiling over … and you don't mix it because the boiling water actually mixes it itself," Bill said.
"You just can't beat it."
With the nostalgia of his farming past also comes an understanding of the extreme hardship many farmers must endure.
"My parents didn't have much money at all. I saw more meal times than I ever saw meals. It was just the way it was," he said.
"I've said many times, the first person who is going to put their hand in their pocket to help someone are those who can least afford to because they know what it's like to go without."
As someone "hurt" by the devastation of the drought on farmers, he will donate 50 per cent of sales from his first book to the Australian Lions Foundation along with some proceeds from the sales of his paintings.
His determination to give back even directed the manuscript for his novel, which is "a book of hope" for people who most need to hear "there's better to come".
Writing A Rocky Way to Paradise took several months as he learnt to read and write following his acquired brain injury. Finding a publisher took 15 years.
The story presents heavy themes such as alcoholism in simple language designed for adults learning to read.
Bill Keech's artworks are on display at Coal Creek Community Park and Museum until October 1.