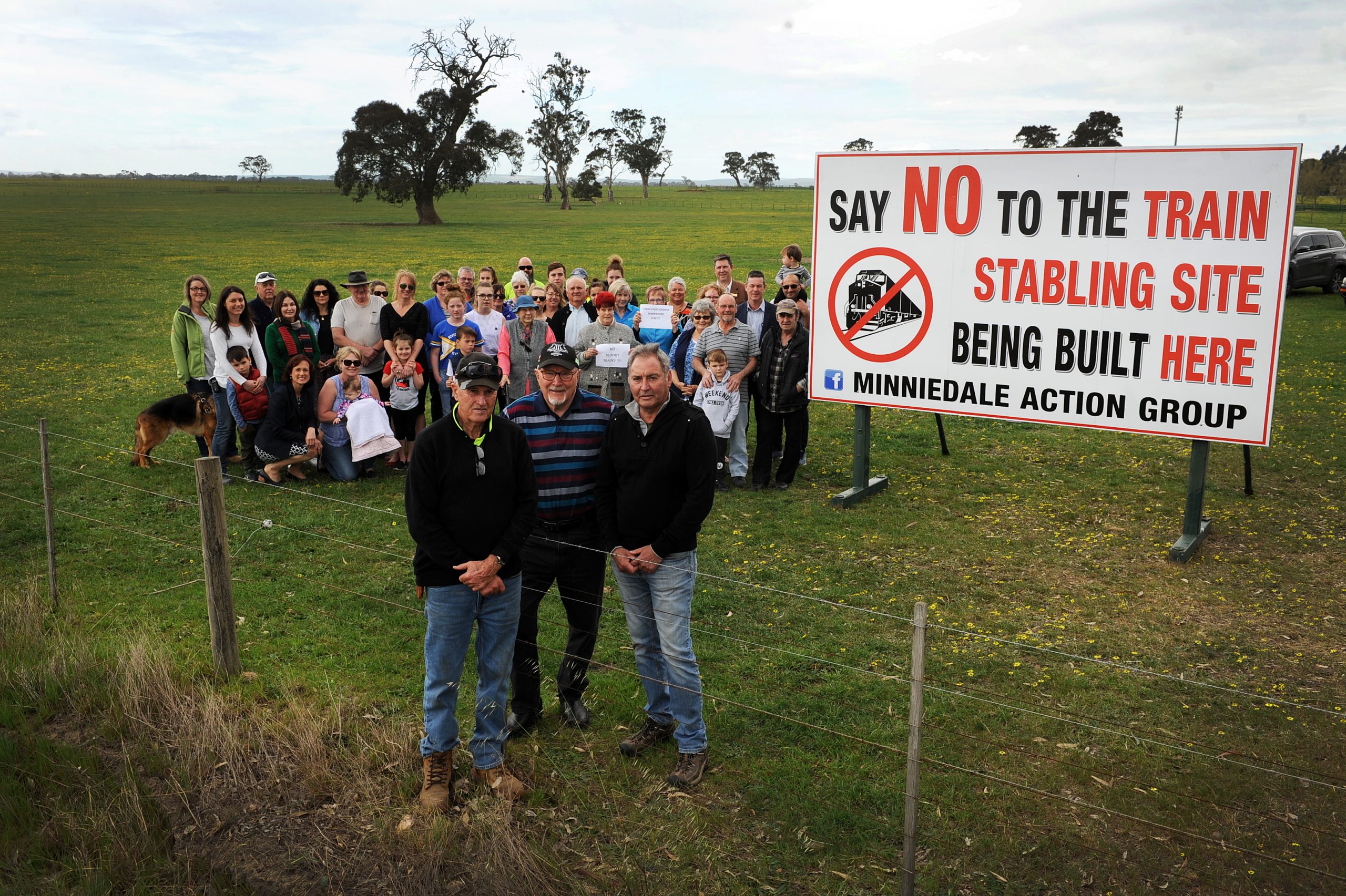 Bryce Eishold
A rail stabling yard earmarked for Traralgon East does not have the support of Latrobe City after residents voiced their concerns to councillors this week.

Council is expected to write to Regional Rail Revival – the body tasked with the $530 million Gippsland rail upgrade – outlining its concerns about the Minniedale Road site after hearing submissions from residents at this week's ordinary council meeting.
The Traralgon East site is one of four locations under consideration by the body, including the Gippsland Intermodal Freight Terminal at Morwell which council believes is the most suitable location for the project.
Residents ramped up their campaign against the proposed development this week when they erected a four by two-metre sign on Minniedale Road opposing the stabling yard development.
The letter from council will also outline concerns about the potential development at Minniedale Road after council heard from nearby residents Rob Stockdale and Anna Tyben who spoke about impacts on aesthetics and noise pollution in the area.
Widows Lane resident Adrian Stone, who is a member of the Minniedale Road Action Group against the development, welcomed council's position on the matter.
"It's fantastic to get council's support and we hope it will go a long way in getting Regional Rail Revival to reassess their decision," Mr Stone said.
"They keep referring to it as their preferred site and hopefully council's position will make them realise this development should be built at the GIFT – an industrial site and not at Traralgon East which use for farming."
Cr Graeme Middlemiss said he could "write a textbook" on how not to engage residents for similar future developments, acknowledging a lack of transparency in the process by Regional Rail Revival.
"I think generally their concern has been more around the manner in which information has been communicated to them," Cr O'Callaghan said.
If the site at Morwell cannot be used, council will advocate for a site further east of Minniedale Road, possibly the old Loy Yang Railway Station for the proposed stabling yards.
Land further east would "not impact the amenity of current of future residents of Traralgon" or "effect long term long supply [in] Traralgon", the council motion read.
In a statement, Regional Rail Revival regional director Mark Havryluk said "A decision on the location of the stabling facility has not been made and we're very much in the early stages of selecting a site."
"We acknowledge the GIFT has been identified as the preferred site by council and the community and work to assess this site will continue as part of the process," Mr Havryluk said.
"As part of the options assessment, we have identified four preliminary locations for the stabling facility, including GIFT, and we are also exploring locations further east of the proposed Traralgon bypass."