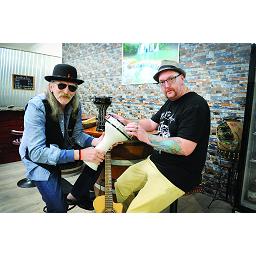 Anne Simmons
The Newborough man who joined Rose Tattoo's rhythm section for eight months on New Years' Eve 1975 has devised a strategy to liven up the Moe central business district.

Michael Vandersluys, 66, once went by the name 'Stork' when laying a beat to hard rock tracks like Bad Boy for Love and Snow Queen.
He says he can even hear in the original recording of Rose Tattoo song Television his fellow band member Ian Rilen steer him back on track.
"I make these mistakes but actually the song works really well … he had to bring me home with the song. He goes, 'now'," Vandersluys said.
Drum sticks may not be necessary for his venture at Moe Plaza, where he intends to have a live jam with instruments not remotely connected to sharpie Aussie rock of the '70s.
Vandersluys will play a dulcimer – a kind of American trapezoidal instrument related to a zither which dances the line between string and percussion.
"It's got beautiful light wood," he said.
"They've been around for about 200 years. They've got a very beautiful sound … this has that twang about it."
Bongos will offer a different texture to the jam session.
"I've got about 20 different percussion instruments to play," Vandersluys said.
"My whole idea is to get audience participation.
"It's great standing around listening to someone but to be a part of that is even better because you can go away with some sort of satisfaction that you've done something."
The idea he says "could only bring prosperity and happiness" to the town, but it also has a personal historical significance.
"My grandfather actually worked with Myer. It's quite a long story," Vandersluys said.
"There was like 100 members, I'm not joking … of both sides of the family working in bloody Myers in all sorts of departments. It was incredible.
"I do have that hereditary thing passed down to me to the business side of things, to communicate, to think of ways to make it work."
Vandersluys said he joined Rose Tattoo about the same time as today's front man Angry Anderson.
Leaving the band did nothing to sway him from the art form he returns to every day.
"Unfortunately, I'm not paid for it. It's my routine; I do it my way. That's an old cliche. I'm not bloody Frank Sinatra either."
The bug for music started in the early '60s while watching his uncle Peter Cahill sitting combing his hair back before taking the stage in a sequined suit with The Laurie Arthur Four.
"They did the old rock-around-the-clock stuff … It looked fantastic with all these dresses going all around in circles," Vandersluys said.
"I said, 'that's what I'm doing when I grow up'."
The jam session will be at Moe Plaza on Saturday, November 10 from 11am and Vandersluys is hoping for guitarists and other musicians to get involved.
Those interested should phone 0402 176 759.