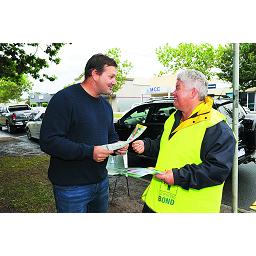 Jarrod Whittaker
Nationals candidate Sheridan Bond is not conceding defeat in the race for Morwell, declaring the race for the seat is "certainly not over yet" despite sitting fourth on the latest count.

When counting stopped on Saturday night, Ms Bond had 10.93 per cent of the vote, behind Labor's Mark Richards (34.22 per cent), independent Russell Northe (19.97 per cent) and Liberal Dale Harriman (12.19 per cent).
The former Latrobe City councillor was attempting to reclaim Morwell for the Nationals, which the party held from 2006 when Mr Northe was first elected until August last year when he quit the party.
Ms Bond will need to receive strong preference flows if she is to remain in the contest and the possibility remains that one of the Coalition candidates could jump into second position once preferences are allocated.
Yesterday she struck an upbeat tone, declaring she would wait for preferences to be counted before conceding the seat.
"There needs to be a full preference allocation before we get a real result. But it's pretty much a dog's breakfast at the moment, but with 11 candidates that's pretty much what you'd expect," Ms Bond said.
Despite sitting fourth, the Victorian Electoral Commission is still counting Morwell as a race between Ms Bond and Mr Richards with the ALP holding a 51.89 per cent to 48.11 per cent lead.
But late Saturday night, the ABC switched its count to a head-to-head contest between Mr Northe and Labor, giving the independent MP a 53.7 per cent to 46.3 per cent lead using estimated preferences.
She said she had campaigned for a better deal for the Latrobe Valley.
"I think we've been dealt a very bad deal over the last couple of years with the closure of Hazelwood and the closure of Carter Holt Harvey and associated businesses," Ms Bond said.
"It's been a rough ride for the Valley the last couple of years but the people of Victoria have voted and they've told us what they want and now it's up to Daniel Andrews to come good with all of his commitments and the onus is on him to prove himself over the next four years." She paid tribute to the work Mr Northe had done in the electorate.
"Russell had 12 years of being a National Party member basically and he was party of a very strong Nationals team," Ms Bond said.