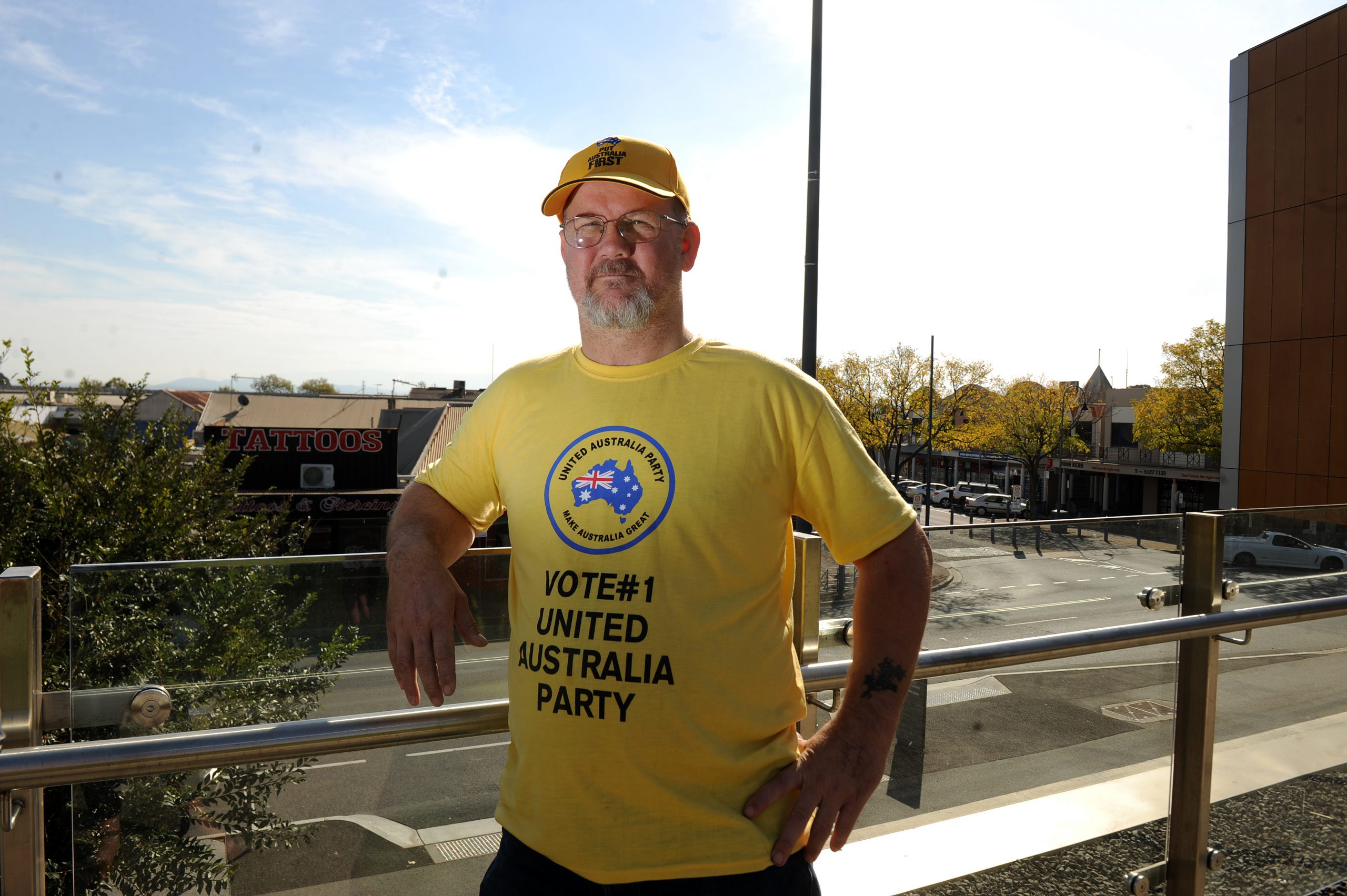 Anne Simmons
Foster motor mechanic Matthew Sherry is United Australia Party's candidate for Monash in the federal election and is pitching to improve decentralisation and create jobs locally at a new power plant.

Amid "sky-rocketing" costs of living he joined the former Palmer United Party in 2013 and is a second-time campaigner, dressed in yellow, for the revived and renamed party formed by Queensland businessman Clive Palmer.
"The quality of living is appalling," Mr Sherry, a father of three, said.
"I can remember growing up as a kid and dad would be home for tea and we'd have weekends, we'd have school holidays.
"We now have both parents work and the kids aren't getting that family life because the cost of living is so high."
Decentralisation is a major feature of the party's agenda which is proposing a system to tax businesses in the city more than those in the country.
"United Australia Party wants to implement zonal taxation," he said.
"That will alleviate the pressures on Melbourne because more businesses will come out.
"If we can create more jobs out here, less people are unemployed … Those people are working and they're paying taxes. Not just that, they're going down to the little shop down the road."
The party has a strong stance on Australia processing its own minerals and Mr Sherry said instead of shipping the raw product overseas, it could be sent "downstream".
"We could dig up the iron ore in Western Australia for example and ship it to Victoria, to the Latrobe Valley for example, and create a processing plant here," Mr Sherry said.
Likewise, he believes Australia "needs to seriously look at" building new nuclear power stations to use its own uranium.
"We could look at a nuclear power station in the area or a gas-fired power station," he said.
"Because all of our infrastructure for electricity comes here, this is the perfect and ideal spot to build a new power station."
A new coal-fired power station in the Latrobe Valley would have to be "world-class" with next to zero emissions, he said.
"We can't go half-baked on the project and just build a power station," he said.
"As far as power stations go, the decision needs to be made today or very soon."
Stopping the spread of Melbourne into Gippsland fertile farming land is another priority for Mr Sherry who has lived in Foster about eight years.
In his working life, "sneaking" politics into conversation was a way to gauge what the general public is thinking, he said.