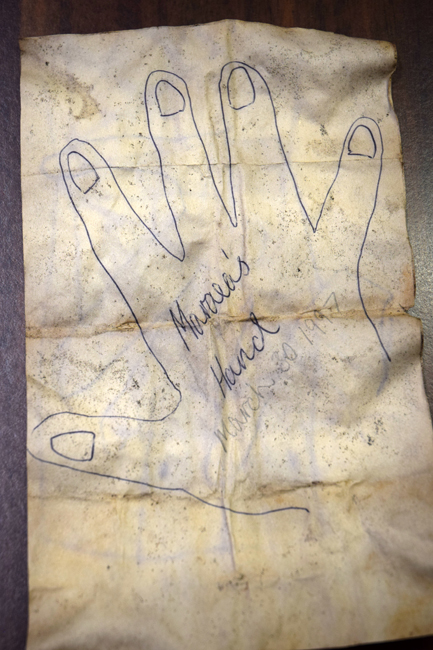 Cher Jimenez
A time capsule containing drawings believed to be from a young girl 22 years ago has been found by a family in Morwell.

A mother-of-two, who asked not to be named, said her son found the time capsule while digging the family's garden to build a new retaining wall after it collapsed recently.
"My son's friend walked past it and it all collapsed so we got to fix it. They spent the last few days digging and then they found this jar opened it up and that's what's in there," she said.
The glass jar, the size of a baby food container or a small sandwich spread, contained five drawings with some dated March 30, 1997 and had the name of the creator as Marea.
Marea drew a house, a snail, a butterfly, a rocket and her handprint with her name on it.
The Morwell family bought the property in 2006 and does not know who owned the home before them.
The mother of two believes Marea could have been a young girl around the age of five or six when she drew the images.
"I just imagine they must have just sat there and done some drawings and said 'we'll put these in the garden and she would've been very excited and was like 'woo hoo buried treasure!' you know," she said.
She said she was hoping to remain private, however, felt that whoever owned the time capsule would have wanted it back.
She said Marea could be a few years older than her 21-year-old son who discovered the drawings.
"I'm very, very private and I'd like to keep it that way but I really want to find this young lady because if she's got kids she would want to give it to her kids and, God forbid if she's passed away, her family would want them," the Morwell mum told The Express.
She posted the photos on her Facebook account hoping that Marea would see them.
Anyone with information about the identity of the time capsule's owner can email The Express at news@lvexpress.com.au.