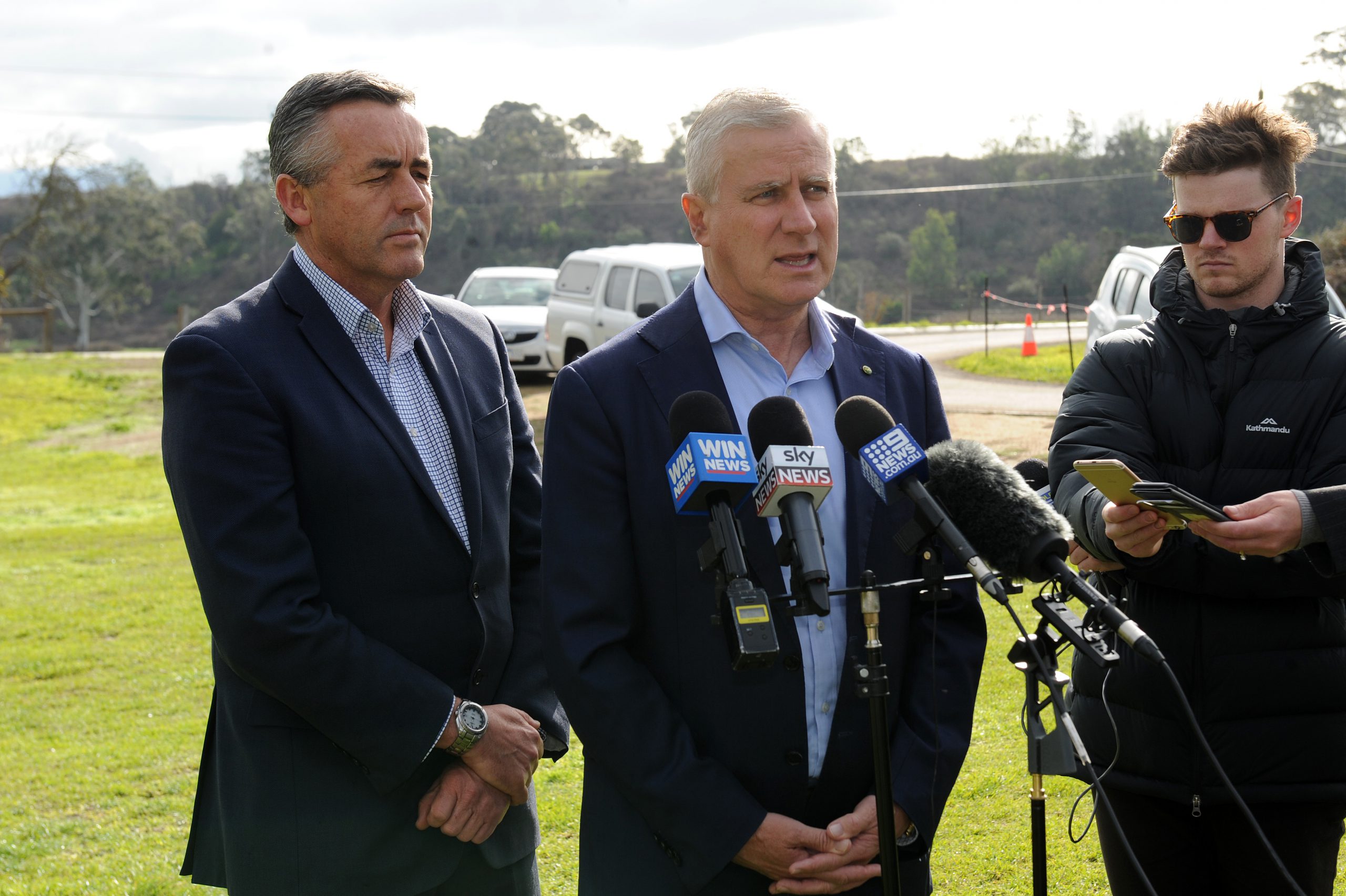 Bryce Eishold
Acting Prime Minister Michael McCormack says the federal government will meet with its state counterpart next month to discuss Victoria's infrastructure priorities.

Mr McCormack, who visited the region with Gippsland MP Darren Chester on Thursday, also met with three of the region's mayors who highlighted the need for a stronger economy in Gippsland.
Speaking to media at Rosedale on a range of issues, Mr McCormack said the federal government would continue to support baseload power to "force downward pressure on energy prices while at the same time having the reliability in the power grid".
"We want to make sure that we've got the right power stations, that we've got the right people operating those power stations and we, as a federal government, are all for baseload power," he said.
"Renewables are great when the wind is blowing and the sun is shining but rest assured we need the right energy mix. That's what we're working towards and that's what we'll continue to do."
Mr McCormack said Prime Minister Scott Morrison would meet with Victorian Premier Daniel Andrews next month to hear about the priority infrastructure needs of Victoria.
He said the federal government had promised $132 million to fund the next stage of the Princes Highway duplication between Sale and Traralgon but required an additional $33 million from the state government.
Mr McCormack also spruiked the benefits of decentralisation during his visit to Gippsland and encouraged businesses and industries to look to the regions to grow and expand.
"When you've got people who haven't spent up to three hours a day in traffic looking at brake lights in front of them, they come to work with a far better attitude," Mr McCormack said.
He added: "There are great outcomes to be had by decentralising businesses to places such as the Latrobe Valley", but stopped short of a promise about the future of federal government decentralisation plans for the region.
Latrobe City mayor Graeme Middlemiss, who was one of three Gippsland mayors who met with Mr McCormack, said the meeting was productive.
Among the issues discussed were better rail connectivity to Melbourne, decentralisation, future upgrades to the Princes Highway and improving access to Commonwealth funding for local governments.
"We had ample opportunity to get our points across. We were listened to and, on that basis, you could say that meeting was a success," Cr Middlemiss said.