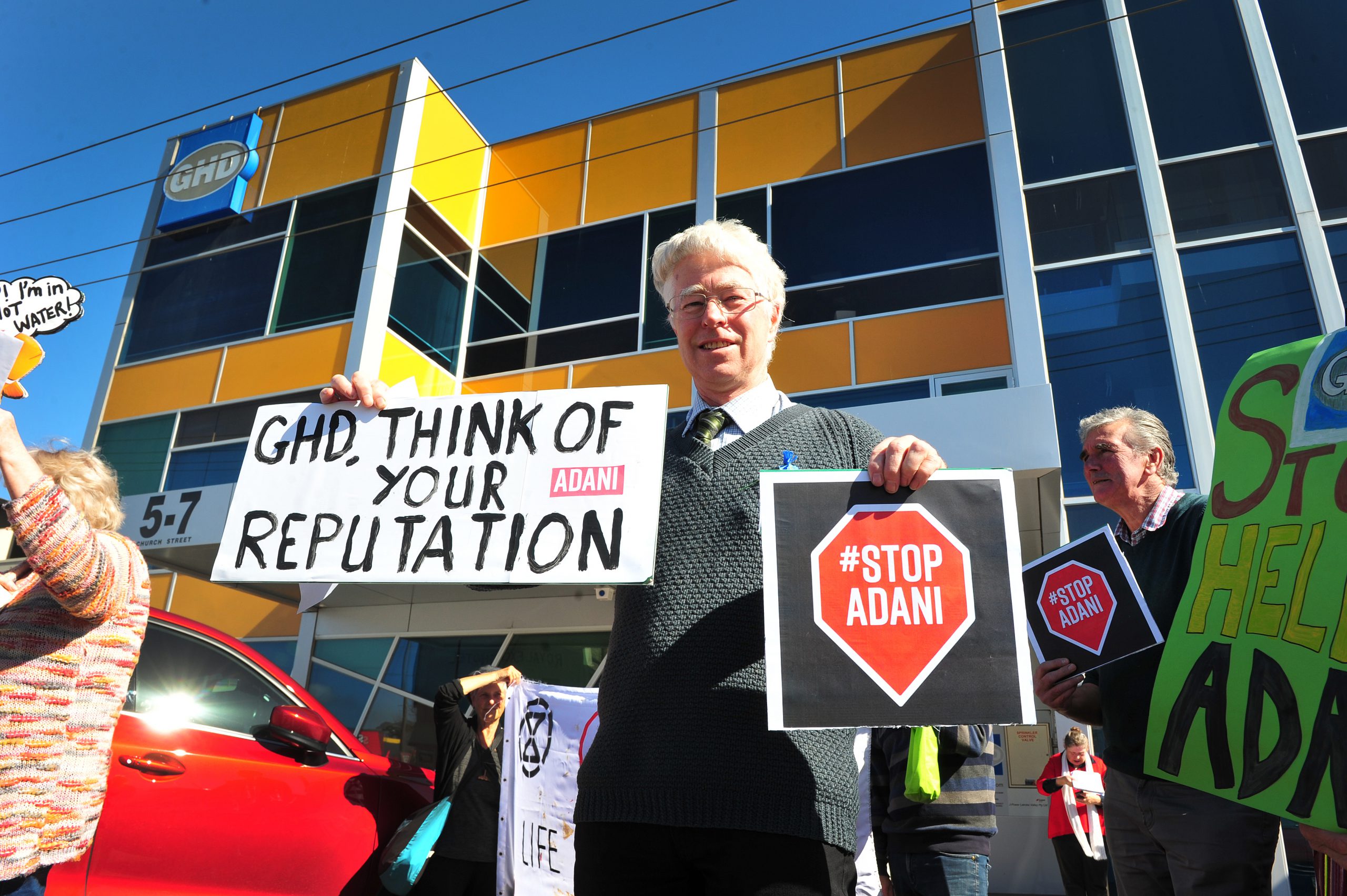 Michelle Slater
The Stop Adani movement became local when a number of Gippsland environment groups rallied outside engineering company GHD's Traralgon office on Friday.
About 25 people representing Latrobe Sustainability Group, Gippsland Extinction Rebellion and Prom Area Climate Action demanded GHD pull out of engineering a rail link from the Carmichael mine.
Latrobe Sustainability Group secretary Dan Caffrey said rail from the Galilee basin would open up opportunities for six other coal mines, threatening groundwater supplies and pastoral land.
"If GHD wants to retain its reputation it should get out straight away as it is complicit in wrecking our children's future," Mr Caffrey said.
Latrobe Sustainability Group president Lorraine Bull said Friday's action was aimed at GHD's head office, but she had been in discussions with the company's local representatives.
She said she had invited local GHD employees to speak at the rally "but they had declined the invitation".
"This rally is being held to encourage GHD to withdraw from the contract with Adani to build the rail line," Ms Bull said.
"We care because Adani's coal mine will be a climate bomb and will release a huge amount of carbon and greenhouse gasses that will accelerate climate change."
Ms Bull said she encouraged GHD to employ "good corporate social responsibility" and join more than 50 major companies who refused to work with Adani.
The Indian-owned Adani project would be the largest coal mine in Australia, exporting coal to India from a port on the edge of the Great Barrier Reef, however, the number of jobs it would provide is uncertain.
"Globally, we cannot afford to develop any more new coal. We encourage workers to use their existing skills in clean energy jobs," Ms Bull said.
"Australia already exports coal, but instead it would be better for other countries to develop renewable energy rather than become reliant on Australian coal and gas."
A GHD spokesperson said the company was not responsible for the design or construction of the mine.
"While details of our work with Adani are confidential, we can confirm that we are not responsible for the design of mine site infrastructure or construction of the Carmichael Coal Mine," the spokesperson said.
"The range of work we do and the clients we assist are broad, and we aim for outcomes that provide a balance of environmental benefits, community advantages and economic prudence."