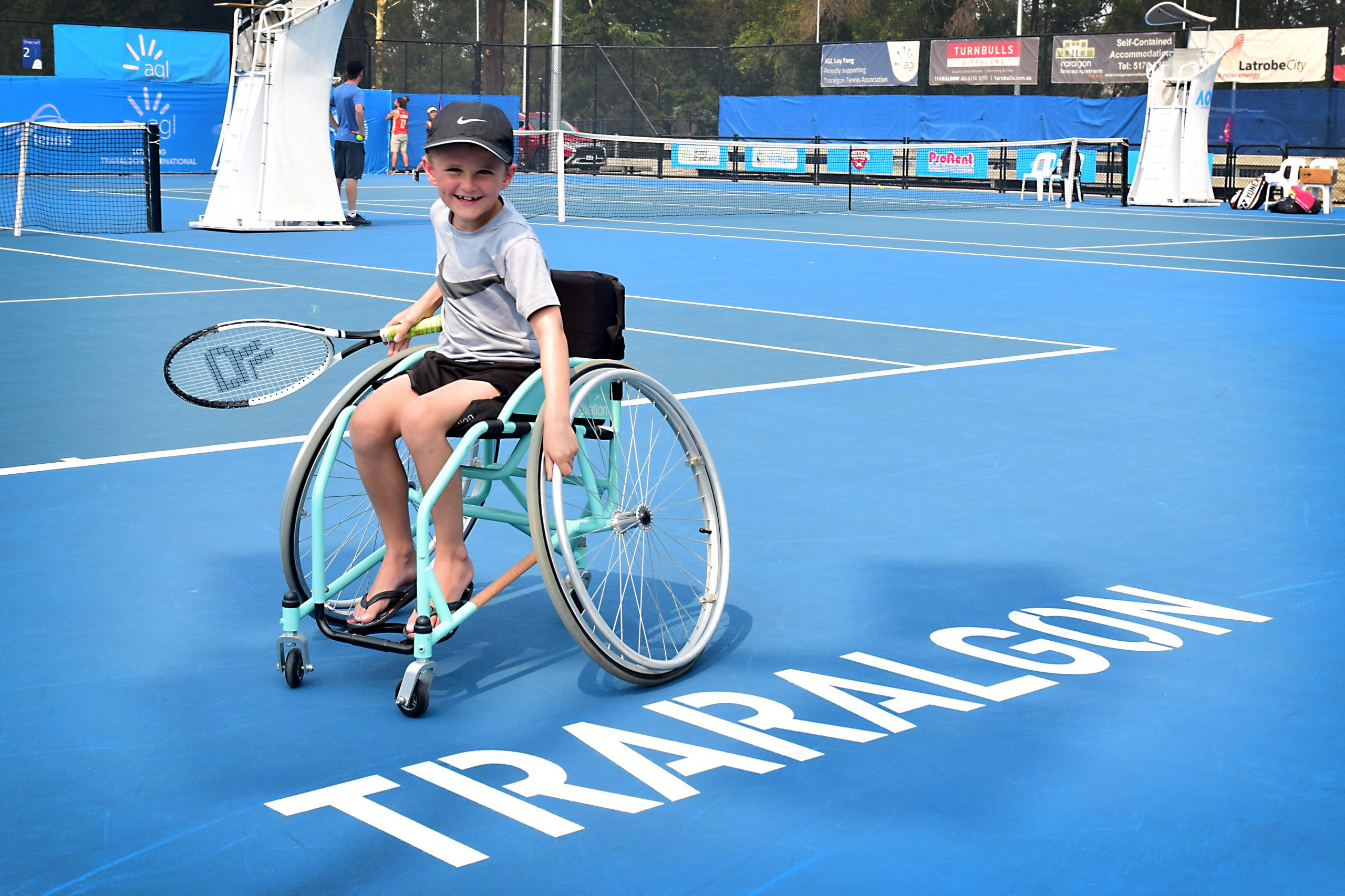 Dylan Arvela
Nine-time grand slam winner and Paralympian Dylan Alcott has inspired millions the world over, but it's a wide-eyed Traralgon tennis player who inspires him after a chance encounter at last year's Australian Open.

Lucas Lang, 8, picked up a racquet in late-2018, a few months after being diagnosed with Perthes disease, a rare childhood condition affecting the hip by restricting blood supply to the top of the femur.
It's a condition which isn't permanent, meaning Lucas will eventually be able to return to normal daily activities.
"Dylan is my idol because he plays tennis in a chair and what he's done," Lucas said.
"He didn't have any idols when he was little, but I am his idol and he is mine.
"He's been playing tennis in a chair his whole life, but my disease can go away and his can't."
His enthusiasm for tennis has seen Lucas invited to take part in a wheelchair tennis exhibition before play on January 29 at Margaret Court Arena during the Australian Open.
Lucas was a keen Auskicker before his diagnosis, which forced him off his feet for 14 months.
The condition couldn't restrict his passion for sport, allowing him to stay active and play with his friends.
"I get involved with basketball, tennis and is was in the Melbourne Marathon with the 3km run," Lucas said.
"The best thing about playing tennis is I can play with all of my friends … and the thing with wheelchair tennis is everyone can play it even if they don't have a disability."
Lucas's mother Alison, said tennis has given her son a tremendous release to deal with his condition.
"We know that the disease is only temporary and eventually he will (be able to play able-bodied sports again)," she said.
"Tennis has given him a good outlet to burn off a bit of energy.
"They say for two to five years he is restricted to no running, no jumping.
"He spent 14 months non weight bearing. He's now able to walk but he is still not allowed to play impact sport.
"Lucas goes to camps every school holidays with Tennis Victoria and Tennis Australia.
"They do a camp for all the kids in Victoria who play tennis in wheelchairs so now he is a part of the group who will be doing a bit of an exhibition before play at Margaret Court Arena."
Traralgon Tennis Association was Lucas's first touch-point with the sport and manager Susie Grumley believes it's a great advertisement for the inclusivity of the sport.
"There's so many opportunities for people in a wheelchair and even not permanently in a wheelchair to play wheelchair tennis," Ms Grumley said.
"Lucas came down just to have a bit of a go at one of our programs and he's continued on and now all of these opportunities have opened up allowing him to go to camps at Melbourne Park and now have this wonderful experience at Margaret Court Arena.
Ms Grumley hopes Lucas's story will inspire others to take to the court, whether they are in a wheelchair or not.
"We ran two wheelchair programs last year and we had people in a wheelchair permanently and some who were not permanently in a wheelchair in a wheelchair," she said.
"We just want to get as many people down here to have a go as possible.
"We have racquets for people to use and chairs as well, it's open to anyone who wants to have a go."