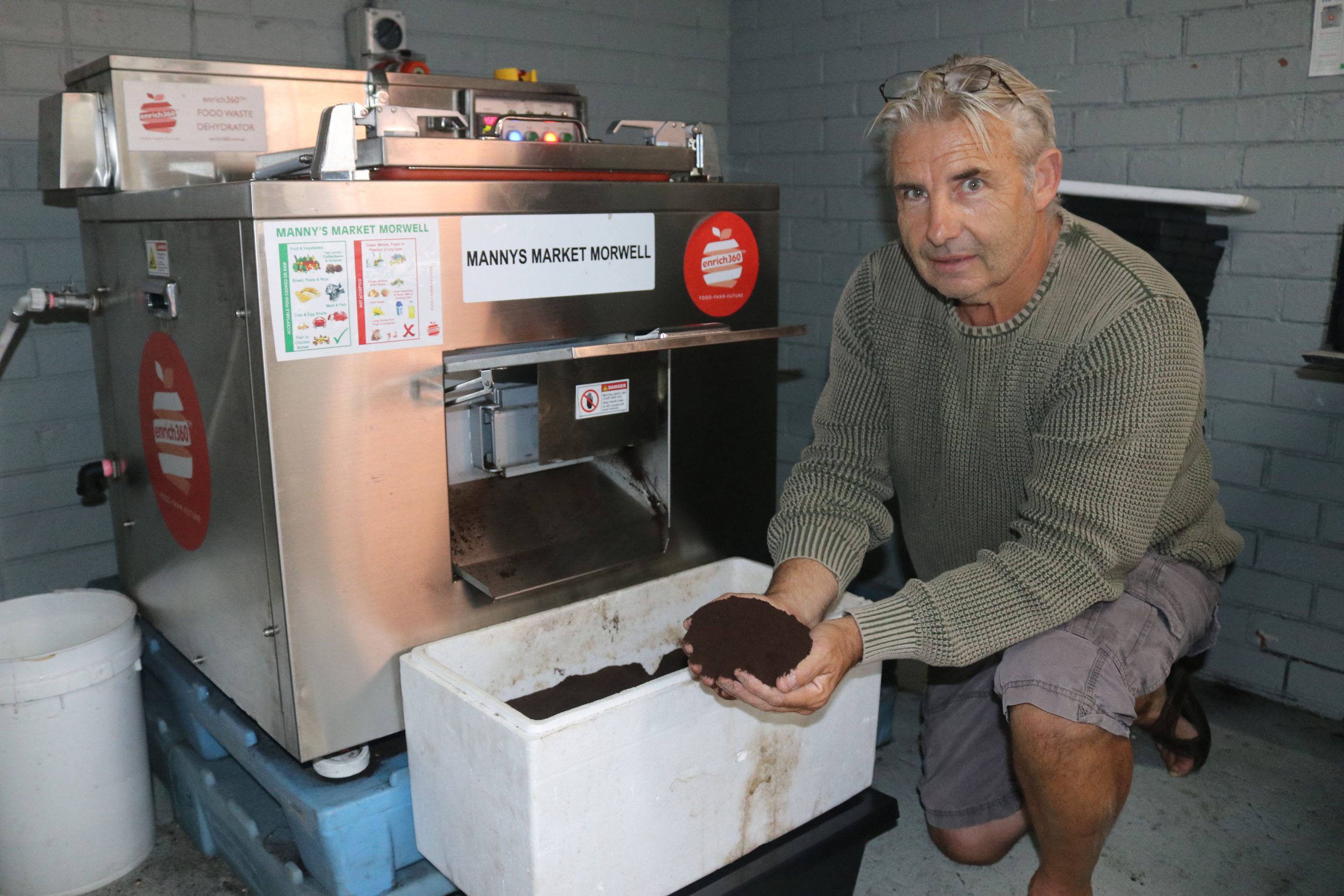 Michelle Slater
Morwell fruit and vegetable legend Manny's Market is helping to drive a local circular economy with an innovative machine that creates pure organic fertiliser from food waste.

Manny's Market owner John Askew purchased an Enrich360 dehydrator system a couple of months ago, which he said has slashed 90 per cent of food waste from going into landfill.
"This is a substantial amount. People were telling us the food scraps were going to landfill which takes longer to break down and produces methane, this doesn't produce any methane," Mr Askew said.
"We are trying to take our business to the next level and moving forward. This machine has endless possibilities."
Manny's supplies wholesale fresh produce to restaurants, cafes, hospitality and food services, and collects the food waste they produce to put through the dehydrator.
The machine dries out organic matter through an automatic process that takes about five hours to produce nine kilograms of dry fertiliser.
The loop is then closed when the fertiliser is put back into the soil at Verduci Market Gardens on Firmins Lane, which also grows some of Manny's produce lines.
The farm also gets the fresh water collected by the dehydrator through the drying process.
Mr Askew said the machine can push out about four cycles-a-day, transforming anything from meat scraps, fruit, bread and vegetables to coffee grinds, flowers and fish guts and bones.
"To be able to return the fertiliser to a grower and see the positive impact that it is having on his crops is fantastic," Mr Askew said.
"As we continue to build our stock levels of the food waste fertiliser, we plan to make it available for Gippslanders to buy to use in their own gardens."
Food and Fibre Gippsland acting chief executive Nicola Watts applauded the collaboration between Mr Askew and Rocco Verduci.
"Forty per cent of everything that is produced in Australia ends up as waste at some stage of the cycle, whether it be in the harvesting, processing, transport or consumption phase," she said.