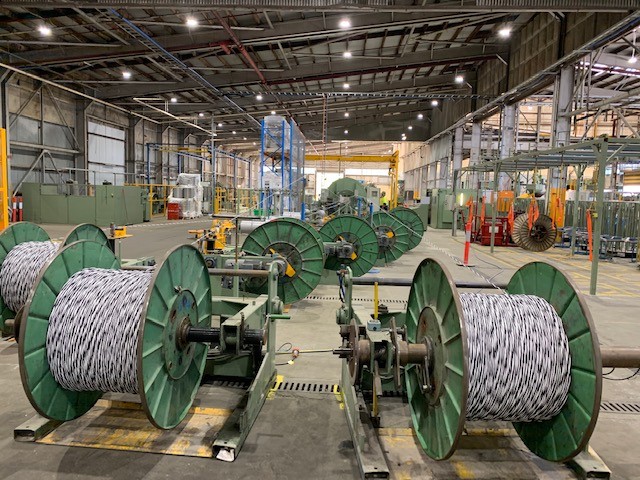 Michelle Slater
A new manufacturing plant in Rosedale is up and running with plans for expansion as the company in charge is in the midst of relocating out of Sydney.

Bambach Wires and Cables is in the final set-up stages after it started operating in a former Rosedale leather factory a couple of months ago.
Energy Technologies (Bambach Wires and Cables' parent company) managing director Alfred Chown said they were lured to Rosedale with the help of a $2.3 million federal regional jobs and investment grant.
Bambach Wires and Cables is an Australian-owned company that manufactures specialist and industrial cables, with contracts for large scale government road and rail and defence projects.
Mr Chown said about 200 B-doubles had been relocating equipment out of Bambach's Sydney plant into the larger factory in Rosedale, with the aim to get the majority done during the next month.
"Most of the equipment has been installed and the plant is producing a wide range of cables. New staff have undergone intensive training and are rapidly building competency," Mr Chown said.
Mr Chown said they had been using local oil and gas expertise to set up the initial $7 million investment, and these employees would be kept on for ongoing plant maintenance and operations.
He said he hoped the factory would provide 40 jobs with the aim to put more people on depending on future contracts.
Mr Chown was hopeful a manufacturing hub could be established in the Latrobe Valley attracting complementary businesses once the cable plant was in full production.
"The Valley is well suited to an industrial base, it needs to get more of this sort of stuff down there, and the government needs to keep pushing to get more down there," he said.
"If we can get these things to seed in regional areas, we can attract other businesses, if you can get one down there, you can push to get the next thing."
Mr Chown said the company was "well-positioned" to manage the economic fallout from COVID-19 with a strong order book for the next three months, exceeding $2 million.
"Orders were particularly strong among road and rail infrastructure customers who are predicting vigorous project flow going forward with a further $2 to 3 million of orders anticipated," he said.
Mr Chown said strong demand was also being driven by uncertainty about imports from China which supplies a large percentage of Australia's cables.
He added that the appeal of domestic manufacturers could be increased as customers look for supply certainty in a post COVID-19 world.
"The issue of Australia's dependence of China or elsewhere, whether it be exports or imports, will assume far greater significance once this pandemic has ended," he told The Express.