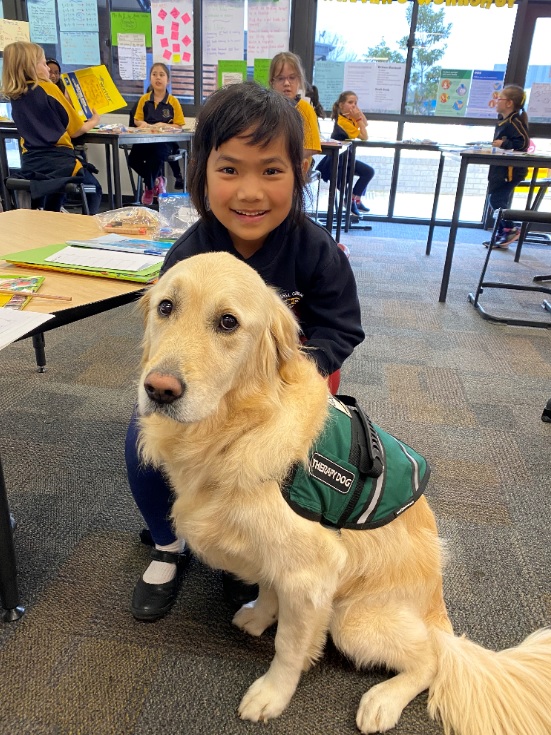 Tessa Randello
The newest member of staff at Morwell Central Primary School is worth her weight in gold.

Summer the six-year-old golden retriever is a qualified therapy dog, trained to provide comfort and support to students and her presence will boost the positive climate of the school.
Summer's owner Kim Kurrle is a teacher at the school and worked through three levels of training with summer on a three month online course run by K9 support.
Ms Kurrle said Summer always had the temperament to be a therapy dog, but only recently had her training.
"Having seen other schools which have that asset (therapy dogs) we thought it would be a great idea, our principal Justine was really keen and for her to be a part of school," she said.
Summer's training program started during the coronavirus lockdown so Ms Kurrle trained Summer online.
"The course was all online, it was a fantastic course but it did start to get a bit tricky with some of the programs. We sent in so many videos of her," she said.
At Morwell Central, Summer's role includes helping to calm down anxious and aggravated students and she is even helping the younger students learn how to read.
"At the moment she is quite new so she is getting to know her way around the school getting to know the children," Ms Kurrle said.
"The younger students can read to her, it helps their communication skills and kids who don't really talk when other people are around can come out of their shell reading to Summer.
"We also do a Ready To Learn program, so if kids are feeling anxious they can refer to our Ready To Learn wall and choose a strategy to help them and eventually we are going to add her (Summer) to that if the kids are feeling unsettled."
Students and teachers alike are reaping the rewards of Summer's presence at Morwell Central Primary School